Welcome back to the dugout. Part 1 is here, part 2 is here. A quick reminder of where we're at in the league with 14 games to go: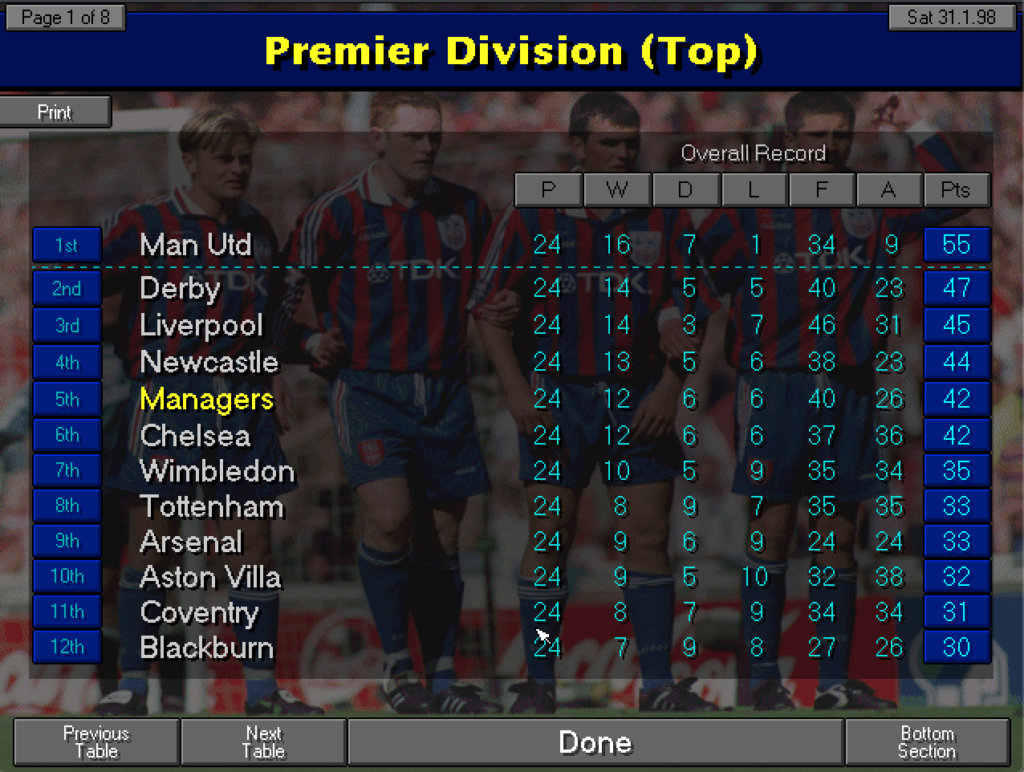 It's a trip to Villa Park to get us underway. We're still trying to find a way to cope without star CB Slaven Bilic. Bruce has the 2nd best average of all my CBs, but I'm concerned his 37-year-old legs might be starting to slow a bit. Unfortunately, the alternatives are all even older (Bielsa, Allardyce, Hodgson) or not quite Premier League standard (Moyes, Smith). Actually, Klopp is there, but he hasn't set the world alight when he's played. We'll stick with Cribbins for now with a view to phasing in Klopp if we start leaking goals.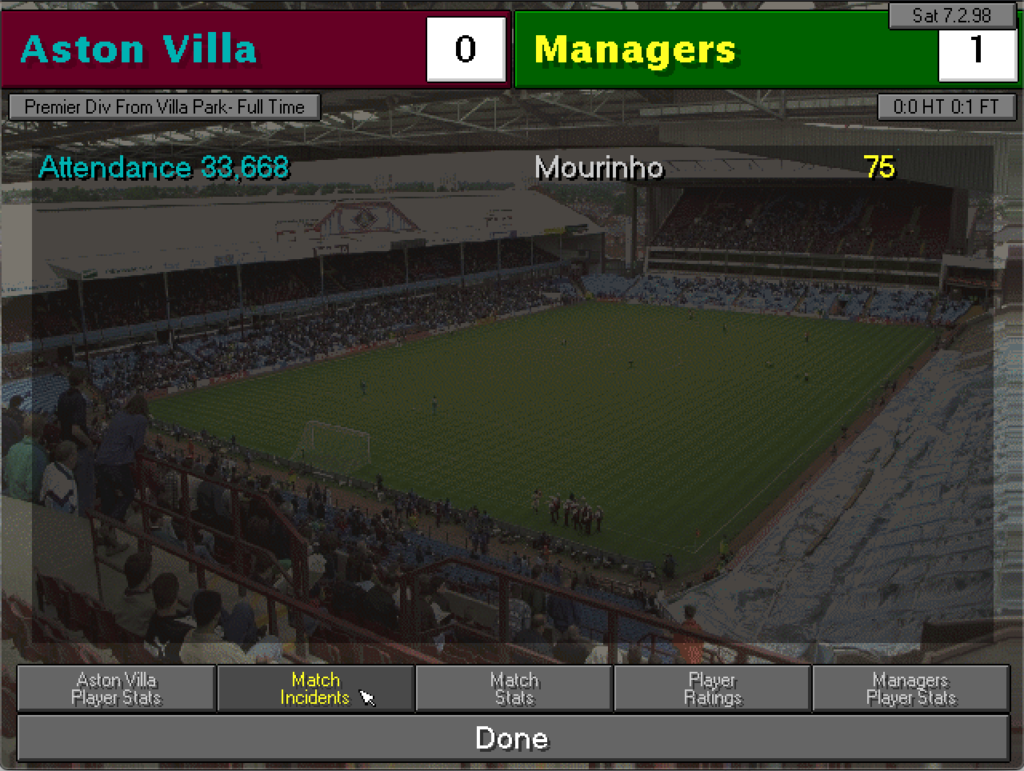 We're on top throughout. Lampard wasn't playing well so subbed him off for Jose and put him behind the strikers with Arteta moving to MC, and the special one does the business. Bruce gets a 9 and Villa have 1 shot in the whole game. Good work, Steve, never doubted you.
Away to Newcastle. Wor Alan is back from his torn knee ligaments and has got 2 in 2. They're 1 point behind us with a game in hand so this is a bit of a crunch game. We'll stick with the same team that saw off Villa, and hope that Newcastle are bit tired from the League Cup semi-final in the midweek.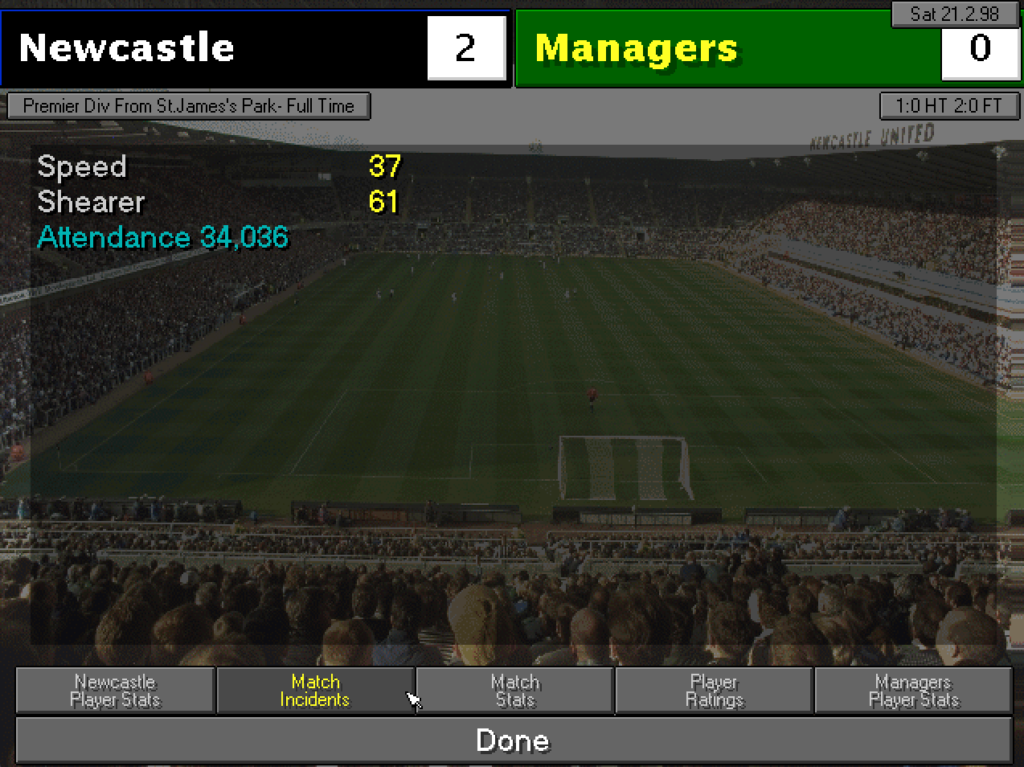 Not our day at all. Nuno is struggling with an arm injury after 5 minutes. Newcastle create lots of chances but only get 3 on target, so I think leaving Nuno on with his bad arm was the wrong call. Given clatters Mourinho after 82 minutes but no penalty. "Unbelievable" indeed. Where's VAR when you need it?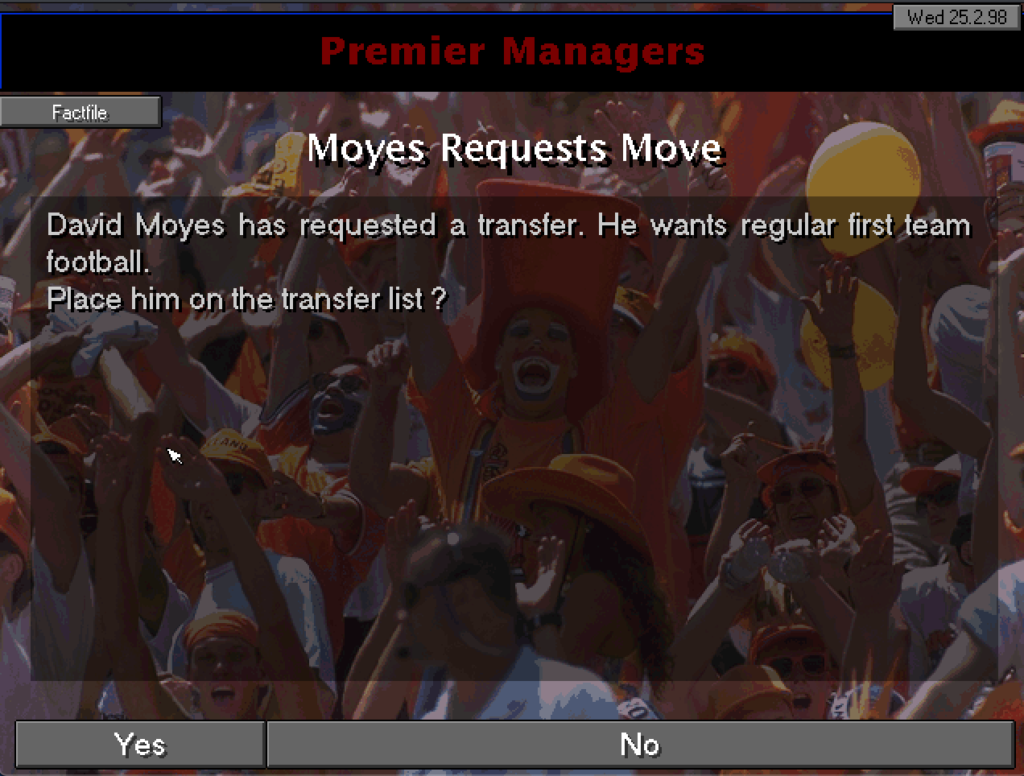 Someone must have told him what I said about him not being good enough earlier. Ok Dave, if you must.
Bolton up next. Pegguy Arphexad makes his debut as Nuno's still out feeling a bit wristy. Lampard's in poor form so he drops to the bench. Jose comes in behind the strikers and Arteta plays centre mid. Vialli's form has been slightly patchy so we'll go back to OGS and Handsome Ralph up front.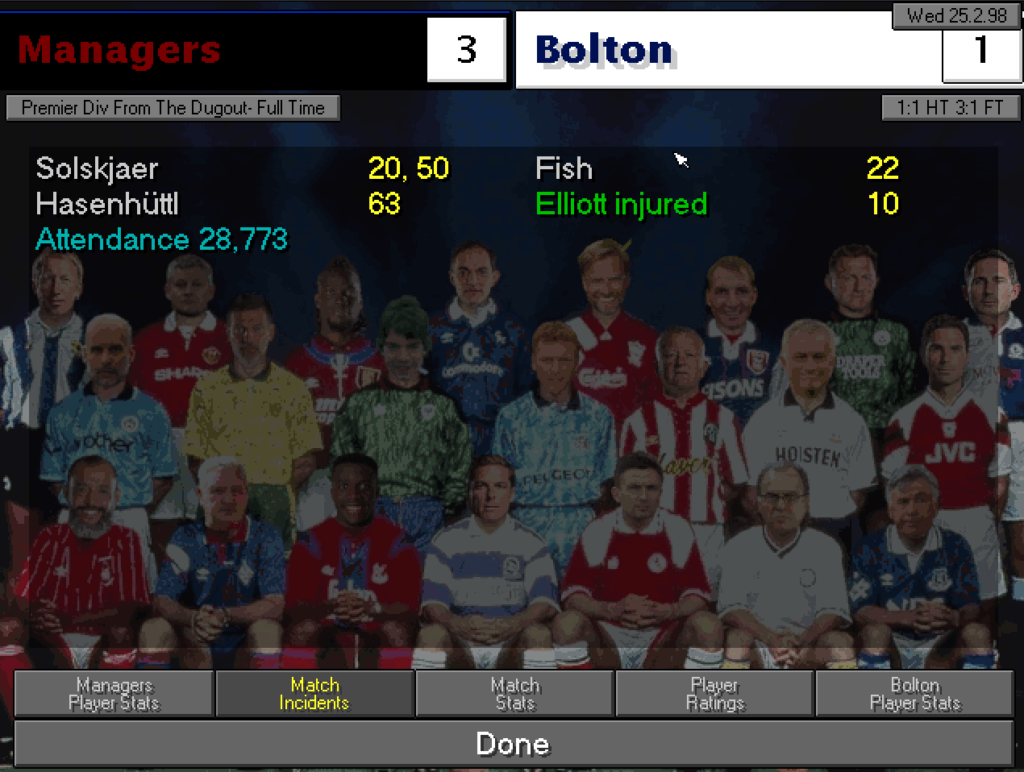 Good stuff. Bolton score with their only shot on target, but OGS is back in form, and had a 3rd ruled out for offside. Handsome Ralph seals the win.
Next to visit The Dugout are Wimbledon. Nuno's back from his injury, so that'll be the only change from the win against Bolton.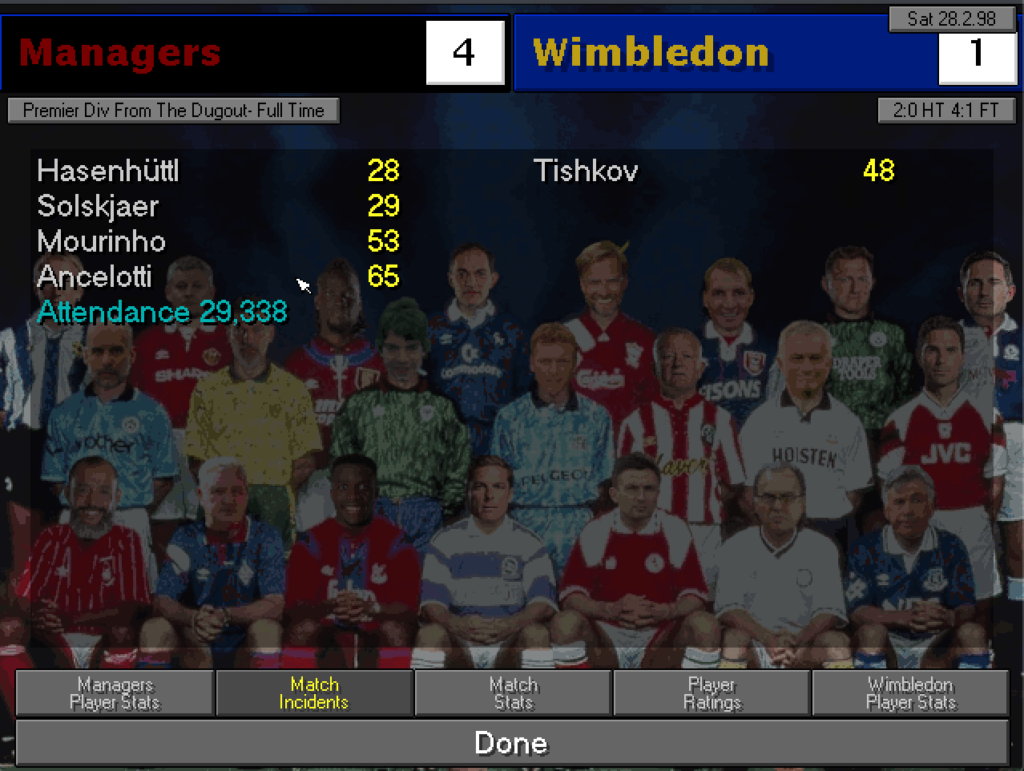 Very nice. Jose never seems to play well (avg 6.91), but that's his 9th goal of the season. Looks like him and OGS have put aside their differences for the benefit of the team, and it's really clicking for us at the moment.
Just a reminder of the team & tactics ahead of our trip to Everton. We'll keep the same team that's won the last 2.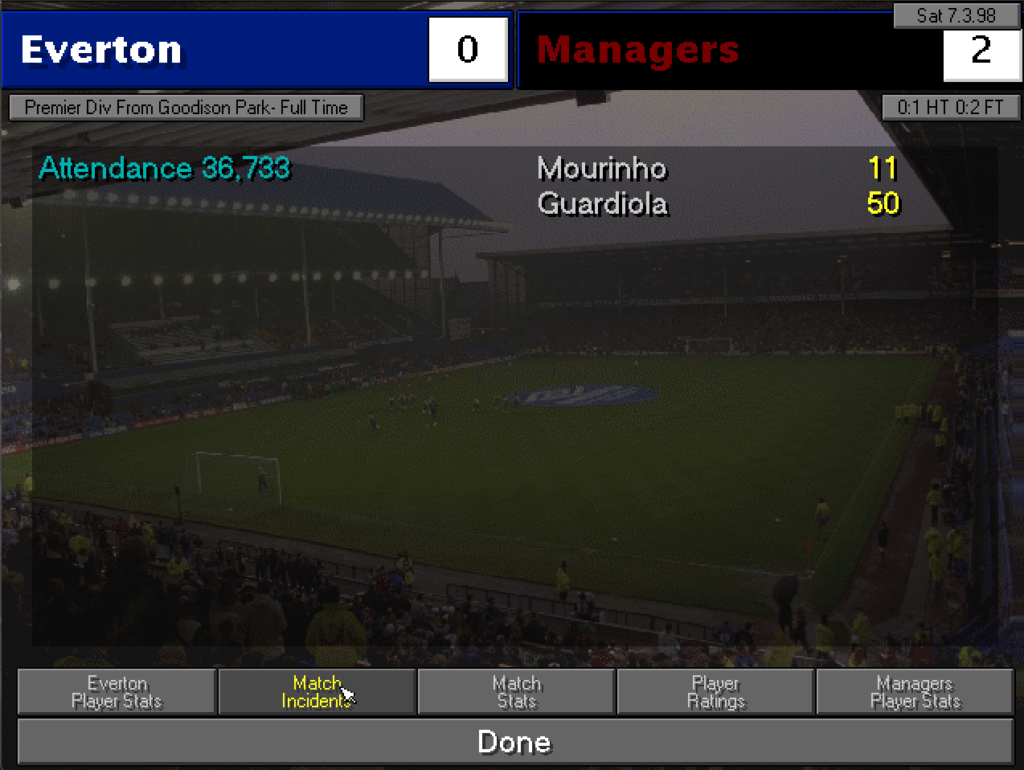 The Manager train keeps rollin'. It's a fairly dull, fairly even affair, but we do enough to get the win. Jose scores again and Pep bags his 3rd of the season. Newcastle and Derby both don't play this weekend, so we're up 3rd in the table in the meantime.
Next up we're home to Spurs. No changes. Feel the rhythm. Feel the ride.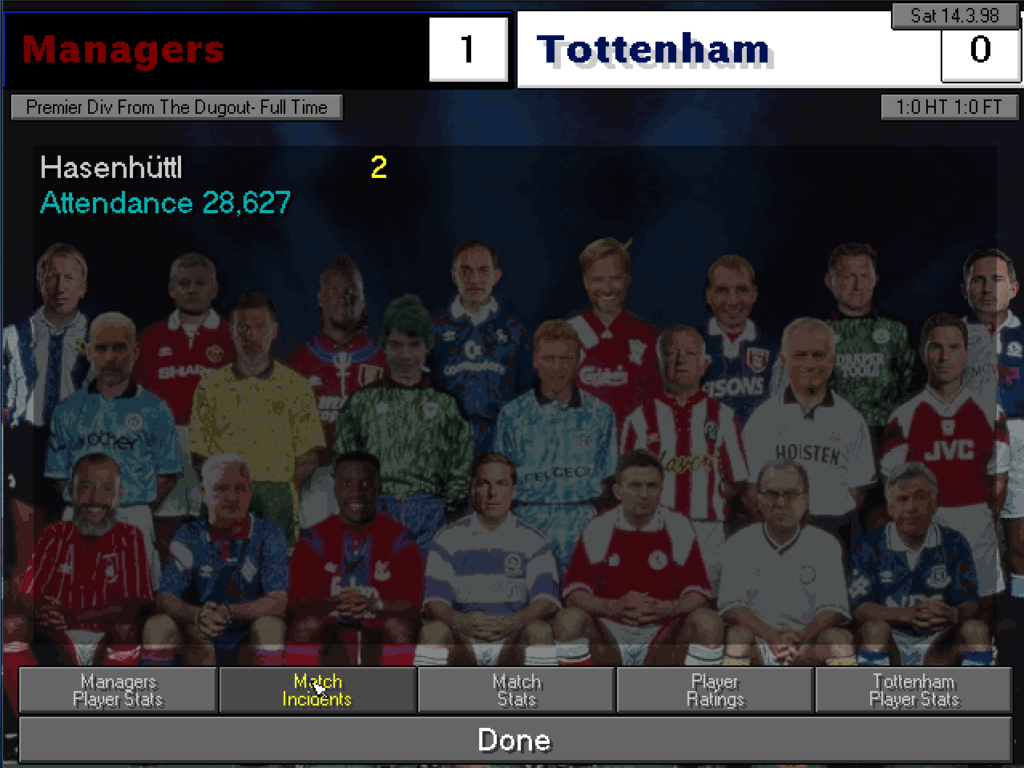 Handsome Ralph's early goal is the difference, but it should have been 3 or 4. Ian Walker getting MOM in a losing performance tells you all you need to know.
Blackburn next. Wildcard G's out for 2 weeks with a back strain, so Ryan Mason is our most attacking bench option. Starting XI remains the same.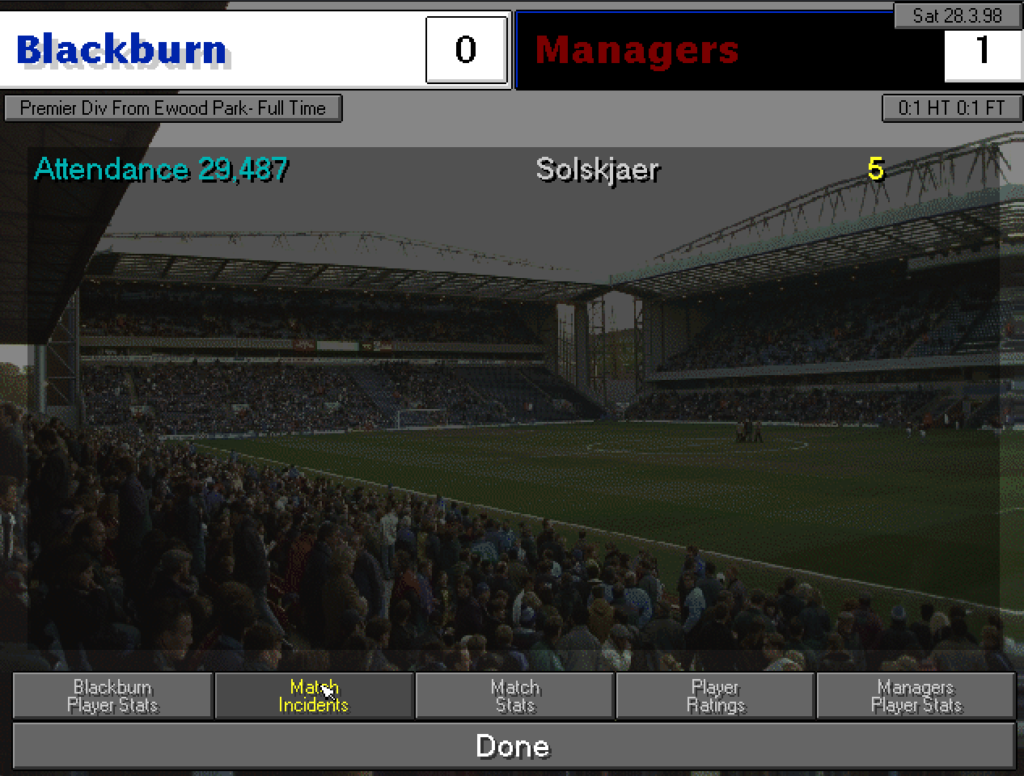 It's not pretty, but it'll do. We limited Blackburn to a single shot all game. Brucey was MOM. Solid. Liverpool lose and we go 2nd, but all the lads immediately below have crucial games in hand: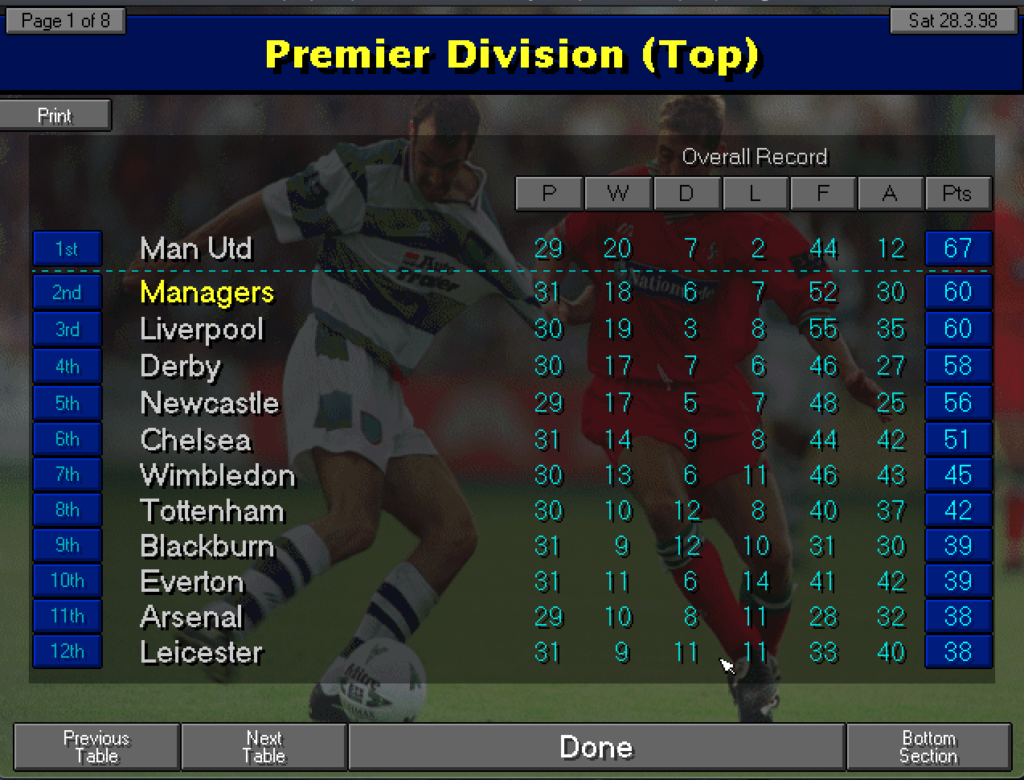 Home to Derby. They beat us 2-1 earlier in the season, and having won their game in hand, they're above us again in 3rd. Liverpool beat Newcastle in their game in hand so we're back in 4th, and it feels like a crucial game if we're to harbour (dare I say it) Champions League hopes. Derby played in the week so I'm hoping we can take advantage of their slightly tired legs.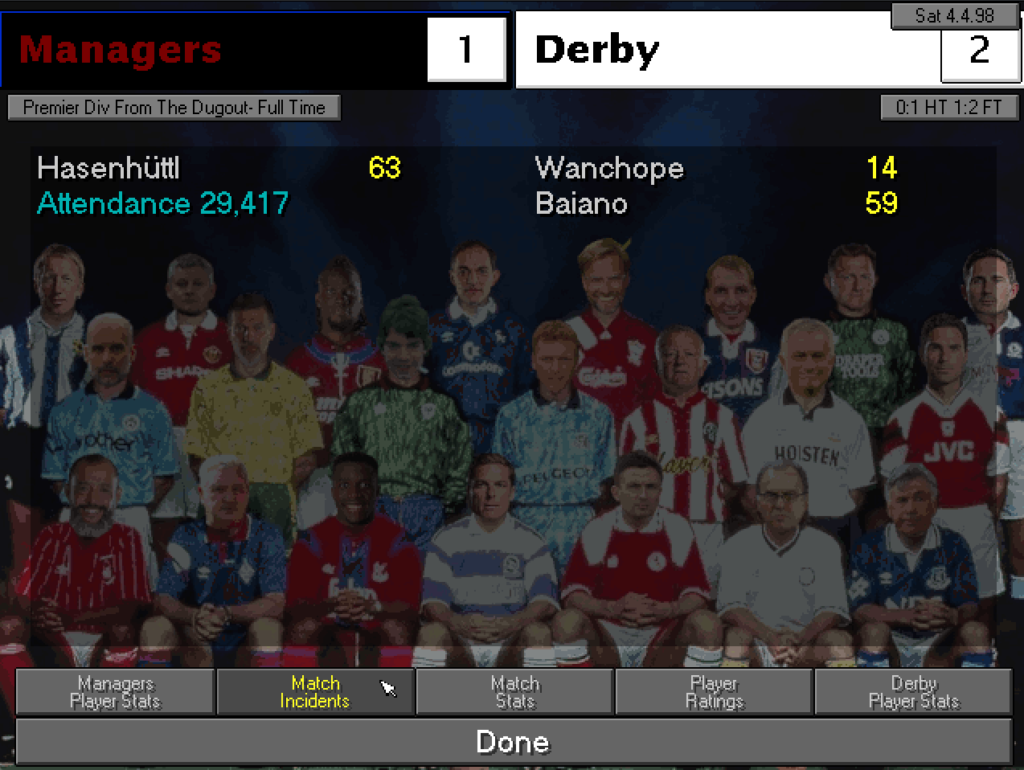 Bah. Frustrating as anything. We don't manage a shot on target until just before Handsome Ralph's goal, but it's not enough. We throw the kitchen sink at them but all the chances seem to fall to Steve Bruce and it's a poor result.
Away to Leicester. We lost to these last time, as well. Time to attack. Arteta moves into an AMC role alongside Jose and Mr Carlo pushes into centre mid. Vialli back on the bench.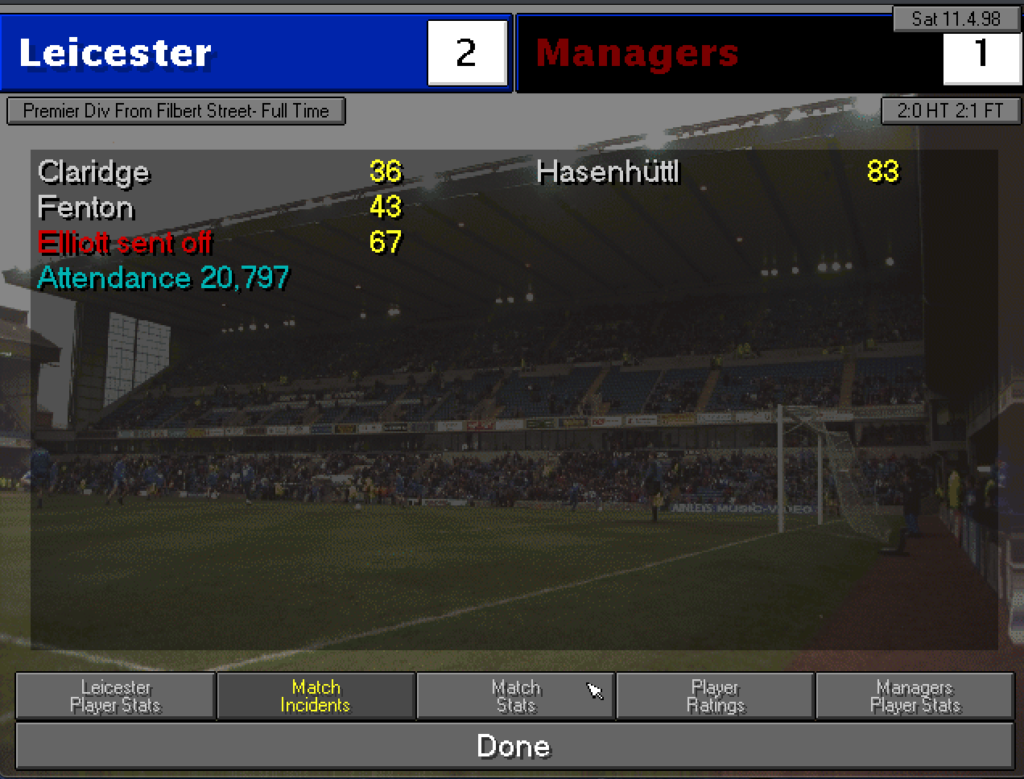 Absolutely raging. Raging. Look at this!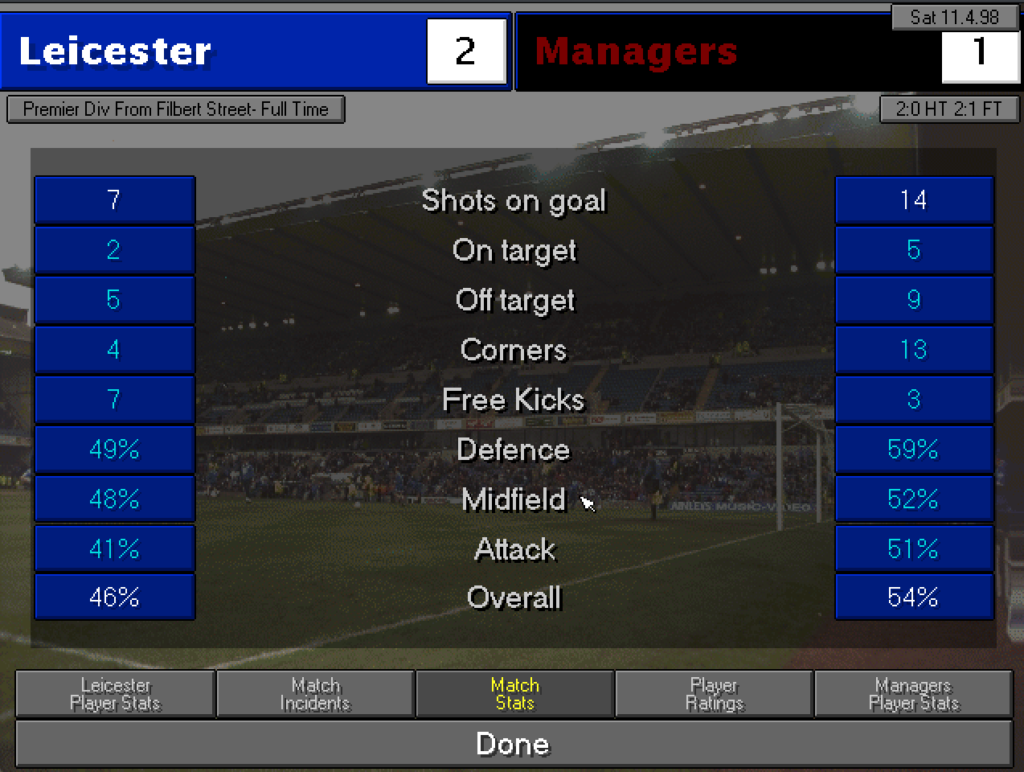 Get in the bloody sea, all of you. Yes, you as well, Martin O'Neill. Especially you.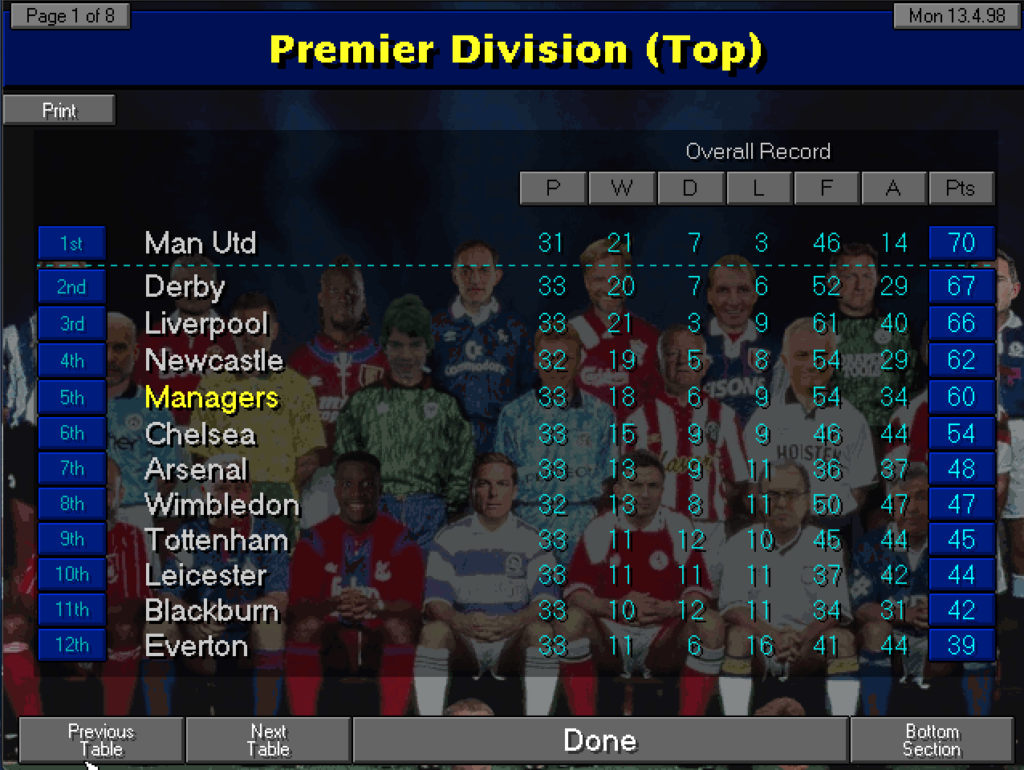 CL would be a miracle now. I don't know if 5th will get us into Europe…maybe?
Home to Saints next. It's the Monday after the Saturday before so we need a few fresh legs. Back 3 of Big Sam, Bielsa and Wilder. Brodge-Hodgson connection in DM. Lampard in for Arteta in AM. Vialli in for Ralphy up front.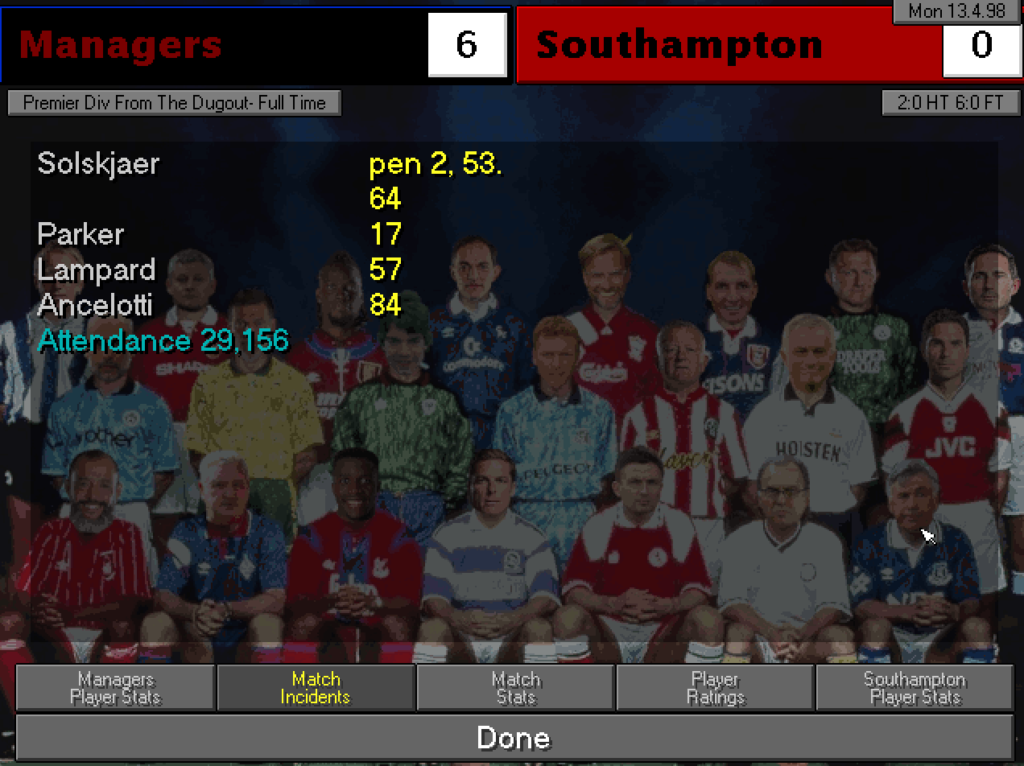 Well, that was nice. OGS was MOM (obvs) but Bielsa also rated 10. Beautiful. Liverpool beat Derby so we're 6 points off 2nd with 4 to play. Unlikely, but Derby still have to play Arsenal and Man Utd so 3rd is maybe doable, though Newcastle still have that game in hand.
Away to Cov. We got well and truly Champo'd in the first game. They're 16th but only a point above the drop, so plenty to play for. I've got some hard choices here, as it's difficult to want to change a team that just popped 6 in.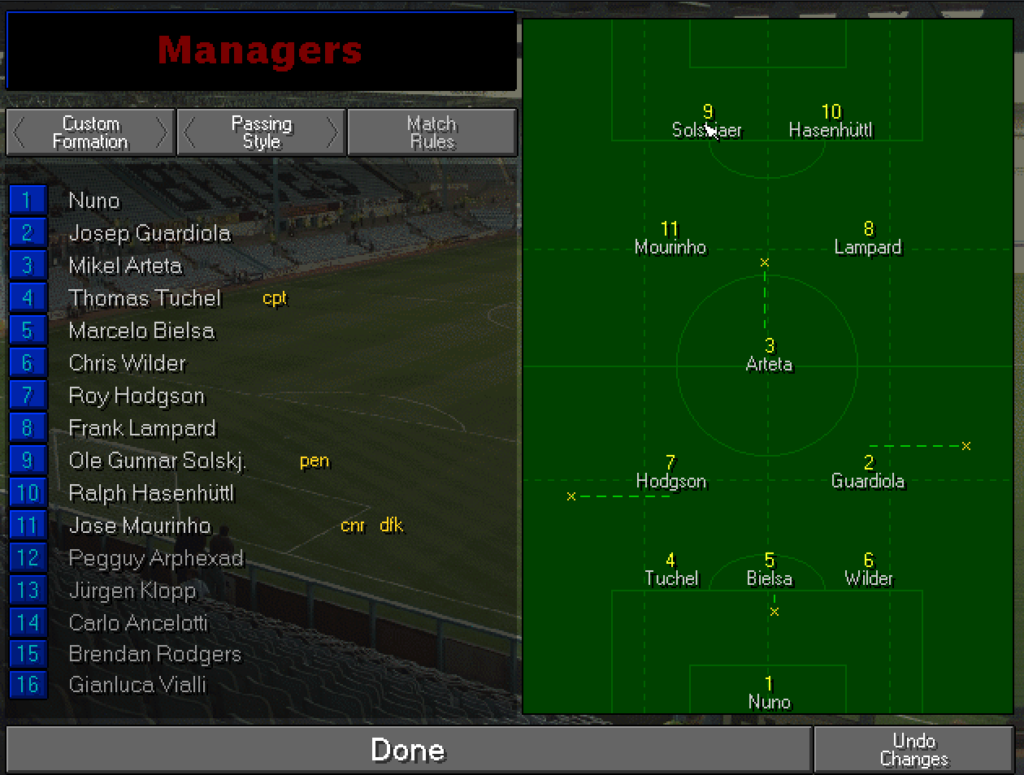 Ok, here we go…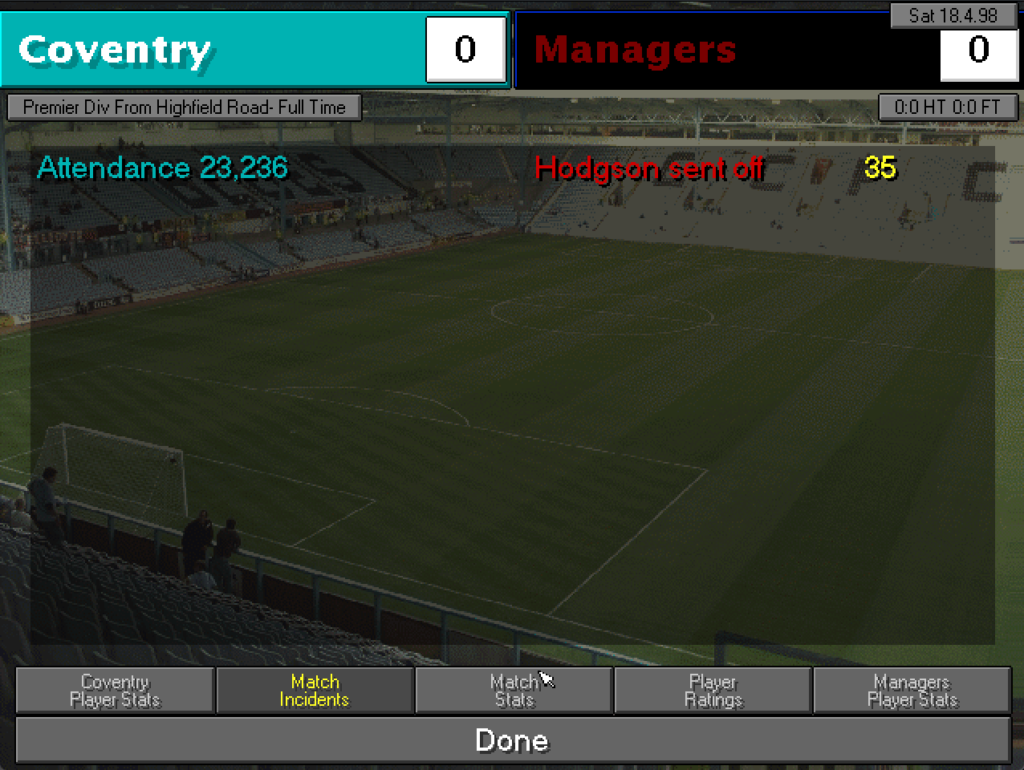 Dour stuff, not helped by Uncle Roy's red card in the first half. 1 shot on target for each team in the whole game. Newcastle and Derby both lose so it's a bit of a missed chance, but if we can get past Leeds and Man Utd do us a favour, we'll be above them on goal difference.
Bielsa makes his Argentina debut aged 42, and it's an emotional day all round.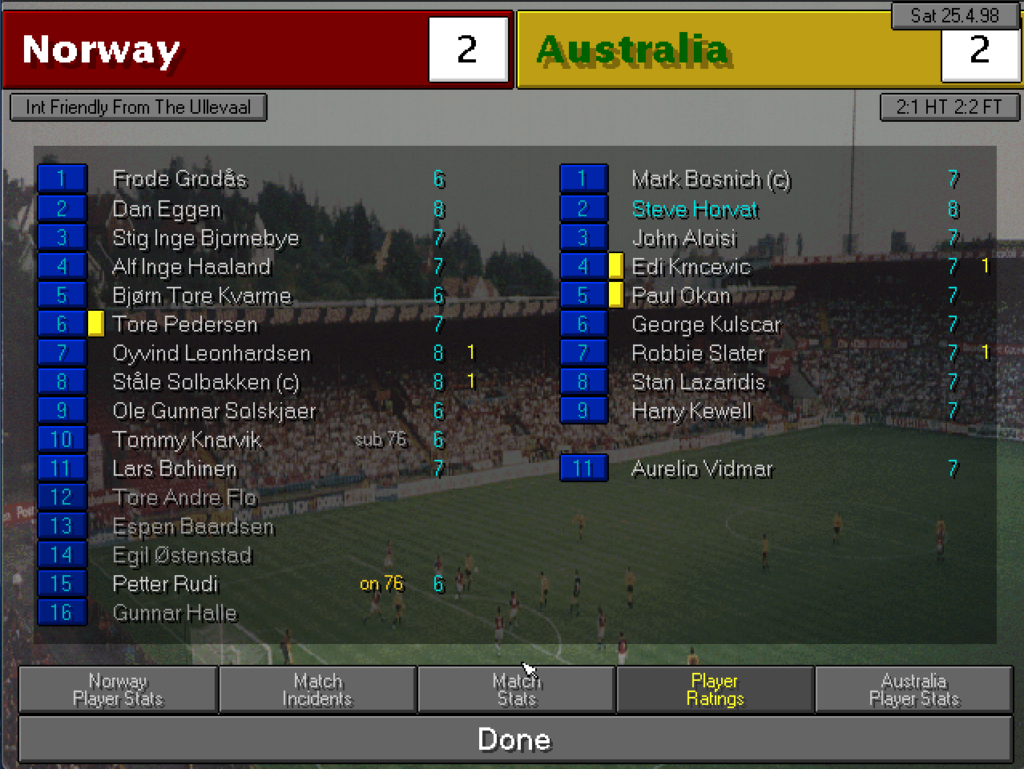 Ok then Australia, showing off a bit with your "we only need 10 men", eh?
Big Sam tears his groin stooping to pick up a pint of wine and will miss the last 3 games. Handsome Ralph and Hodgson are suspended. We switch back to 3-3-1-1-2 because I'm paranoid.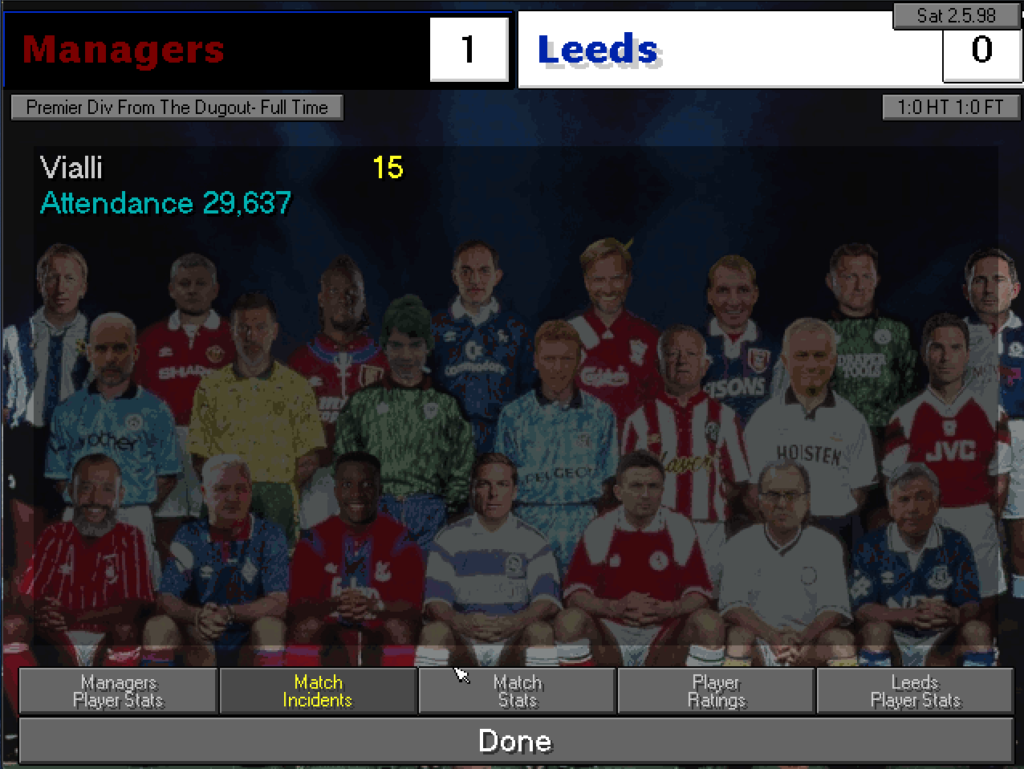 Wildcard G makes the most of his chance. Not our best performance, but good enough. Man Utd oblige us with a 1-0 win over Derby, putting us level on 67 points, but Newcastle are really good and it's hard to see them not picking up 3 wins against Wimbledon, West Ham and Everton.
Sheff Wed next. They're 19th but could still escape.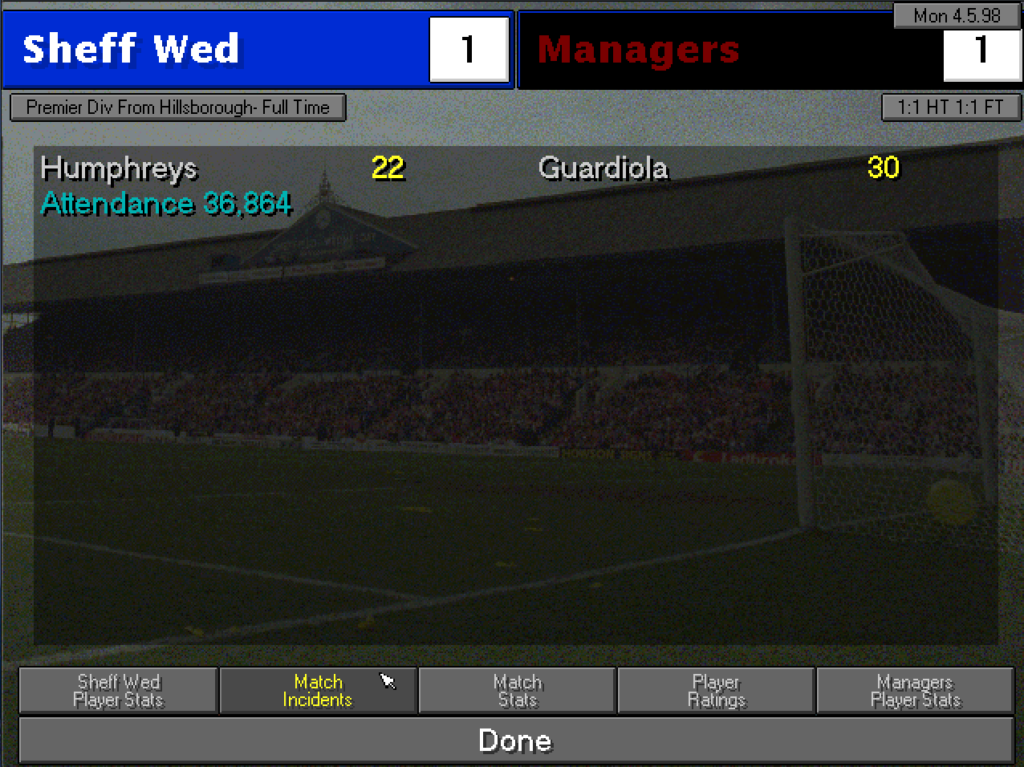 Damn it. We're easily the better side, but Kevin "press gang" Pressman is in good form, keeping out 4 of our 5 shots on target, whereas they score 1 of their 2. As expected, Newcastle win their game in hand, so we need big favours from Barnsley and Everton if we're to have any chance of sneaking 3rd place. Presuming we can get past Chelsea, who've got the CWC final in a few days time.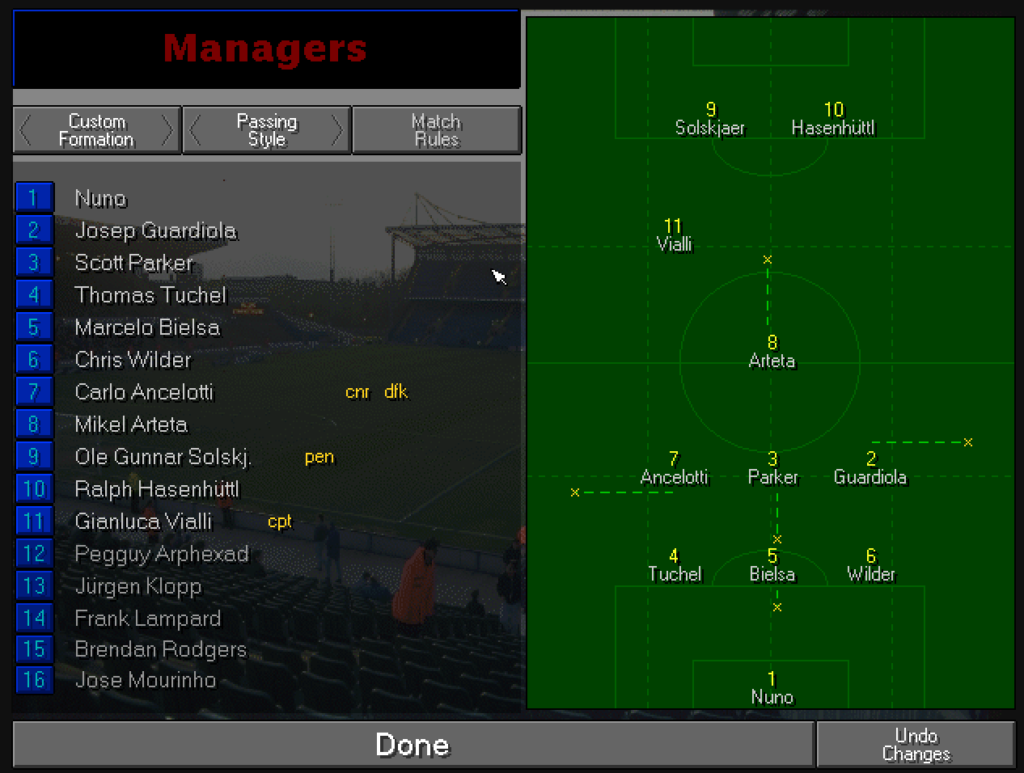 Here we go then. Mourinho's gone off the boil badly in the last few weeks, and I know it's Chelsea, but tough.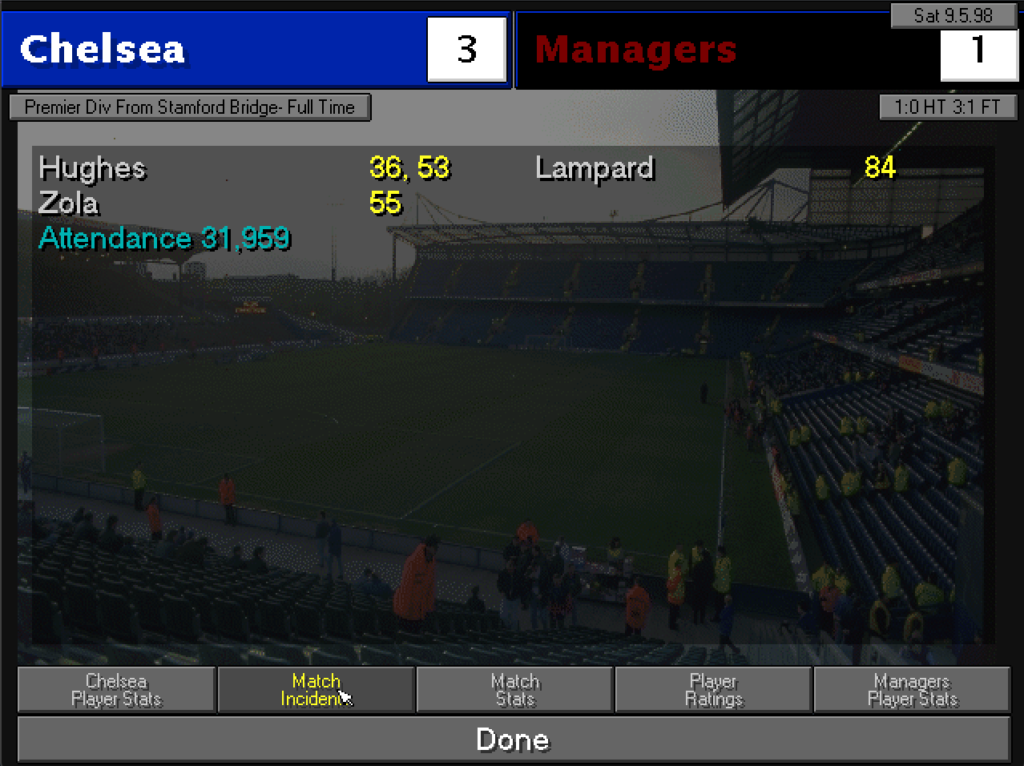 An infuriatingly terrible end to an otherwise fun season. We ran out of steam in the last few games, and really missed Bilic at the business end of the season where you just need that extra bit of defensive steel. It didn't matter anyway, because Derby and Newcastle both won. Here's the final table: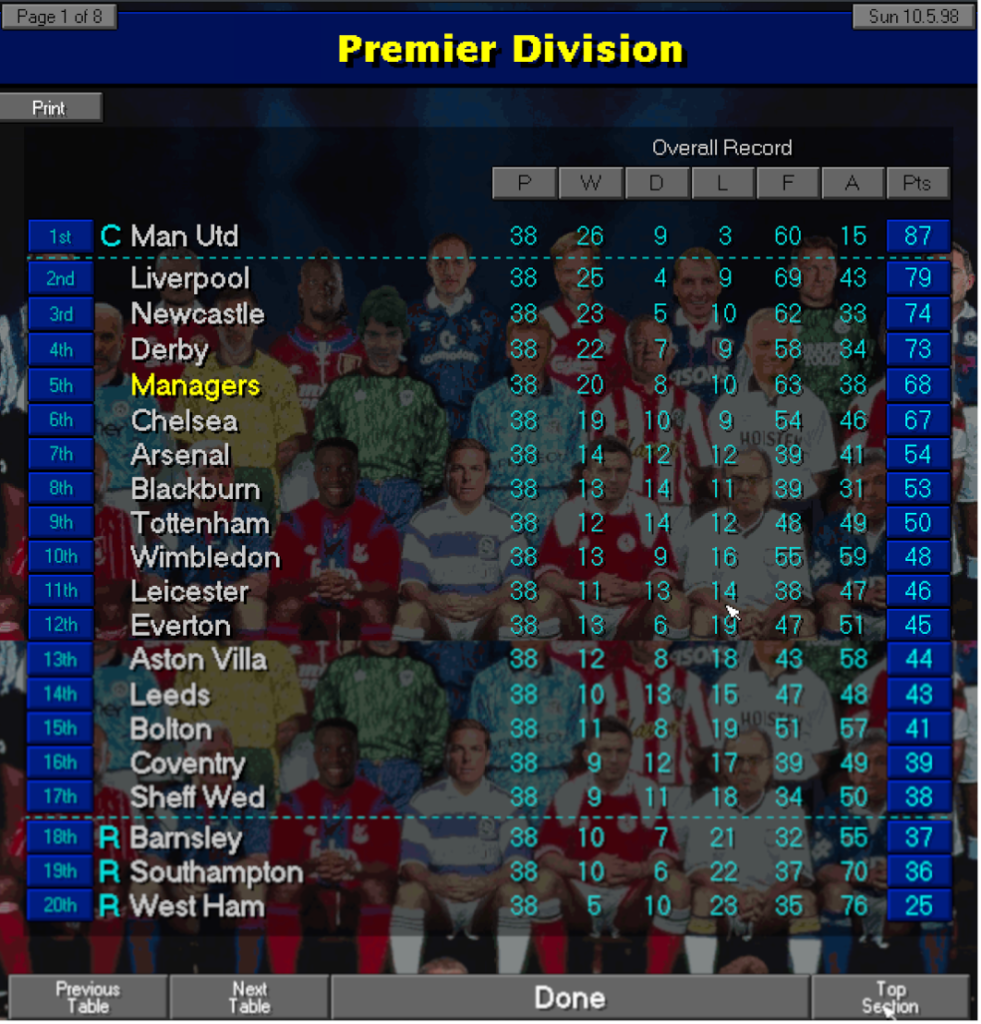 Have to be pleased with that overall, although 8 points from the final 7 games is a pitiful way to end the season. I thought we were going to struggle to make top half at one point, but they seemed to gel nicely around mid-way through, and the fact we were even in the CL conversation would have seemed ludicrous early on. Bloody Leicester.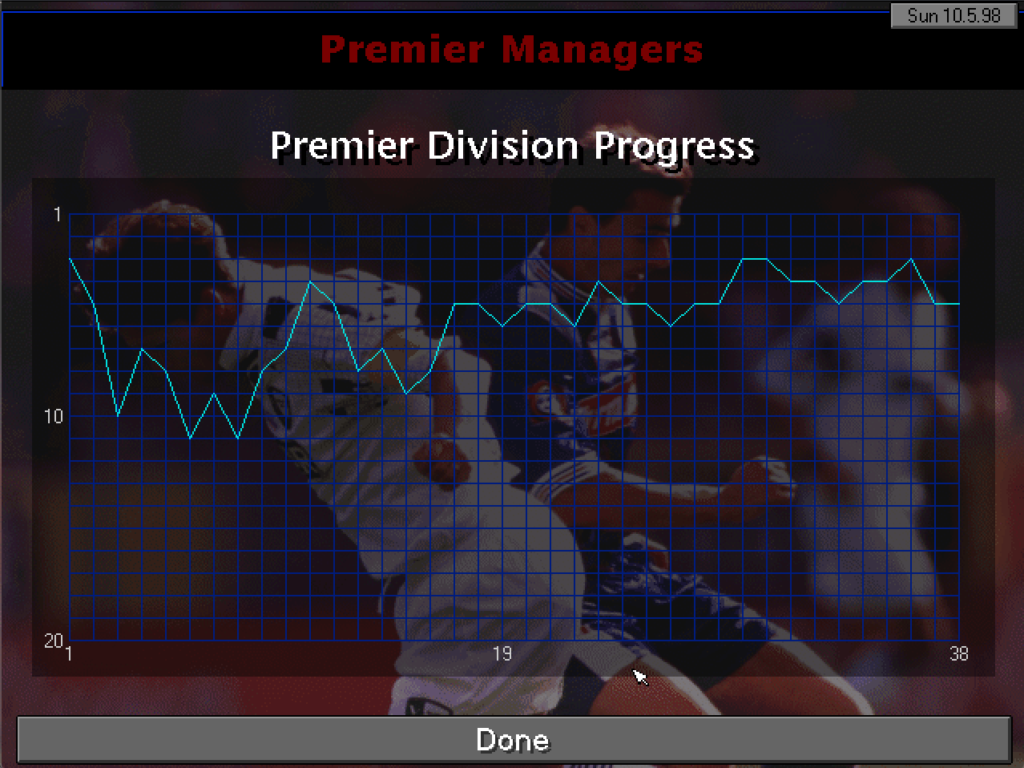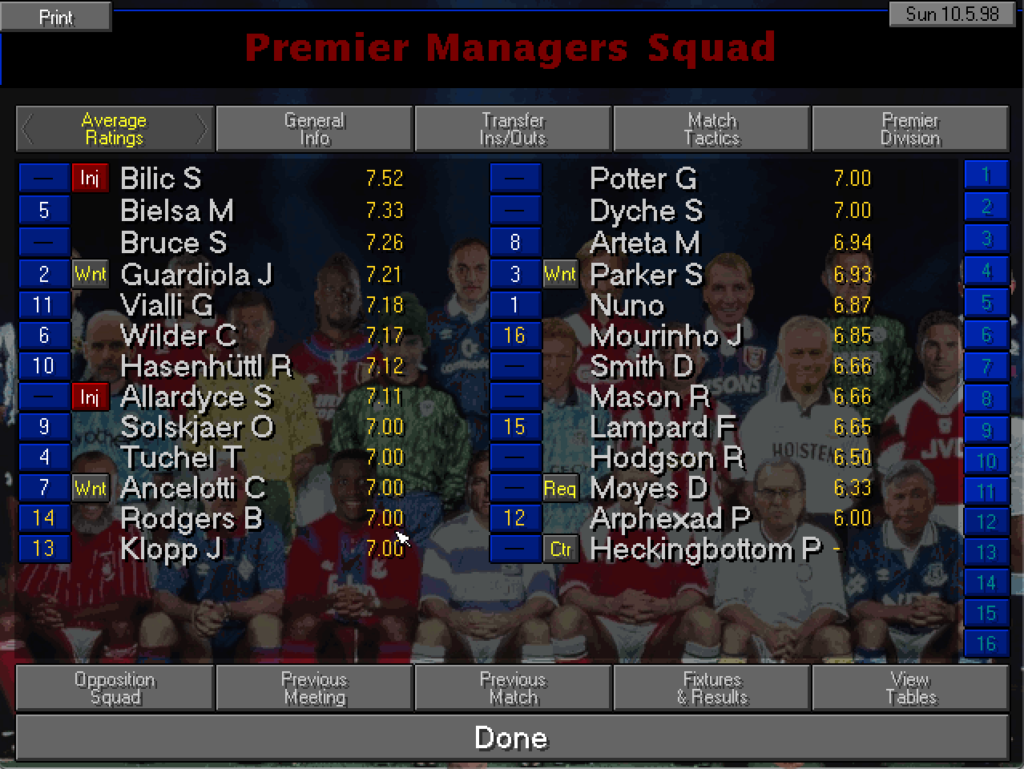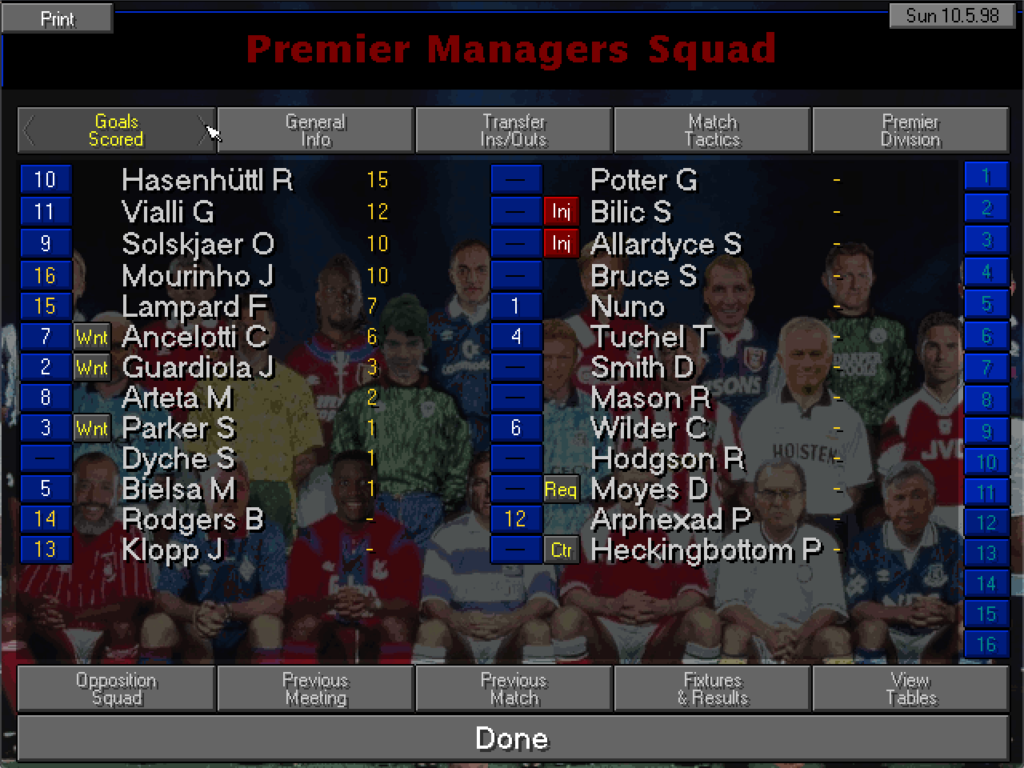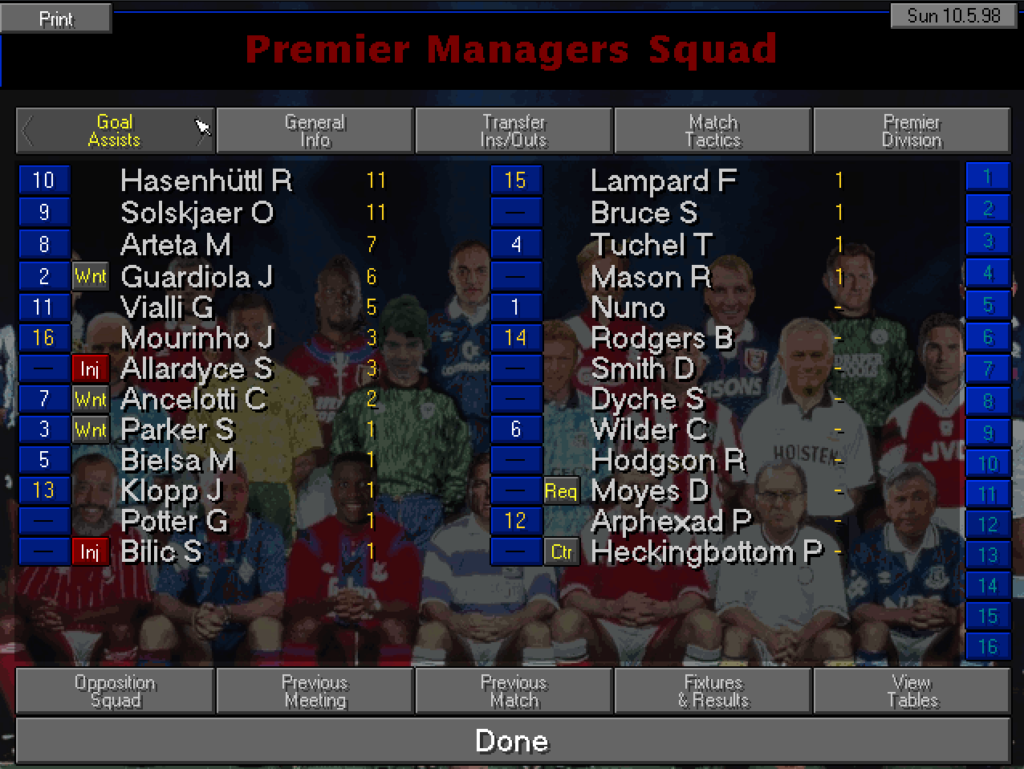 There's bound to be a slew of retirements in the summer, so we'll have no choice but to bring in an influx of future/former managers to replace them. Bielsa's off to play at France '98, after which he'd take over the Argentine national team IRL. He actually plays every game, before going out in flames in the QF against Brazil: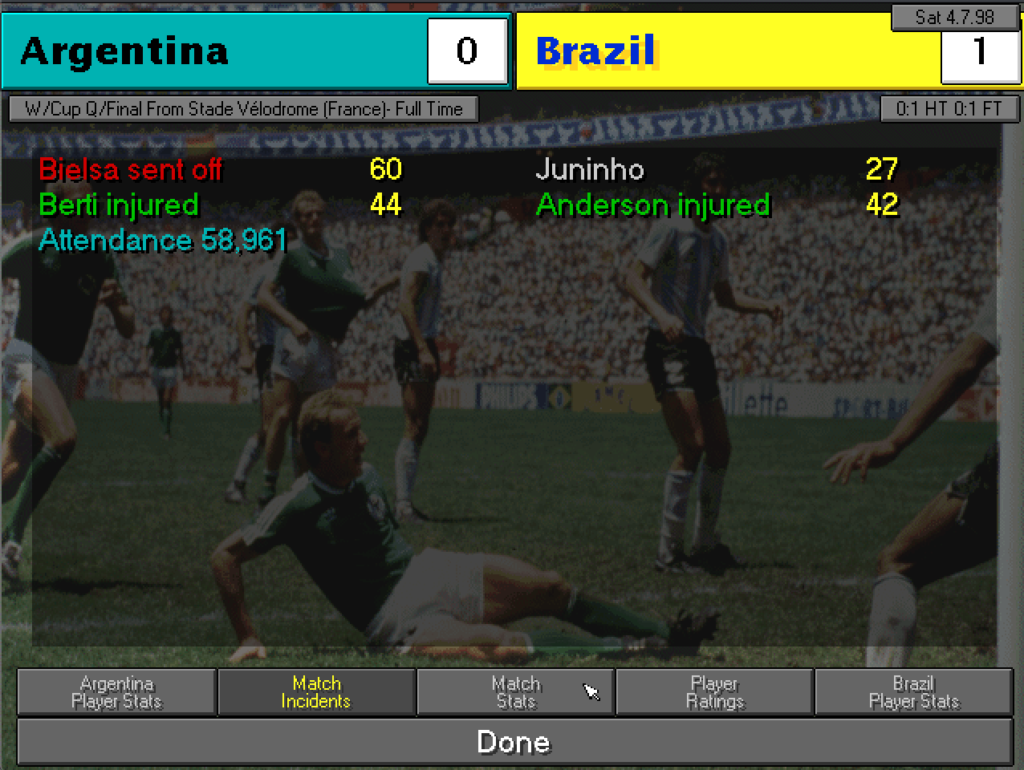 France end up beating Brazil in the final. Sounds familiar…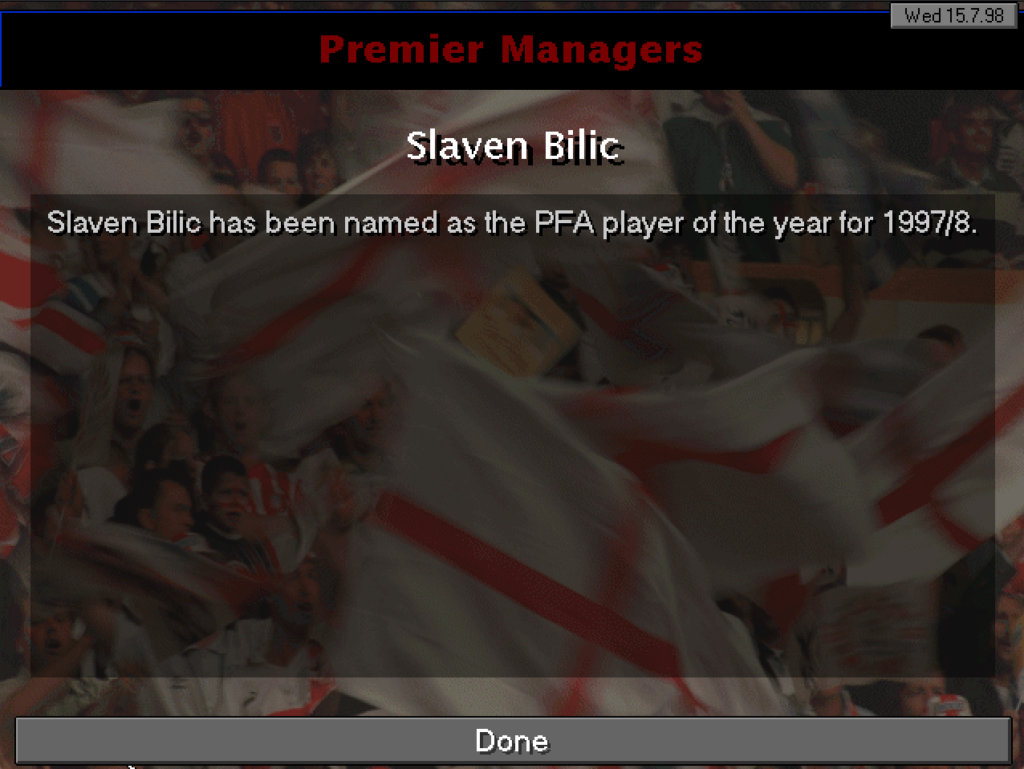 Well isn't that nice?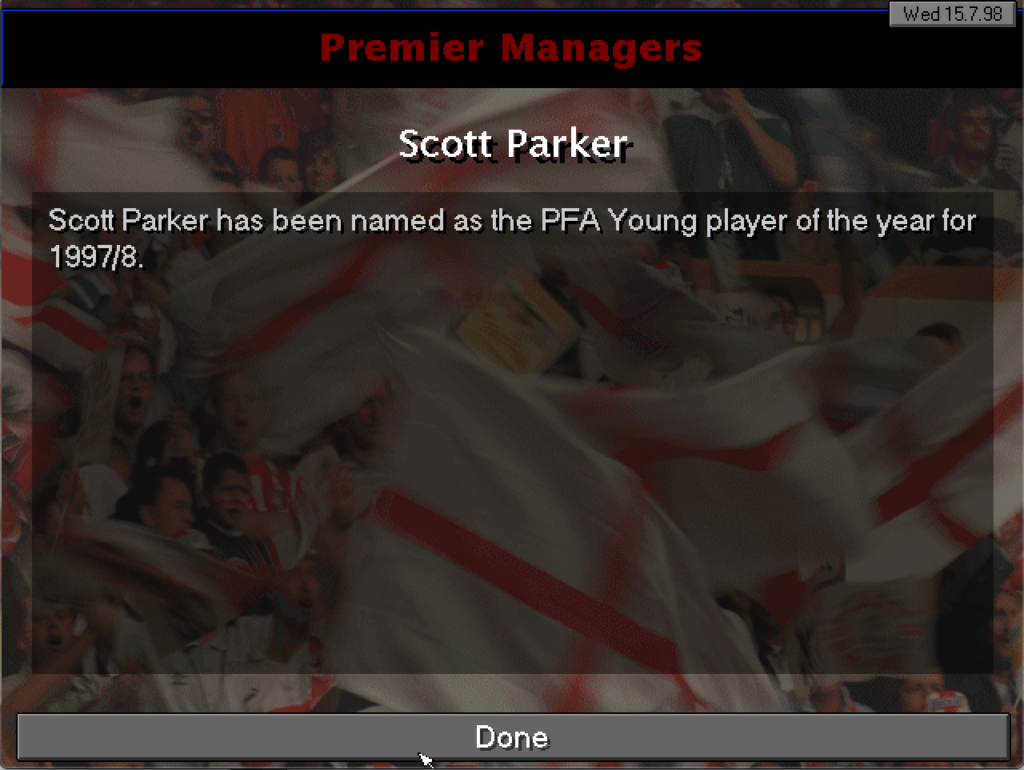 Yeah sure, why not.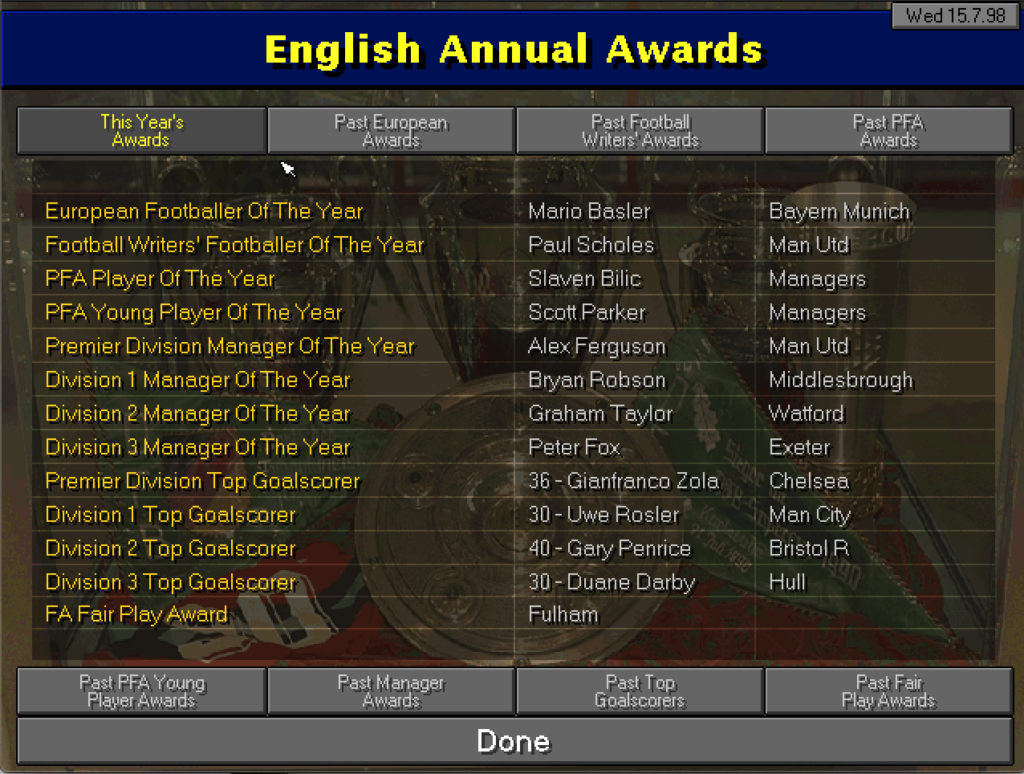 See you next time!