If you missed part 1, it's here.
Welcome back to The Dugout, as our squad of Manager/Players look to build on a fairly average start to the season.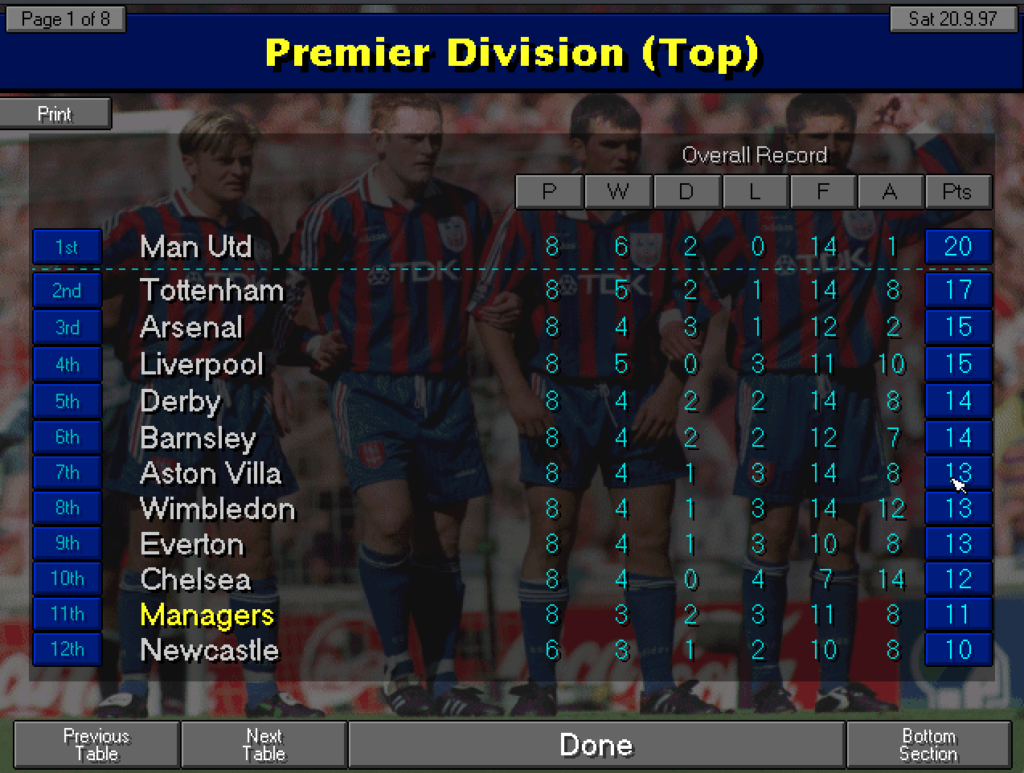 Next up is a trip to the rented home of football, Selhurst Park, where Wimbledon's 4-3-3 await us. Having rebuffed further offers from Atletico Madrid and Deportivo la Coruna for him, Pep Guardiola is now mysteriously unavailable due to international commitments, so we'll have to shuffle things around a bit. Arteta and Parker aren't ready after injuries, so Ancelotti drops back to centre mid and it's a recall for Jose Mourinho. Has he got the mettle to unsettle Peter Fear & co?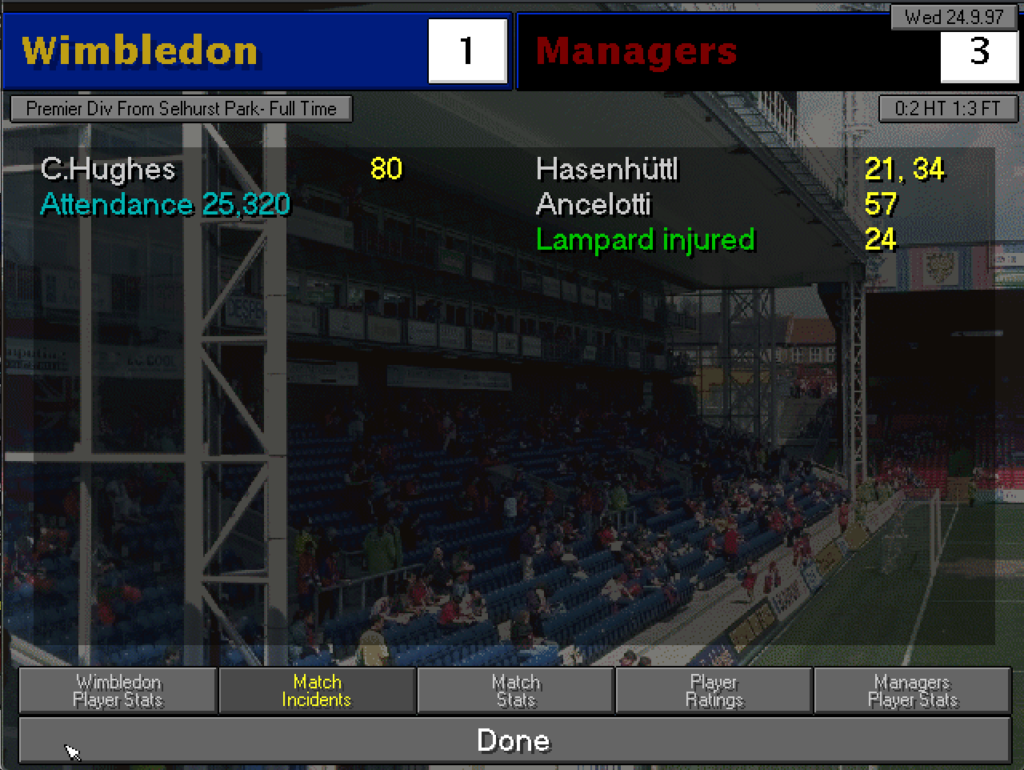 Handsome Ralph puts us ahead midway through the first half, before disaster strikes and we lose Lampard to injury, so on comes a 78% fit Mikel Arteta. Jose is booked for arguing with the linesman. (Such a realistic game). Another from Ralph, whilst Mr Carlo makes it 3 before the hour and it's pretty plain sailing.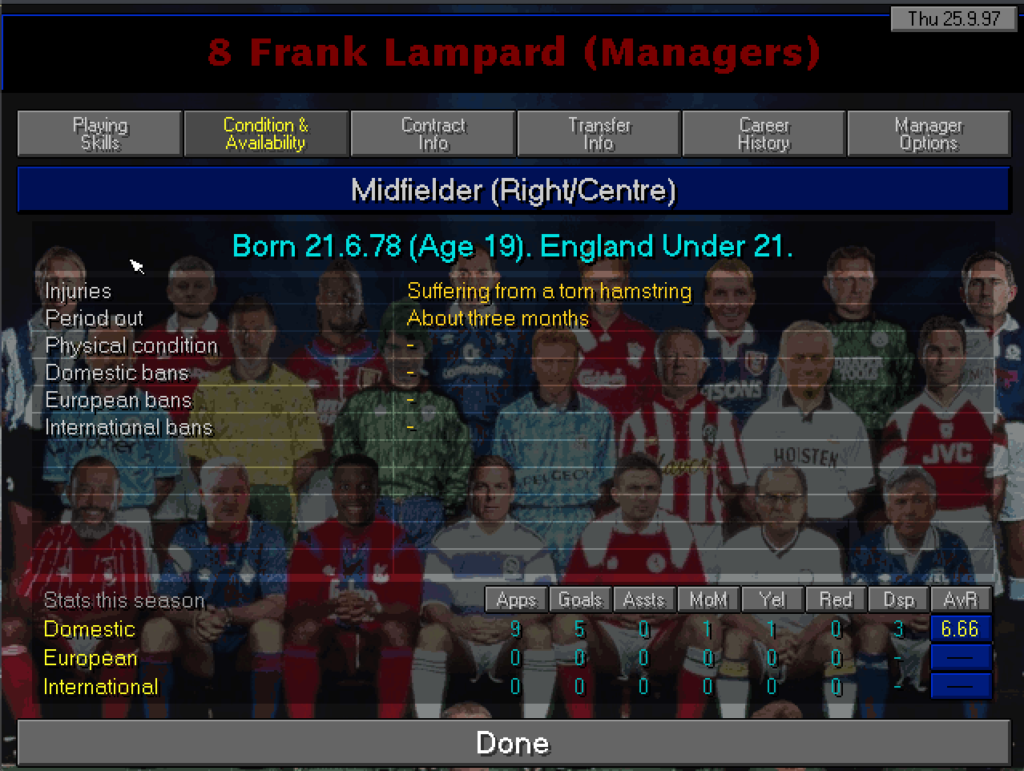 We could really have done without that.
Home to Everton. Ancelotti moves forward to AMC in place of Lampard and Guardiola slots into MC. Otherwise it's as you were. Bilic was MOM against Wimbledon. Let's see how he gets on against his old team.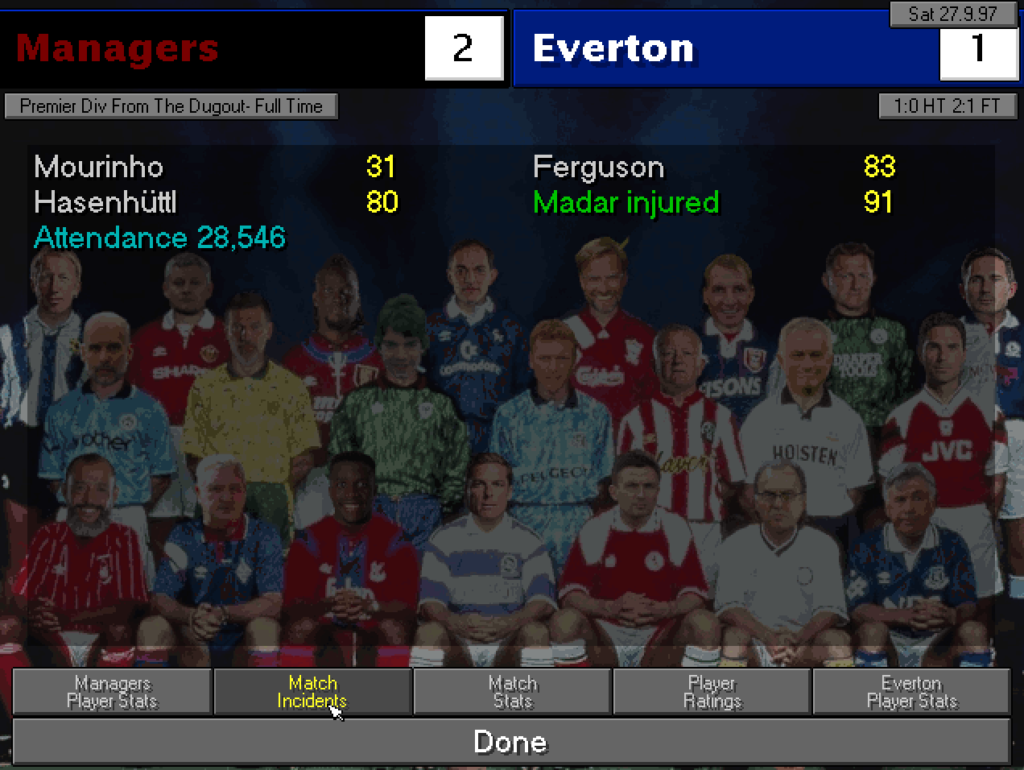 Solid. Even game in terms of shots on target with 5 each, but Nuno Espirito Santo has the goalkeeping edge over Thomas Myrhe and we hold on after a scare from Big Dunc. Mourinho was MOM.
2nd leg of the league cup against Northampton, next. We'll rotate again given our decent lead and ageing squad, so it's 9 changes from the last league game.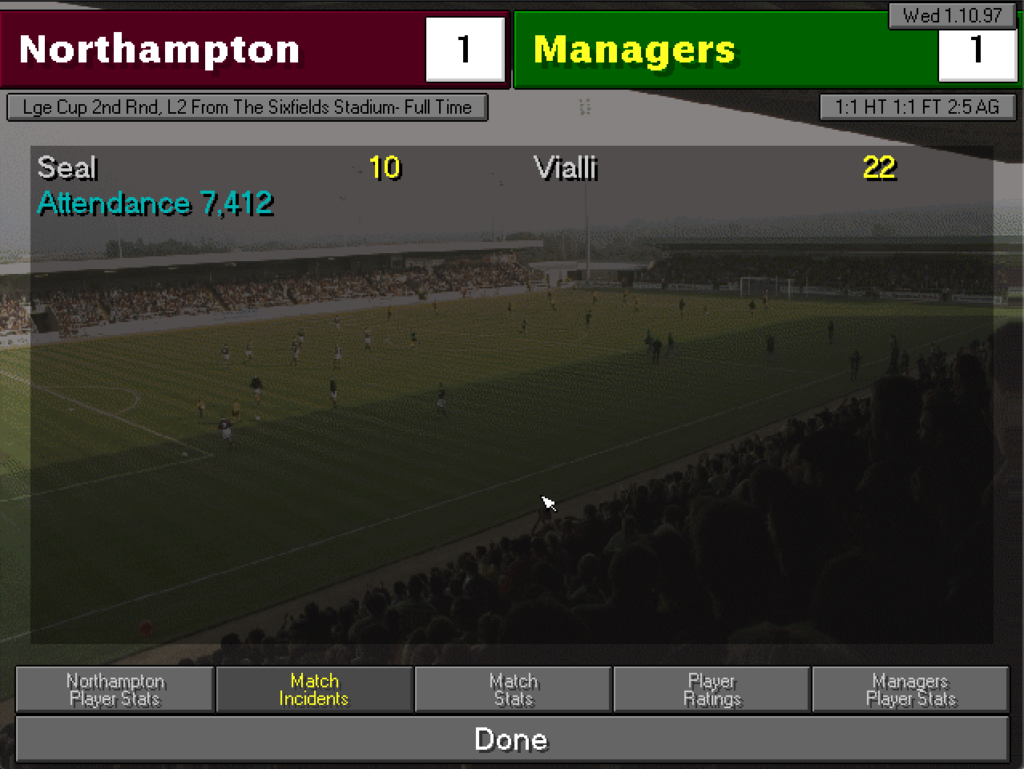 I thought we're never gonna survive when Seal put Northampton ahead, but Wildcard G gets us an away goal and that's how it finishes. Our reward is an away trip to fourth-tier Cardiff in round 3.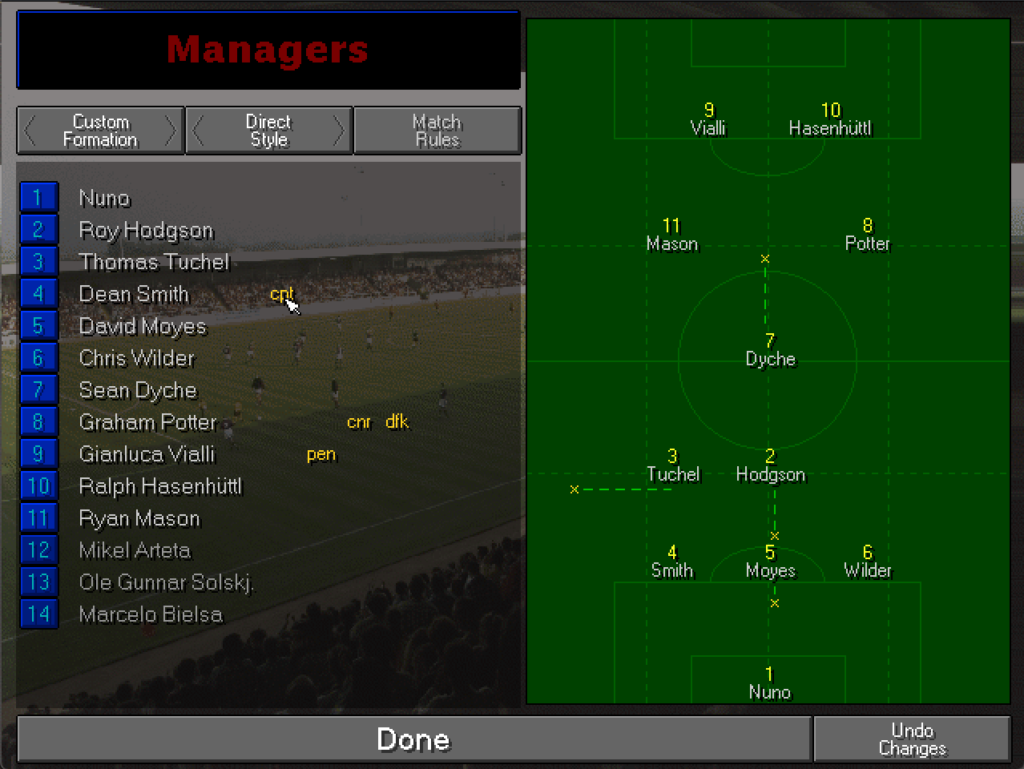 Steve Bruce is back from a fractured cheekbone, so Big Sam drops to the bench having ably deputised. Parker's almost 100% after injury, so aside from Lamps, we've got almost fully fit squad. Spurs are next.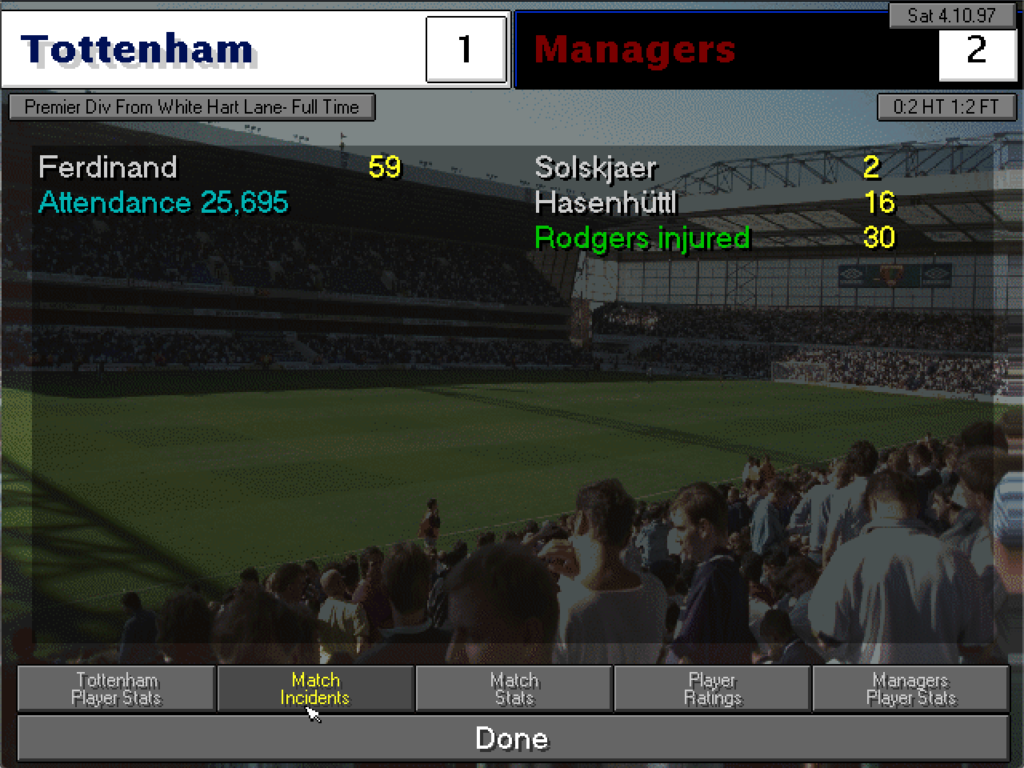 OGS finally opens his Managers account with a lovely early goal, Handsome Ralph adds another soon after. Bruce marks his return with a handball in the box, but the ref doesn't give it. Brodge injured, so Pep drops into DM and Arteta comes on into CM. Big Les makes it a nervy final half-hour, but we hold on for another good win that moves us up to 4th. "Mourinho upends Mabbutt" isn't something I thought I'd ever see in the game.
Bielsa still can't get off the bench for Argentina. Also this game must have been a nightmare for the players & ref.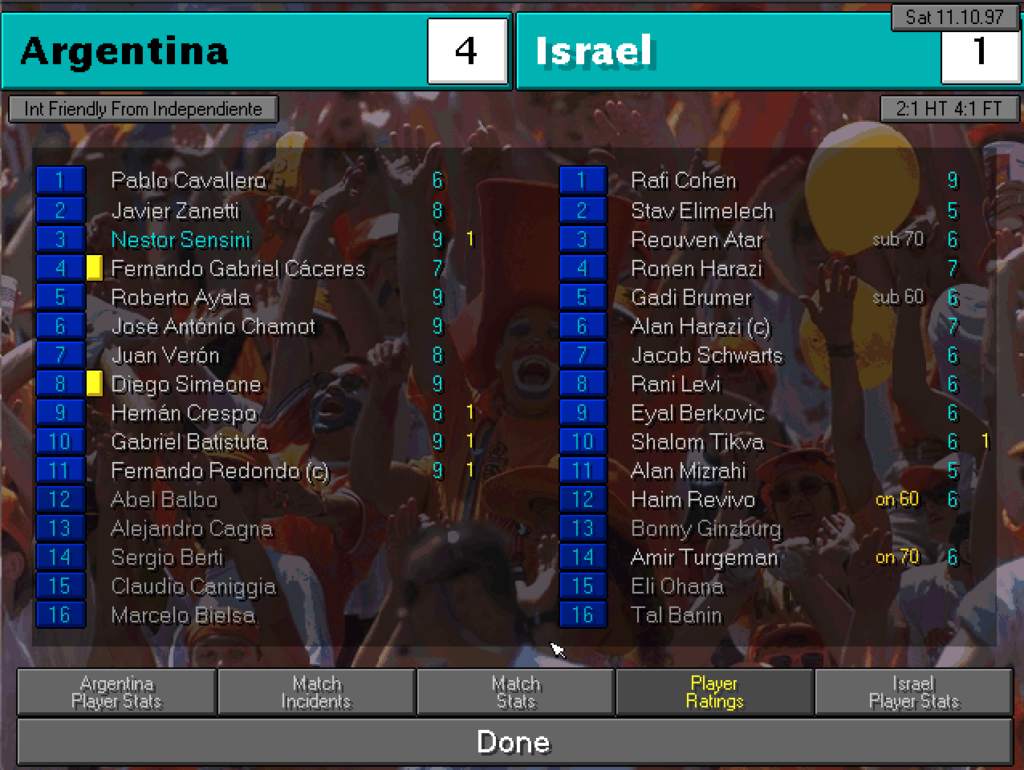 Hopefully someone remembered a set of bibs.
Next up we're home to Blackburn. Brodge is only 75% fit after a strained neck, so we go with the Parker-Bielsa double pivot we've always dreamed of. Otherwise it's the same team that's won the last three league games in a row.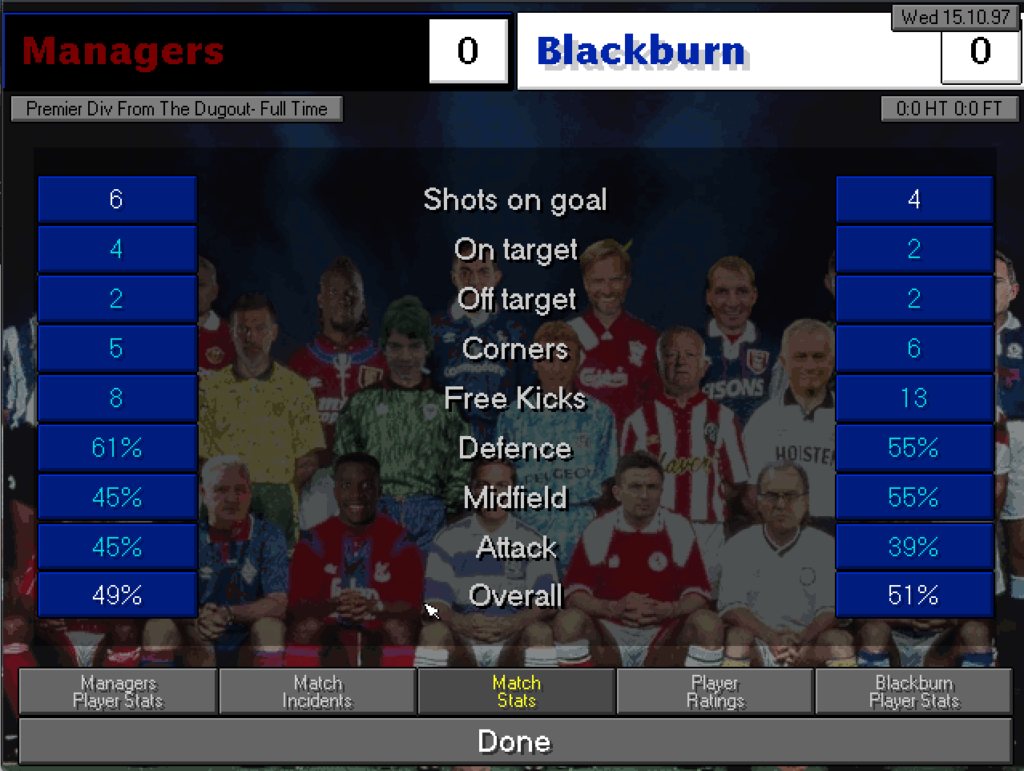 Poor game. We took Hassenhütl and Jose off after 65 minutes, but Wildcard G and Arteta didn't offer much. Blackburn have just appointed Wor Jackie as manager, so it's not the worst result in the world. I note Tim Sherwood's gilet fluttering in the breeze and add him to my list of potential signings, before remembering I've already got enough defensive midfielders and take him off again.
Away to Derby. They're 2nd, 5 points ahead of us, and I feel like I always struggle against them, regardless of who I'm in charge of. We'll stick with the same XI that drew with Blackburn.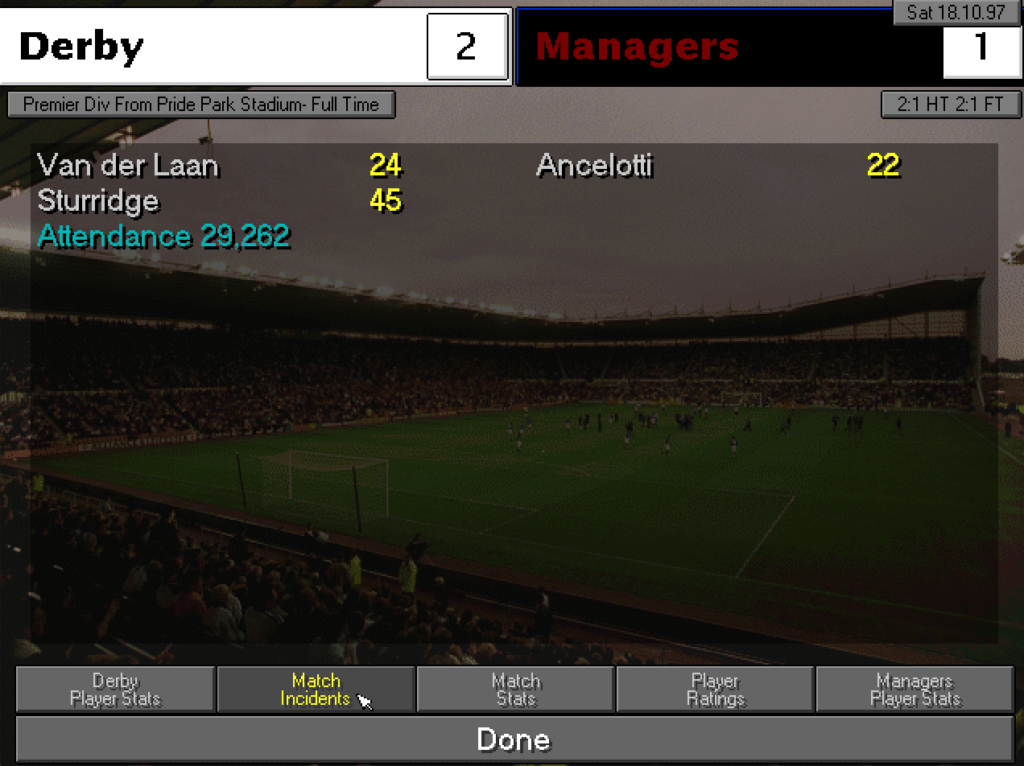 Mr Carlo puts us ahead after a mistake by Mart Poom, but we're behind before half time, despite having the better of the play. Handsome Ralph and Jose again aren't interested and we offer very little in the 2nd half. I think we need Brodge back next to Bielsa.
The upper-mid table area is getting very congested.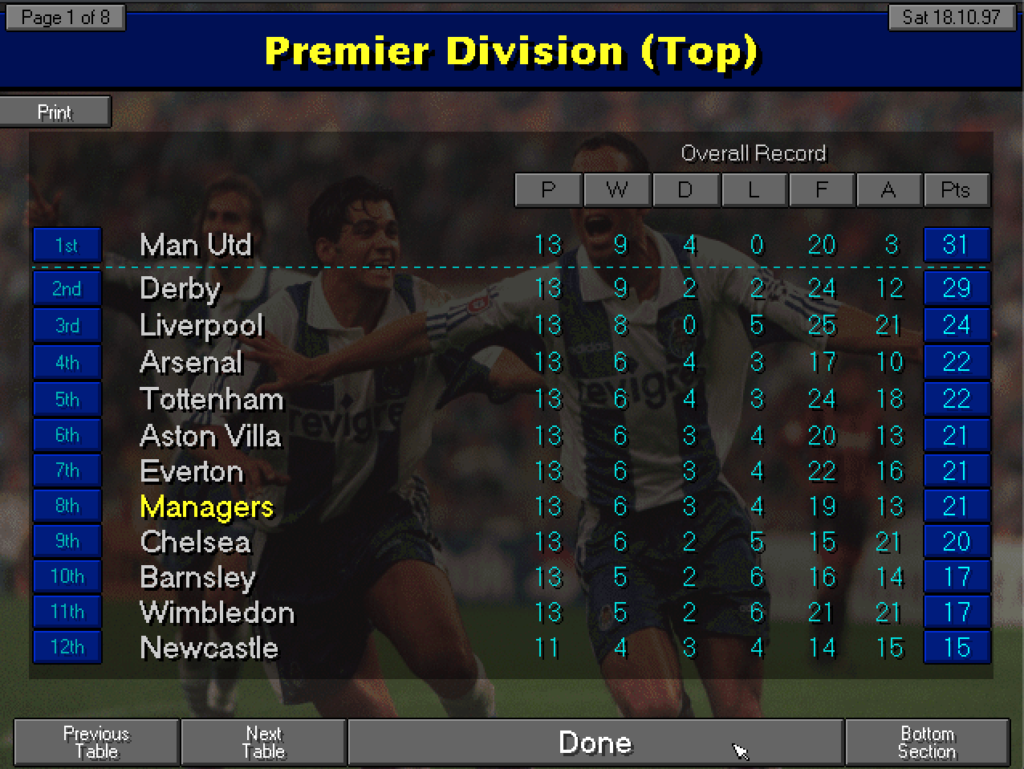 Klopp's averaging just 7.00, so I'm bringing Big Sam in. Arteta replaces Mourinho in AM and Brodge is in for Parker. I'm wondering if Mourinho playing behind OGS was unsettling? He's only got 1 in 7. Anyway, we're home to Leicester.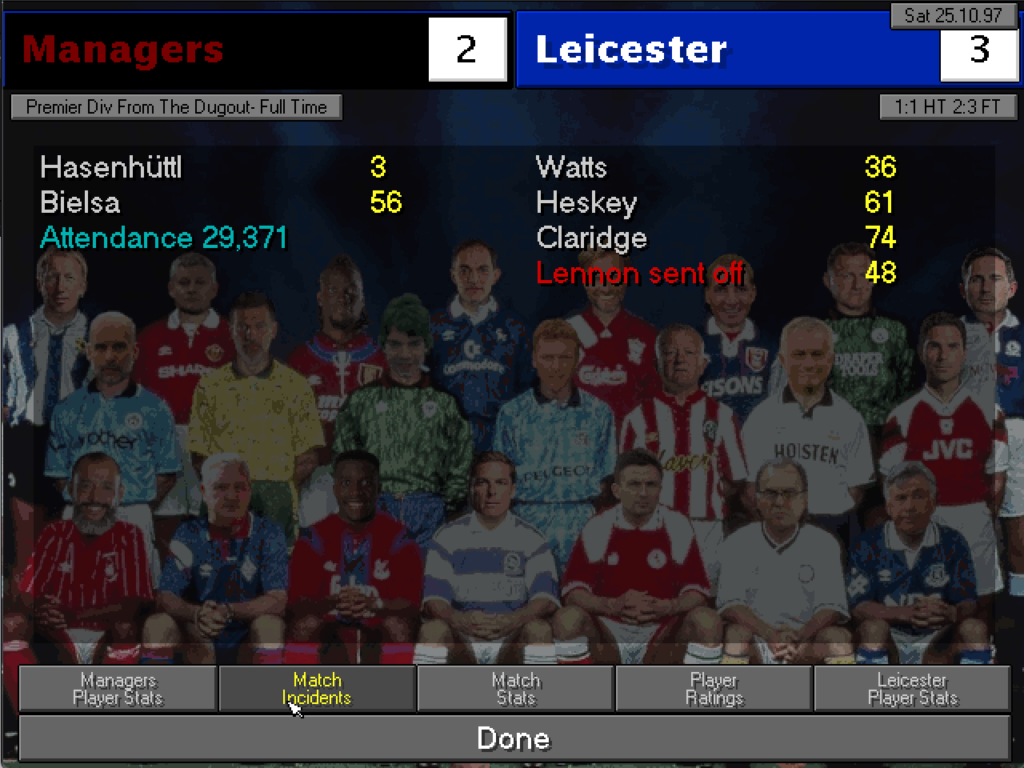 We started so well, but Julian Watts (????) equalises before half time. Lennon gets a 2nd yellow for pulling off (or was it pulling down) Bielsa and the man himself puts us 2-1 up. But we're unable to see it out against their 10 men and it's a poor, poor result in a game we should have won. Kasey Keller was MOM. Champo'd. Villa lose 4-0 so we actually go up to 7th despite the result.
We take the B-team over to Cardiff for the league cup, though Solskjaer starts because he needs some damn goals.
URGH. It's all going wrong very quickly because we can't score any bloody goals. Fancy scoring some goals, Ole? Come on, son. We change it up a bit for a game against Coventry: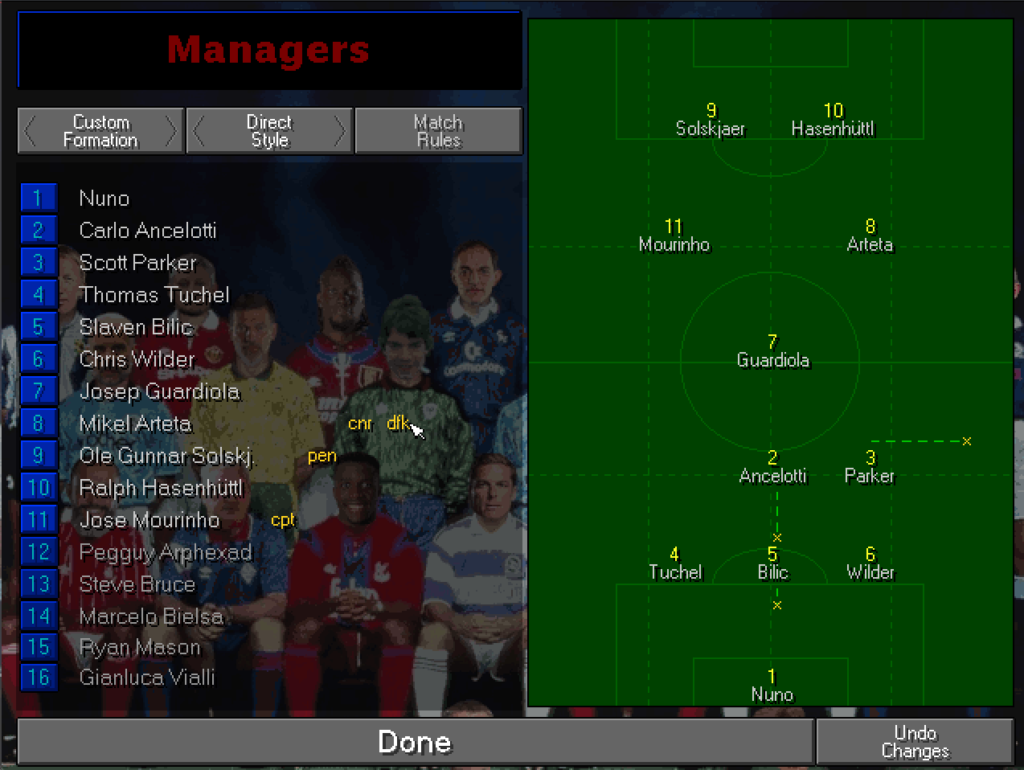 I'm concerned that having so many old lads at the back is causing us to leak goals late in games, so we freshen up the back 3.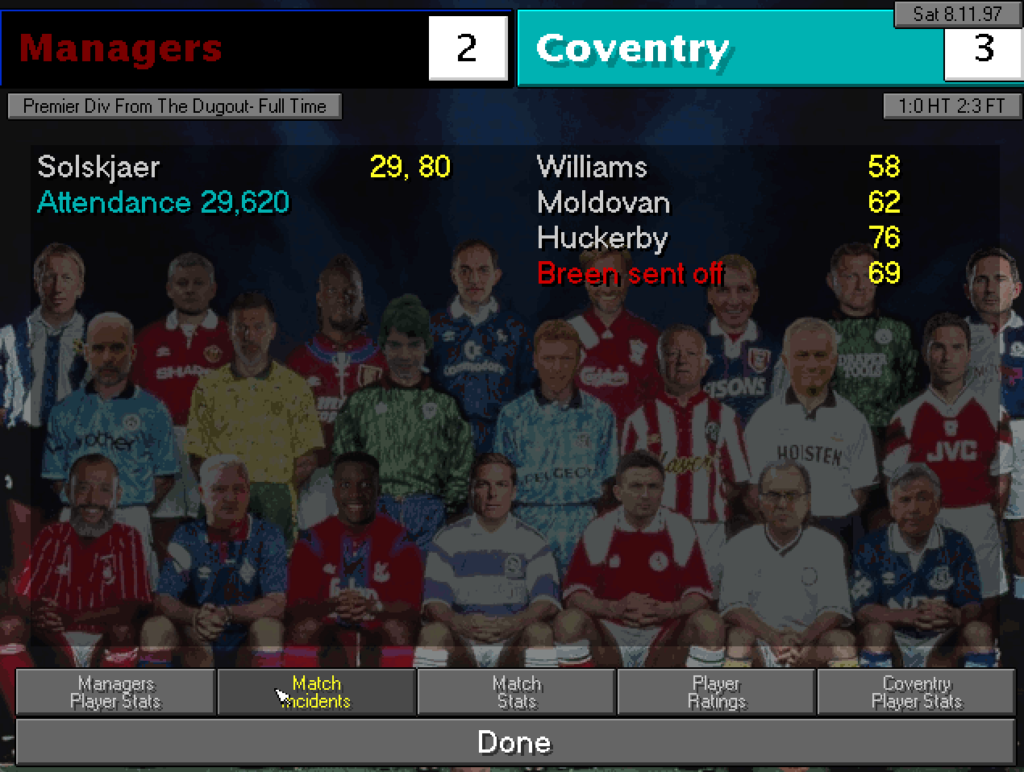 OGS finally gets his shooting boots on, but it's another terrible result. Terrible.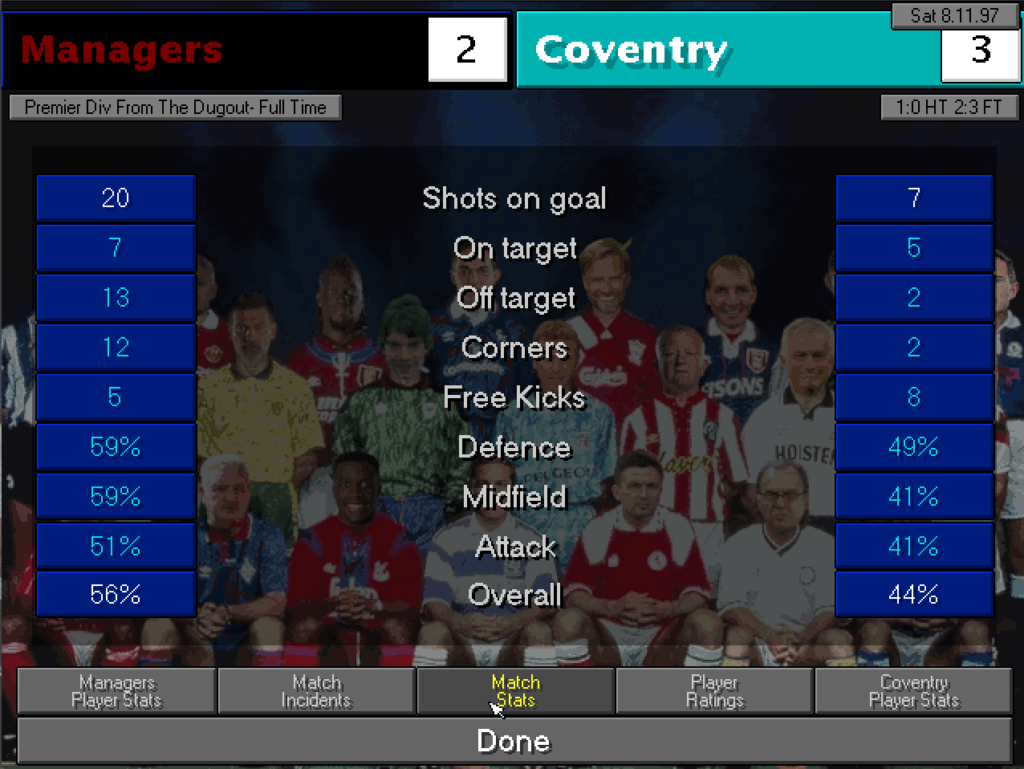 ¯\_(ツ)_/¯ A trip to 18th placed Southampton. We badly need to end this run of dire results. Mourinho is suspended for 3 games having accrued 22 disciplinary points, so Ryan Mason, who the game couldn't cope with being born in 1991 and so is 37 years old, goes into AMC to replace him.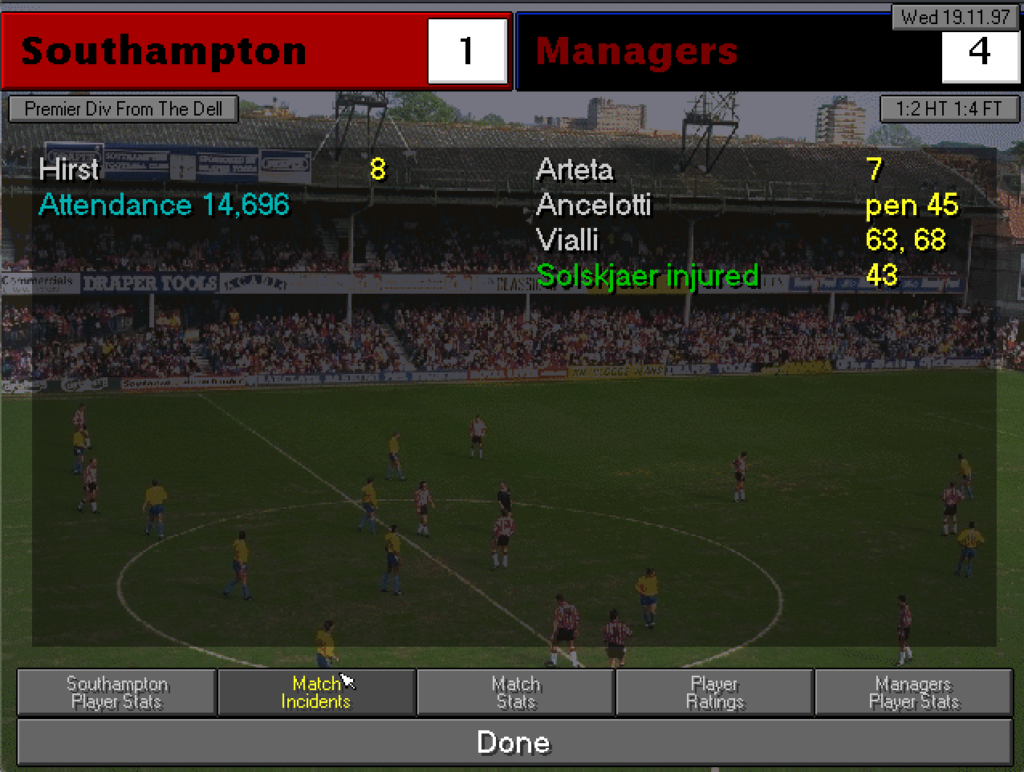 Finally. An early exchange of goals, before OGS goes off injured. And honestly, I'm kind of fed up of his non-goalscoring exploits, Cov game notwithstanding, but we lost anyway so who cares? Sorry, I'm rambling. Ancelotti slots away a pen before Wildcard G puts some gloss on the result. Good stuff. Away to Leeds next. Vialli in for OGS. Still a few weeks away from a Lampard return.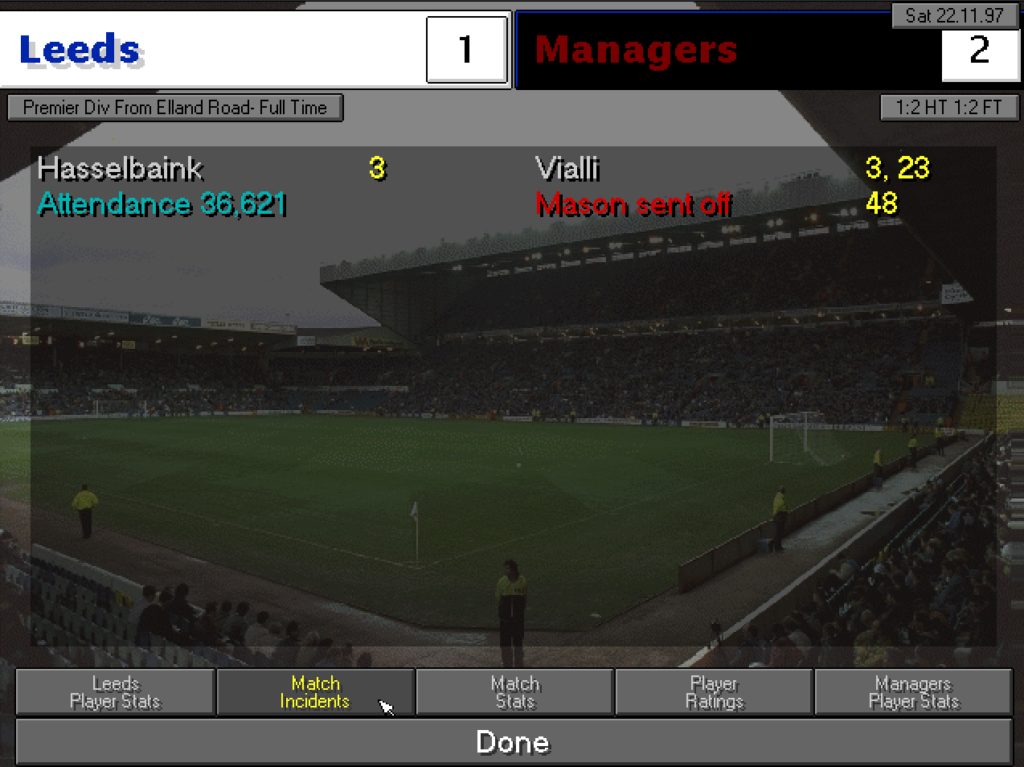 Again, we score first and conced seconds later. Sort it out, lads! But Wildcard G puts us ahead again. We switch to 3-3-1-1-2/passing at half time. Mason, trying to emulate the ill-discipline of his future predecessor, is sent off for a 2nd yellow minutes later, but we grind out the win. We're up to 5th, but it's helluva compressed in that there upper mid table: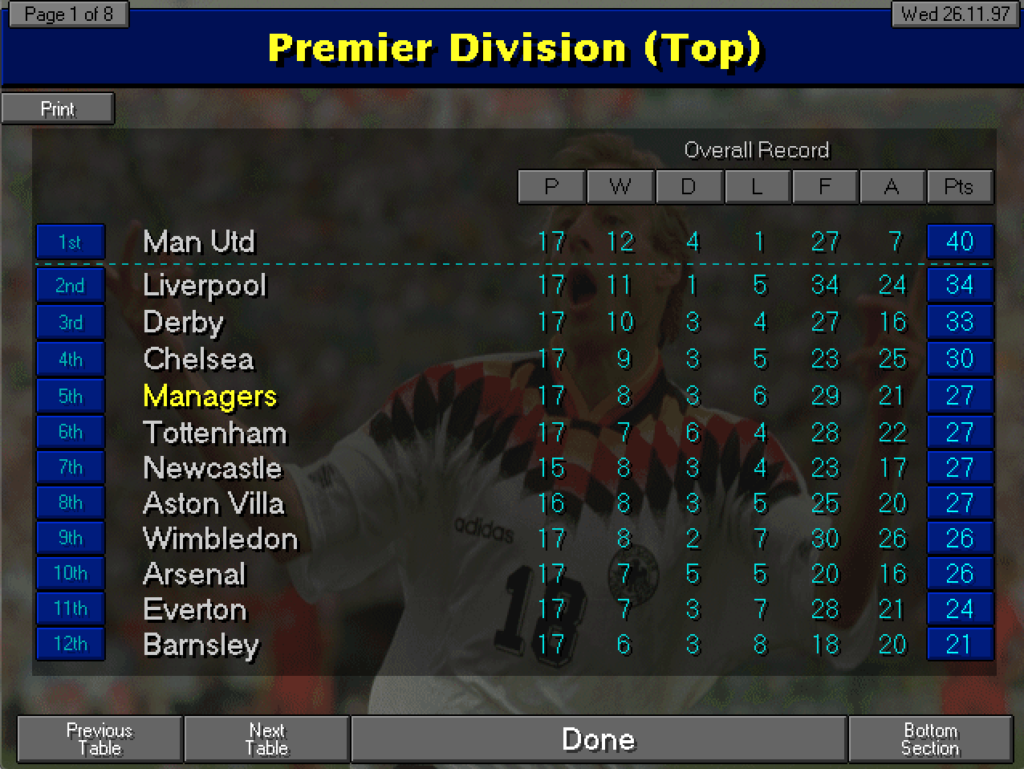 Napoli offer £98k for Ancelotti. Get out. Next up, Sheff Wed pop round to the dugout. OGS has recovered from his heel injury, but he's at 79% so I'm keeping him on the bench. Plus, Vialli has 6 in 10 against OGS's 3 in 11. Dependable, solid, Handsome Ralph has 8 goals and 8 assists in 19 games.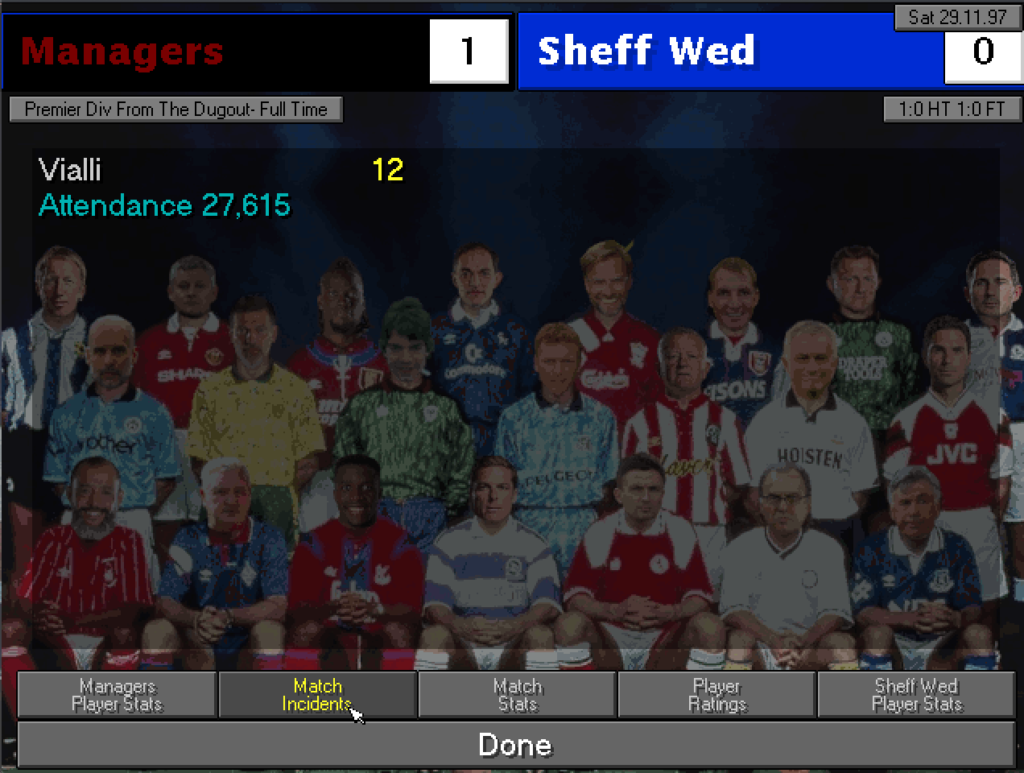 Wildcard G is unstoppable at the moment, and it's a rare clean sheet as we grind out another win. Switching to 3-3-1-1-2 at HT seems to be plugging the flow of 2nd half goals, but we have gone for the slightly more mobile back line as well, which is probably helping.
Chelsea are in town, it's 4th vs 5th and we're 1 point behind them. Mason is suspended but Jose's back, and damn right he's gonna play against Chelsea. I'm sure Vialli will be feeling motivated for this one, as well…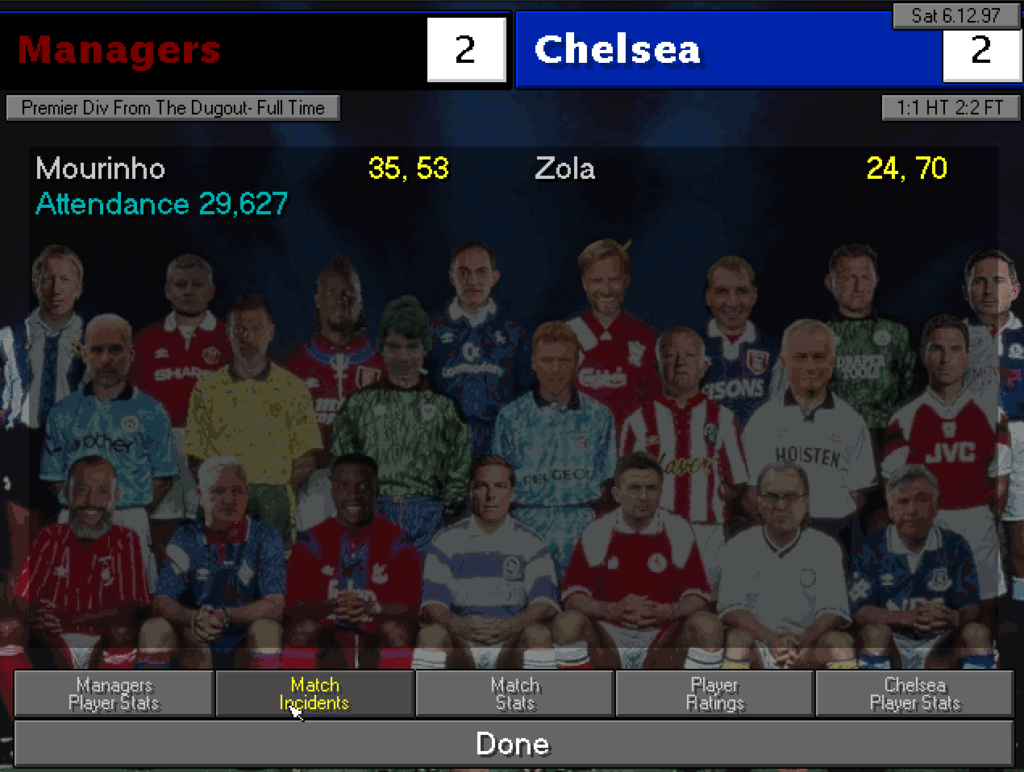 Classic Jose. They're all over us and my finger is hovering over the keys to go more defensive but it's too late. I figure we need to lock it down anyway, so I go 3-3-1-1-2/passing after 25 minutes and we look much more comfortable, with Mourinho gleefully sticking two away past De Goey. A draw flattered us slightly, Nuno was rated 9/10 for this, but after some of the muggings we've suffered, we're overdue one of these. We stay 5th, but Villa and Newcastle have 1 and 2 games in hand respectively below us.
Home to Liverpool. I remember we beat them very nicely on opening day with the 3-3-1-1-2/passing, so we switch back to that. Lampard is 85% fit so he's on the bench. Sticking with Wildcard G and Handsome Ralph up front.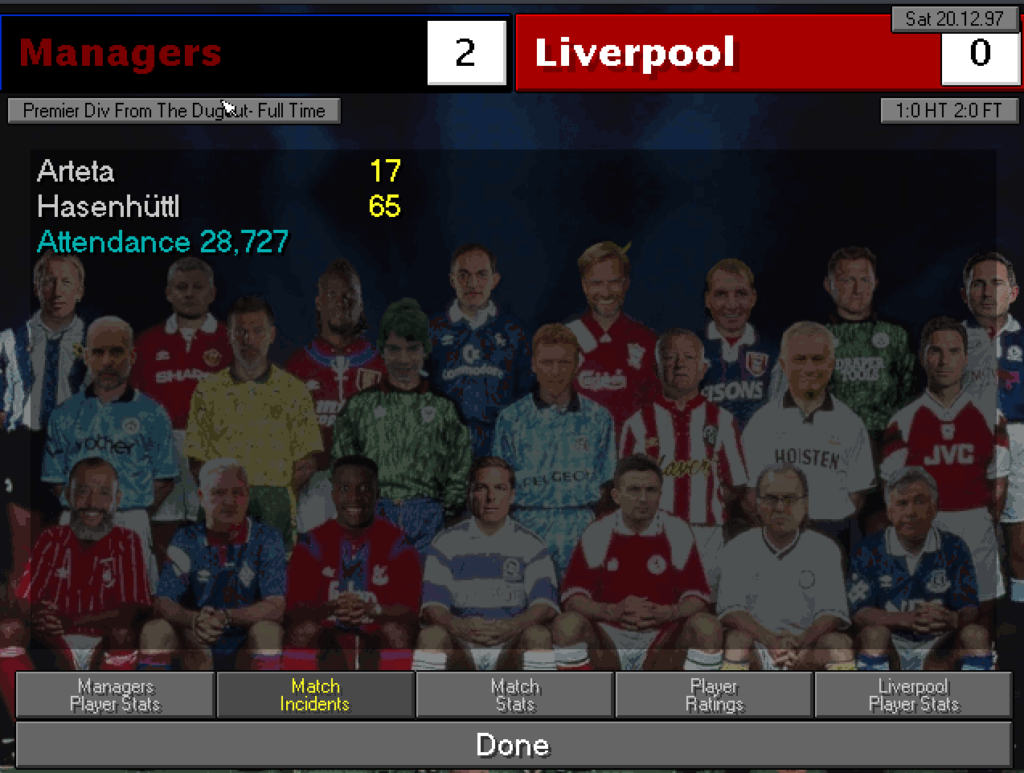 Yes, lads! Suprisingly comfortable as well. The game announces this as a "shock defeat" for Liverpool, despite the fact we beat them 2-0 at Anfield back in August in a remarkably similar game.
It's a Boxing Day visit to Highbury now. We followed up our Anfield win with a 0-0 draw against these last time. Keeping the same team for now, but with Lampard and OGS on the bench, we've at least got some decent options if a change is needed.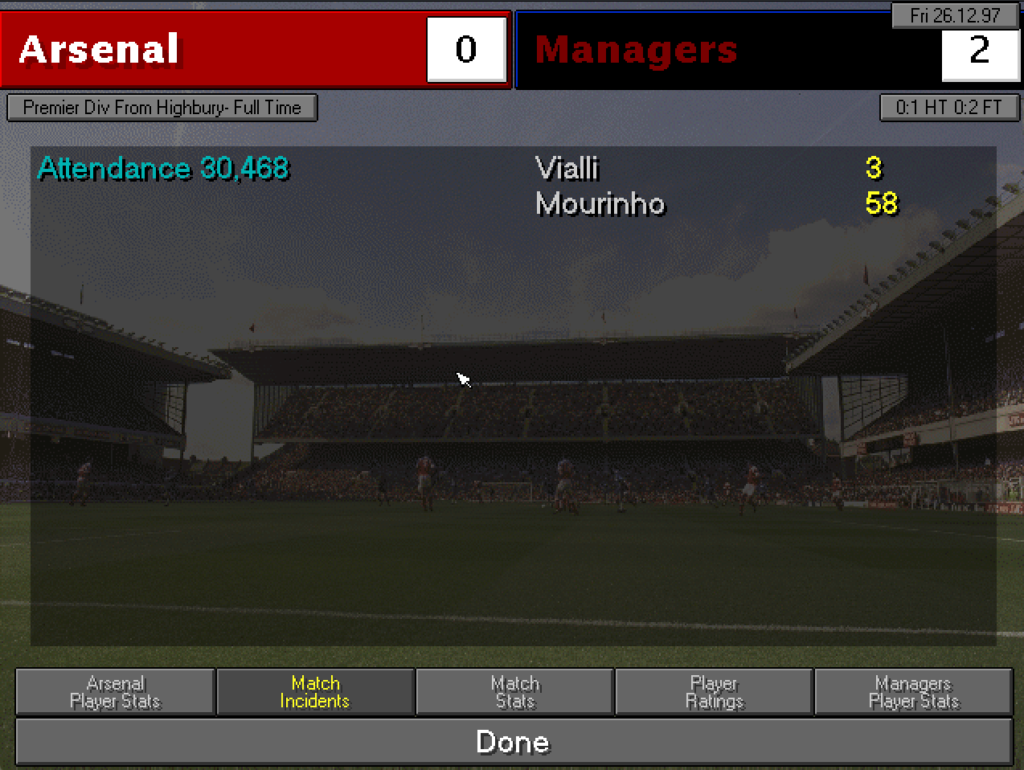 Well, well. You know Jose enjoyed popping that one in against his old mate Wenger. Arsenal didn't have a shot of any kind until the 51st minute.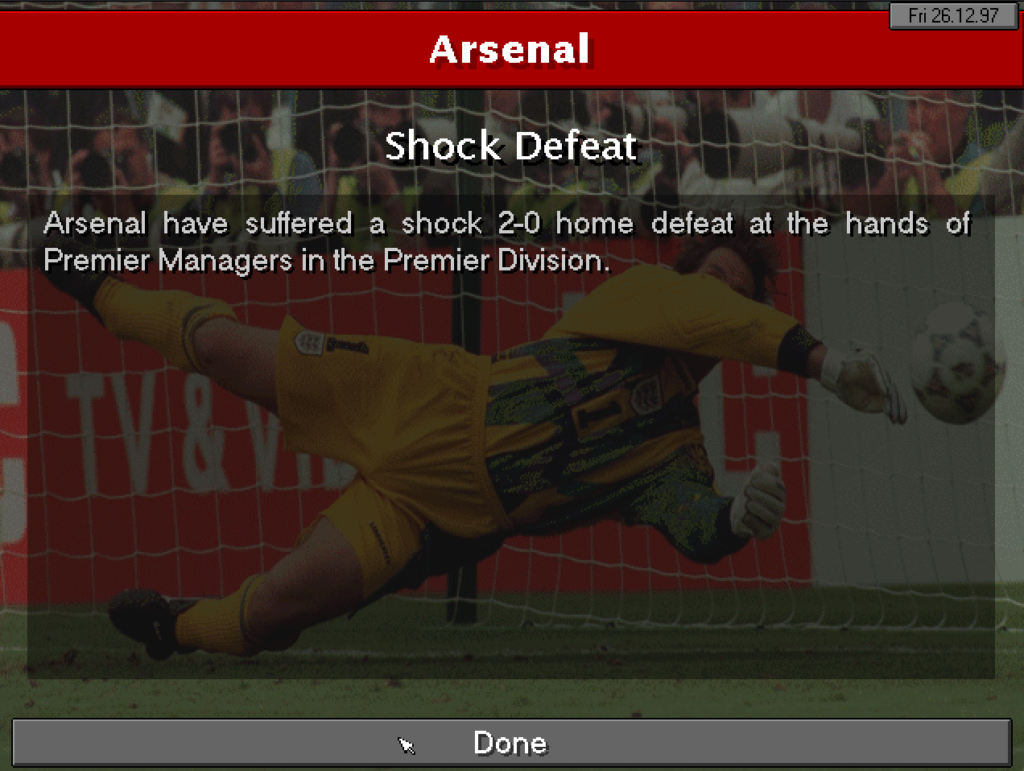 O ye of little faith. Jose will be suspended for two more matches after hitting 31 DPs. Ancelotti's out for two weeks with a knee thingy and Arteta catches a cold, so Lamps goes into MC and Bielsa slots into DMC. Time for Sheffield Utd in the FA Cup 3rd round.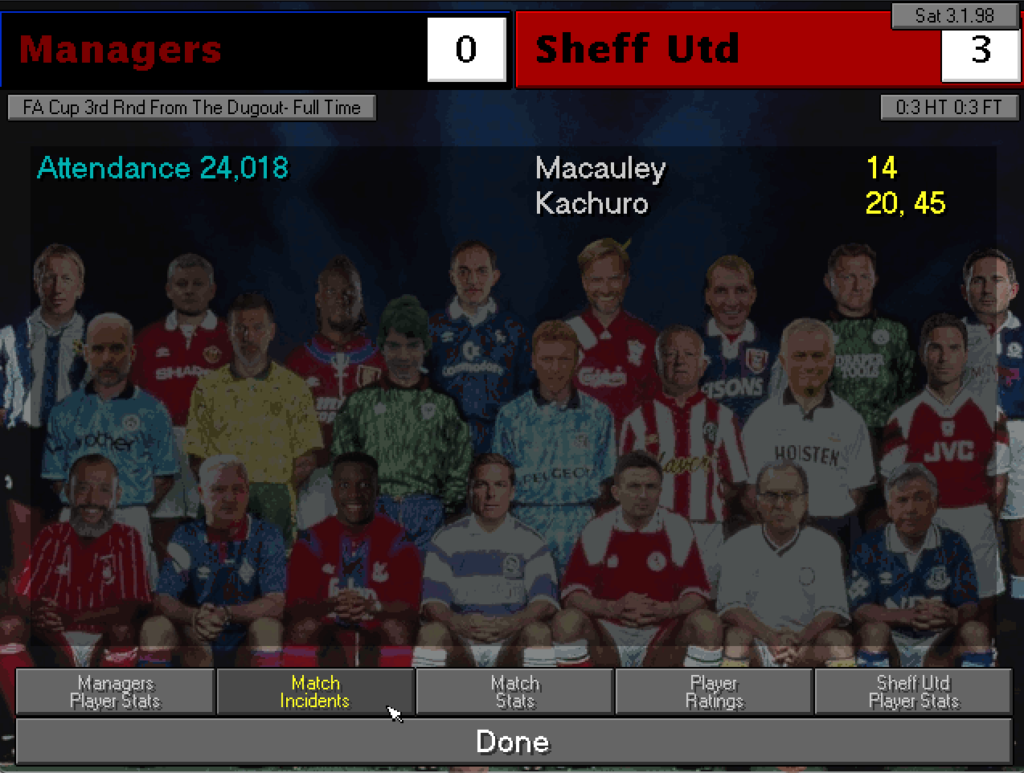 Baaa-aaad. It's a giant killing feat according to the game, and it's hard to argue, we were just appalling here. We badly missed Ancelotti and Arteta.
Leaders Man Utd are next up at The Dugout. Jose is suspended, so OGS pops into AMC. Lampard continues in MC, and Arteta's over his cold, so he replaces Bielsa as one of the 3 DMCs. Wilder's out for a few weeks with a strained wrist, so Steve Bruce returns to face his old club.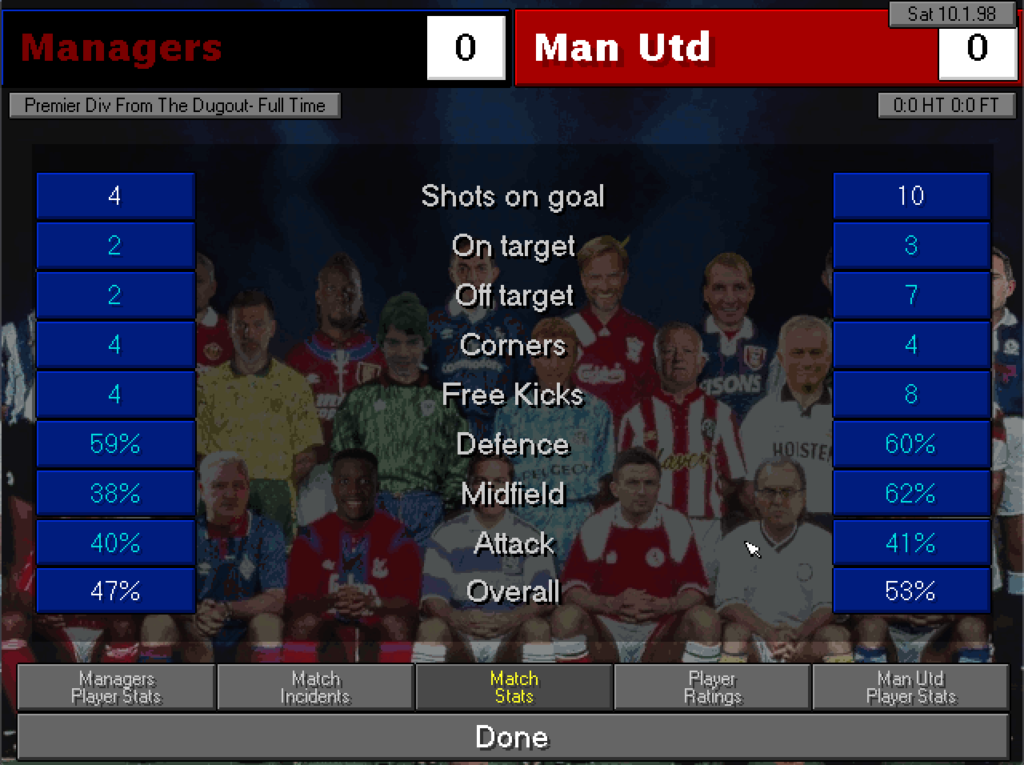 I'll take that. A point against Man Utd is always good result in the first season.
Away to rock bottom West Ham next. OGS is benched in favour of Arteta playing in the hole. Lampard stays as MC, with Ancelotti coming back in at 88% fitness.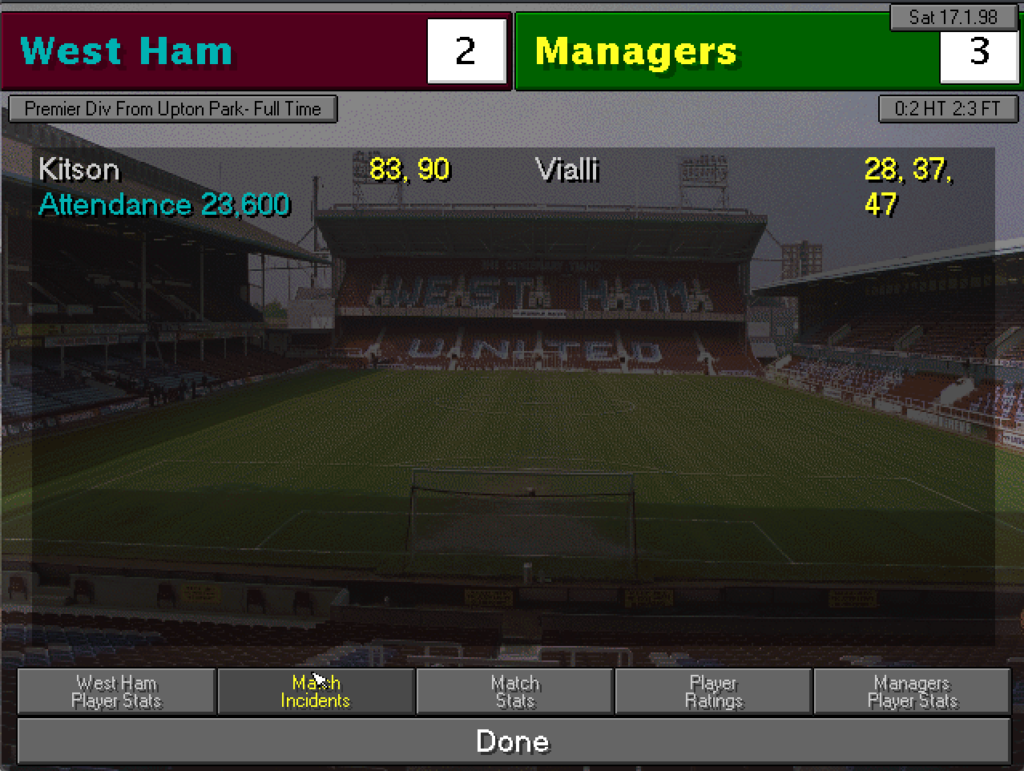 We look to be cruising after a hat trick from Wildcard G, so I bring off Arteta, Guardiola and Ancelotti on 66 minutes, but it gets a bit hairy at the end, and we just about hang on.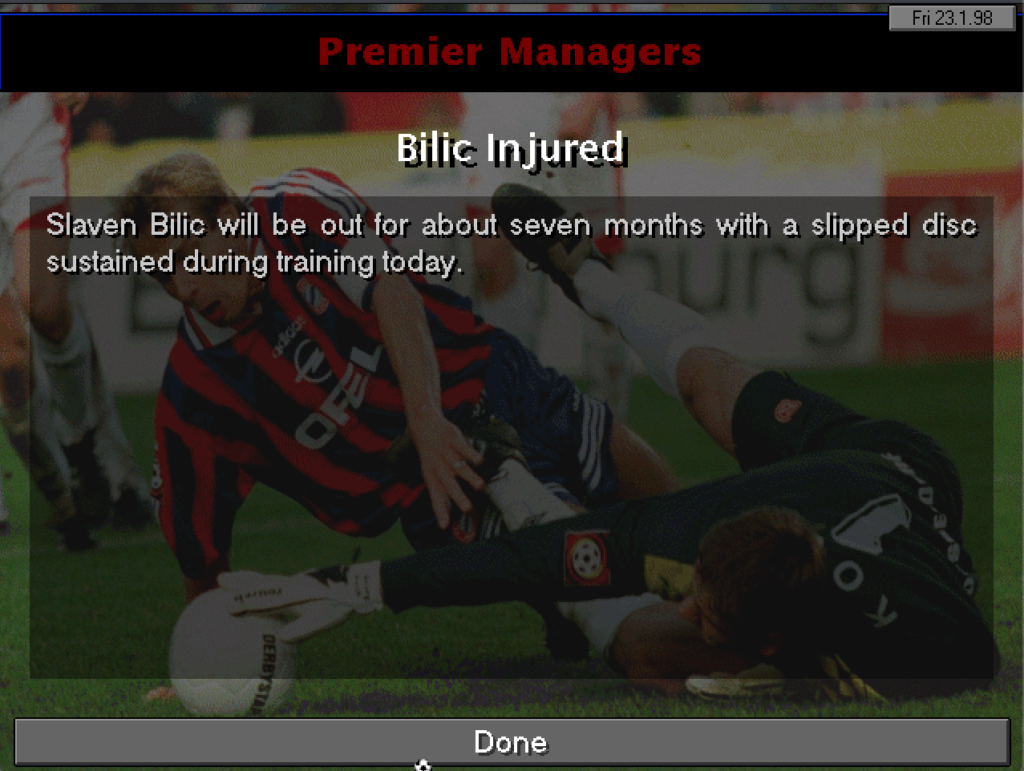 Damn. This is a huge blow. Bilic is easily my best defender. Wilder's not ready to come back yet either, so we'll go with Brodge, Bruce and Tuchel in our back 3. Mourinho's suspension is over so he's back on the bench for the visit of Barnsley. These guys eased past us last time, but they're now 18th having lost 6 of the last 7.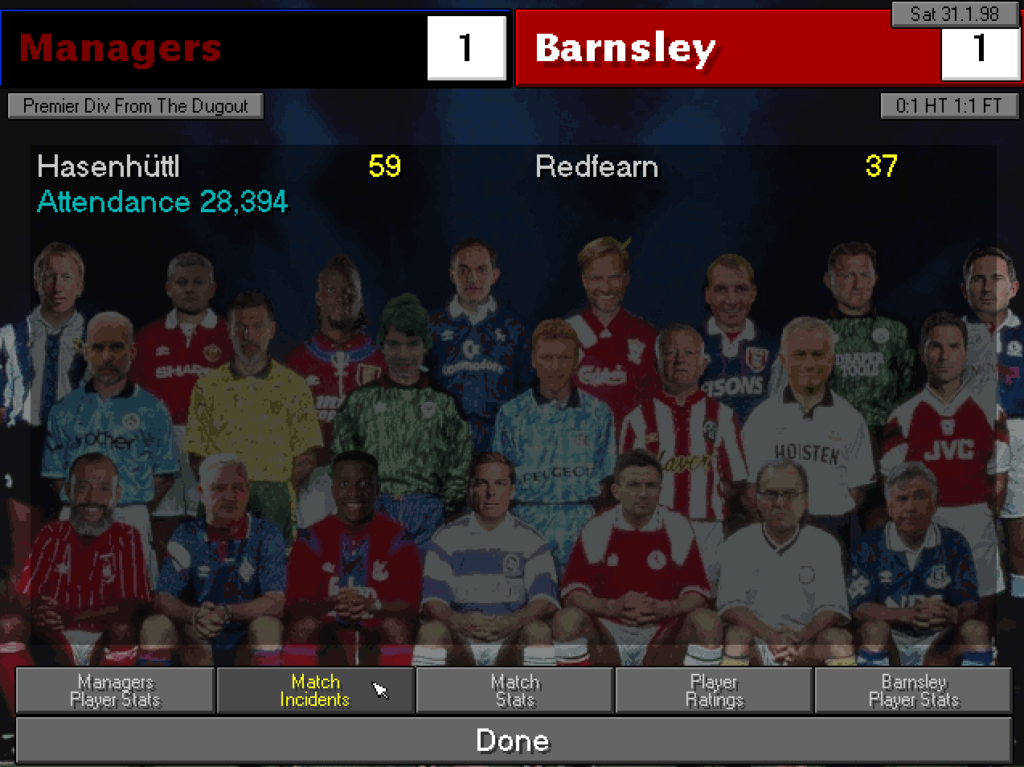 Redfearn puts the Tykes ahead in the first half, and it feels like it's going to be one of those games. We take off Parker and Vialli for Mourinho and OGS early in the 2nd half, and it quickly pays dividends, with OGS setting Handsome Ralph for the equaliser and the Austrian's 10th of the season.
We'll leave it there for now. Felt like we were wading through treacle at times earlier on, but we had a decent little spell, and went unbeaten in the repeat of our Tryptych of Destiny against Liverpool, Arsenal and Man Utd.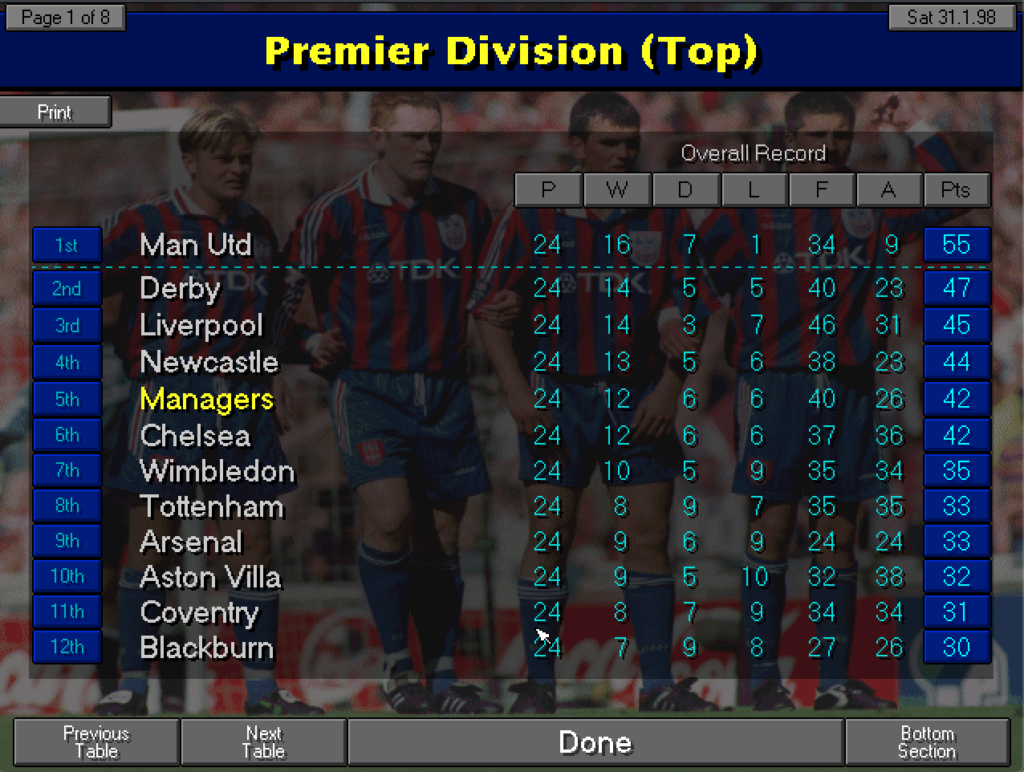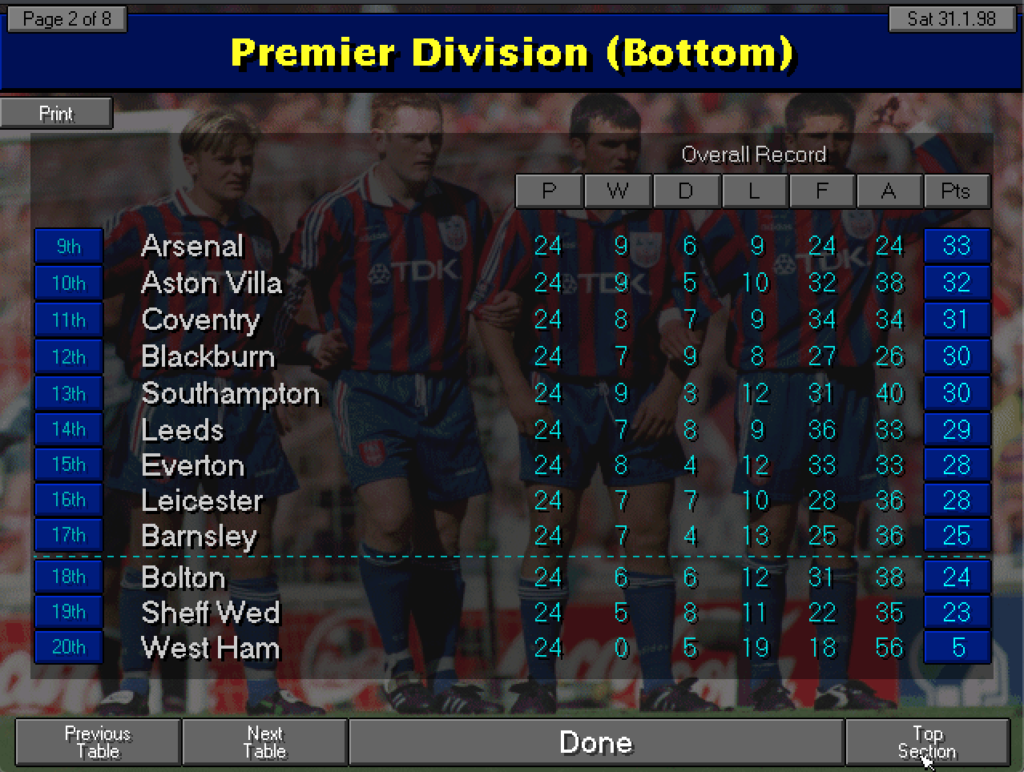 Lampard-less West Ham are bottom and I can't help but feel partially responsible. A push for the European spots seems a lot harder without Bilic for the rest of the season, but let's see how we go.