I thought it might be a fun, if not that original idea, to put all of the 20/21 Premier League managers into a team and see how they got on.
Creating the squad
I've included all managers who took charge of a Premier League game this season, not including COVID-based stand-ins, or anyone else I've probably forgot. Of the 24 lads that have been in charge this season, 14 already existed in the database and have been transferred in. The other 10 have been created manually, based on info about their playing career and style from Wikipedia and my own personal evaluation of what they were like having never seen most of them kick a ball.
For example, Wikipedia says that Demetriou Albertini was basically a clone of Carlo Ancelotti, so I've just copied DA's stats across verbatim: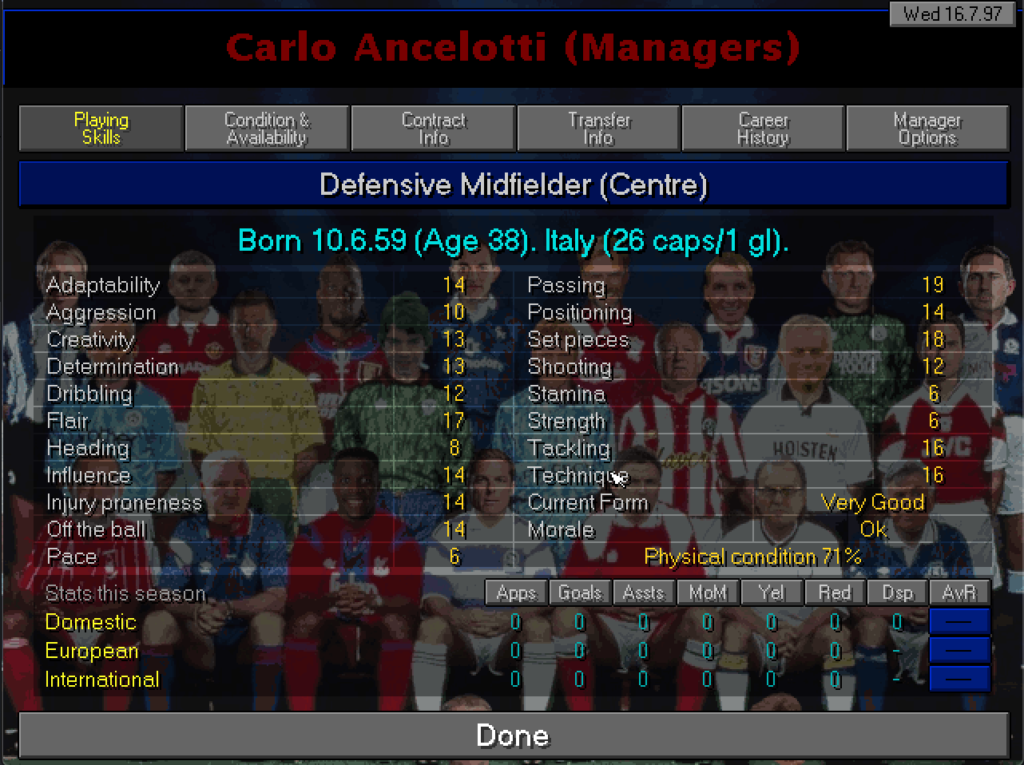 Sam Allardyce is your classic no-nonsense centre back: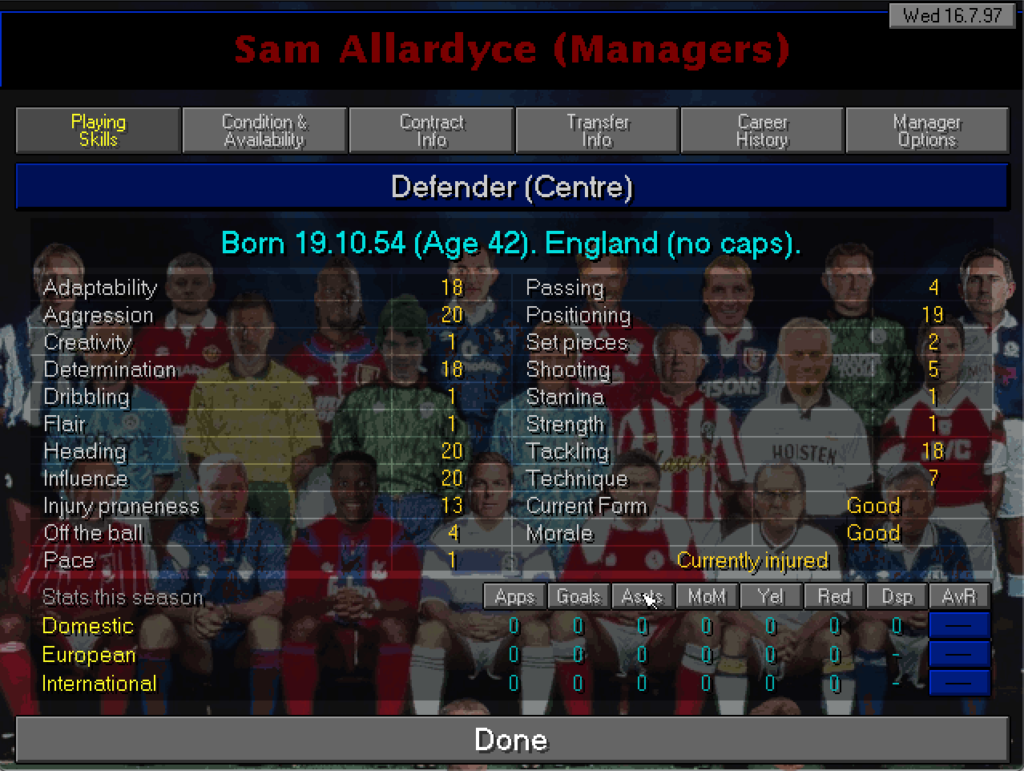 Roy Hodgson, given his long and varied career, a very adaptable man: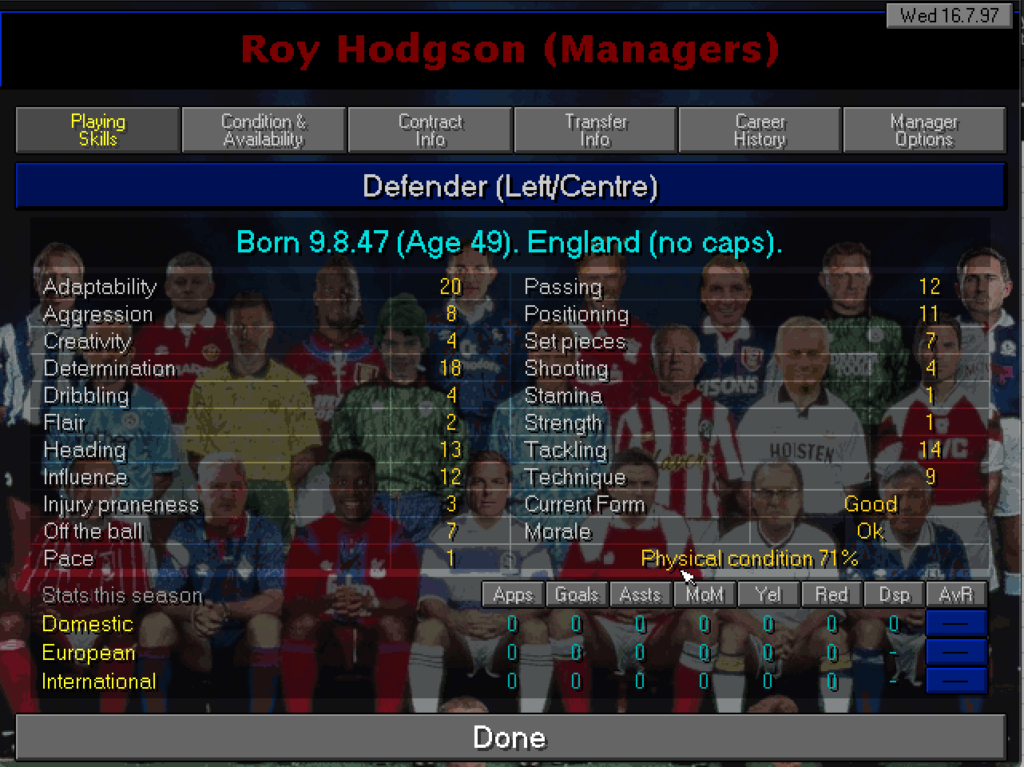 Jose Mourinho, the maverick: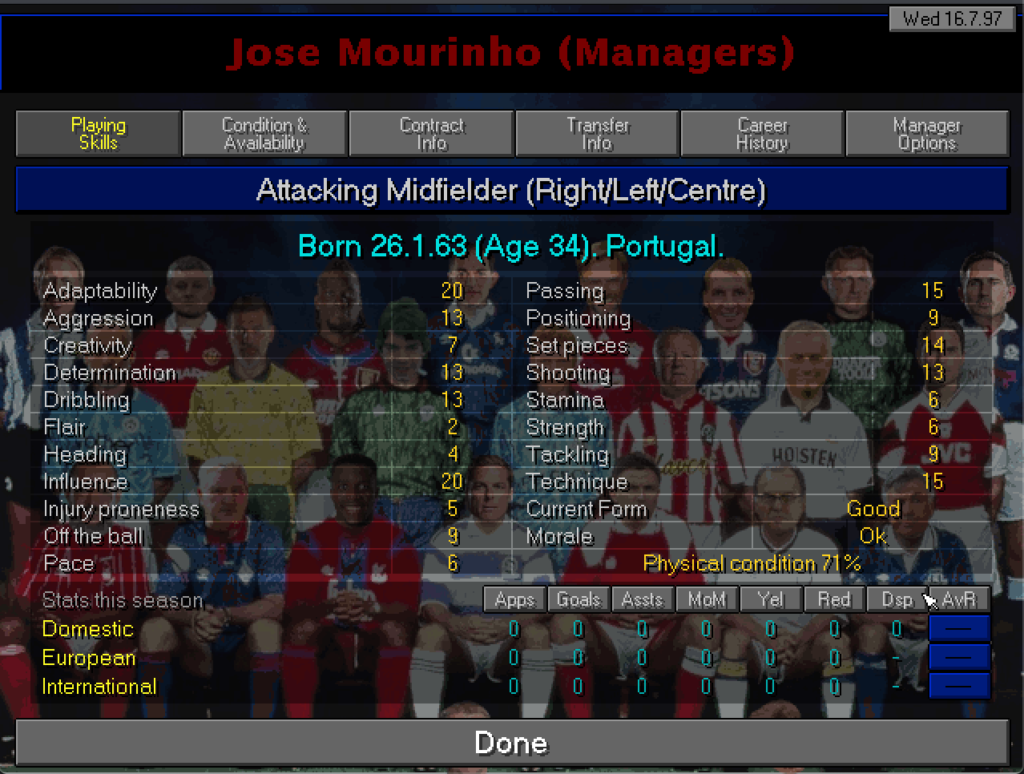 I imagine Brodge to be a bit more of a cultured defender: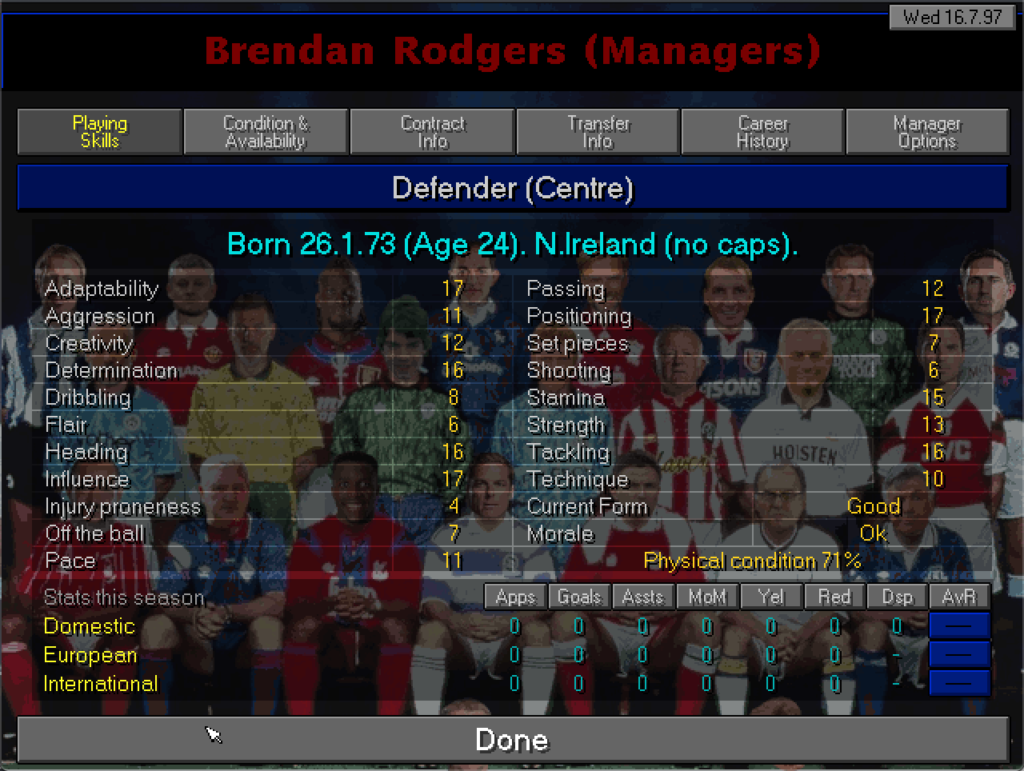 Bielsa I reckon would be a good all-rounder: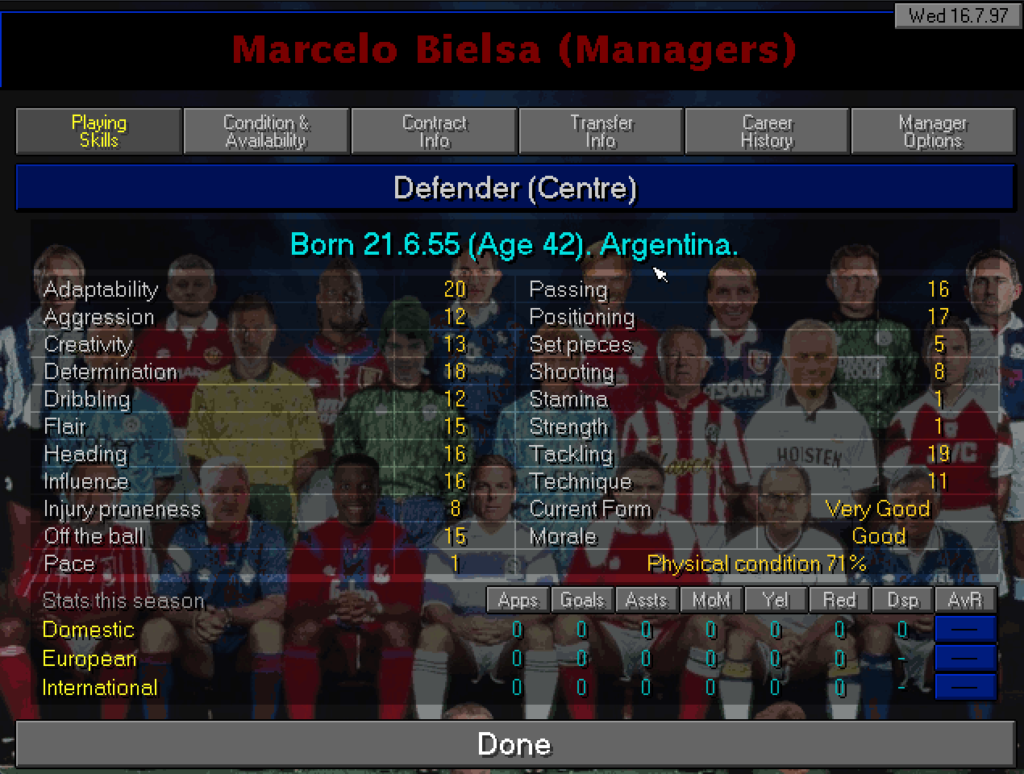 I won't bore you to tears with every single one, since most of the others all finished playing quite recently, and I can't be bothered to argue with you about just how good Ryan Mason really was. So, here's the squad: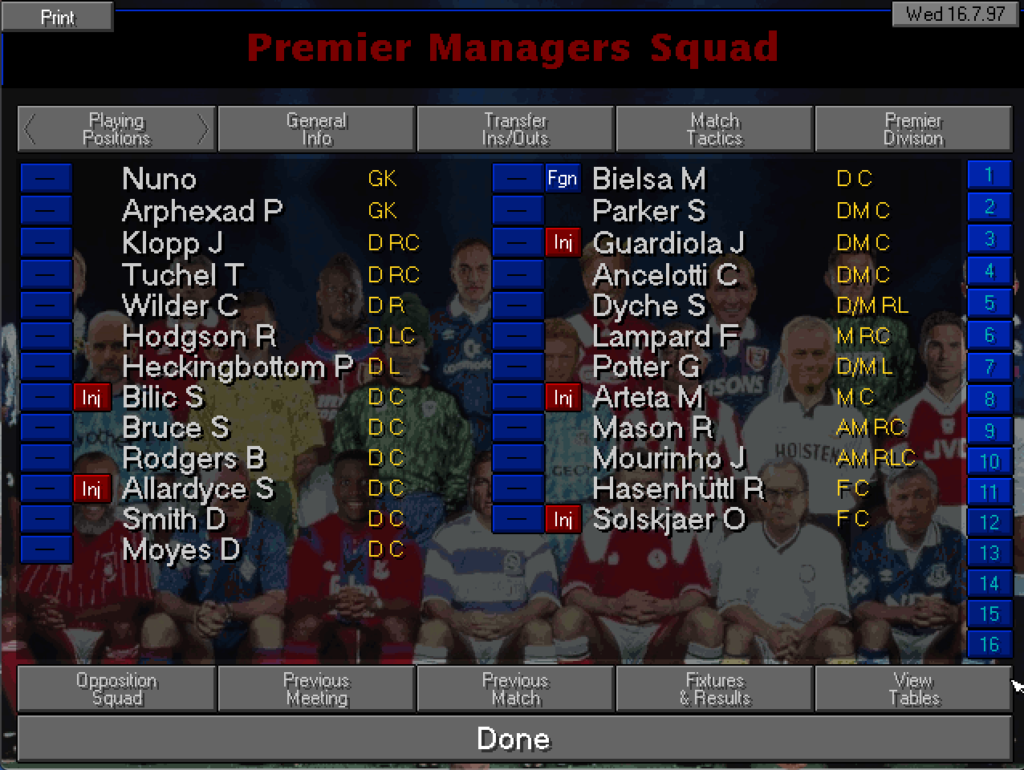 The squad is perhaps a tad unbalanced, so I think we'll make a rule that, during season 1, we're allowed to bring in one future/former Premier League manager that appears in the database, so the likes of Alan Shearer, Stuart Pearce, Paul Lambert etc will all be fair game. (Just looking through the list for potential attacking talent. Dowie. Lombardo. Big Dunc!) Oh yes and we needed a backup keeper so Pegguy Arphexad bravely agreed to step in, despite his lack of management experience.
First XI
I'd like to think we'll be quite solid defensively, given how many bloody defenders we've got. We're fairly fortunate in that Guardiola and Solskjaer are pretty handy, but OGS is out for 3 months so we're probably going to struggle for goals in the interim, unless Ralph Hasenhüttl turns out to be a goal machine. When Solskjaer returns, I'll likely play the 3-3-1-1-2 that won me the league in the first season with Arsenal. Until then, we'll exchange a forward for an AM: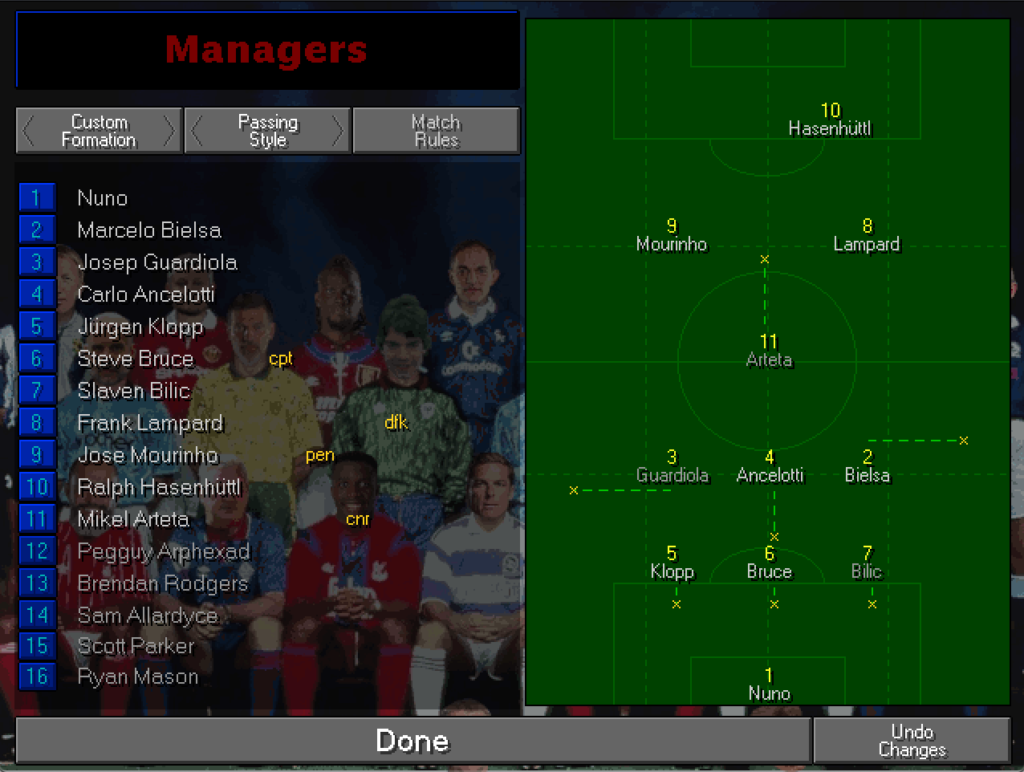 We can always try Dean Smith as an auxiliary striker, he's got 8 goals in each of the last two seasons playing for Hereford! Shooting 14 as well. Noted. Right, let's see who we've got in our first few games.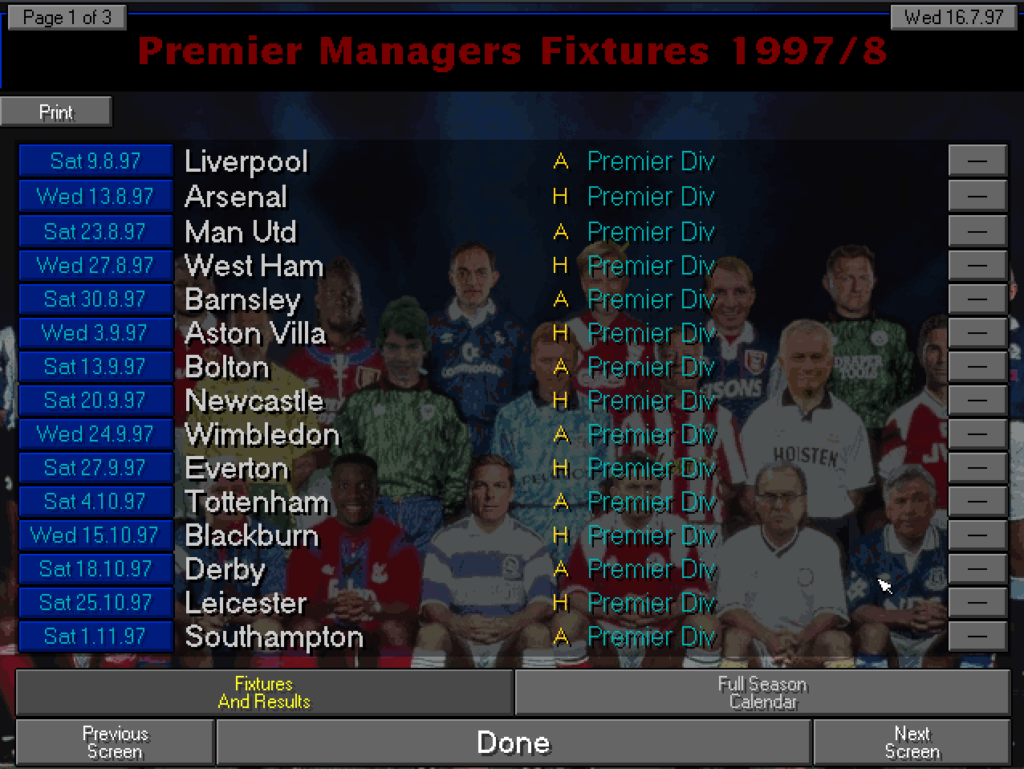 Ahh bloody hell. Maybe we can ask Roy Hodgson what "Baptism of Fire" is in Norwegian.
Right then, here we go. Game day 1: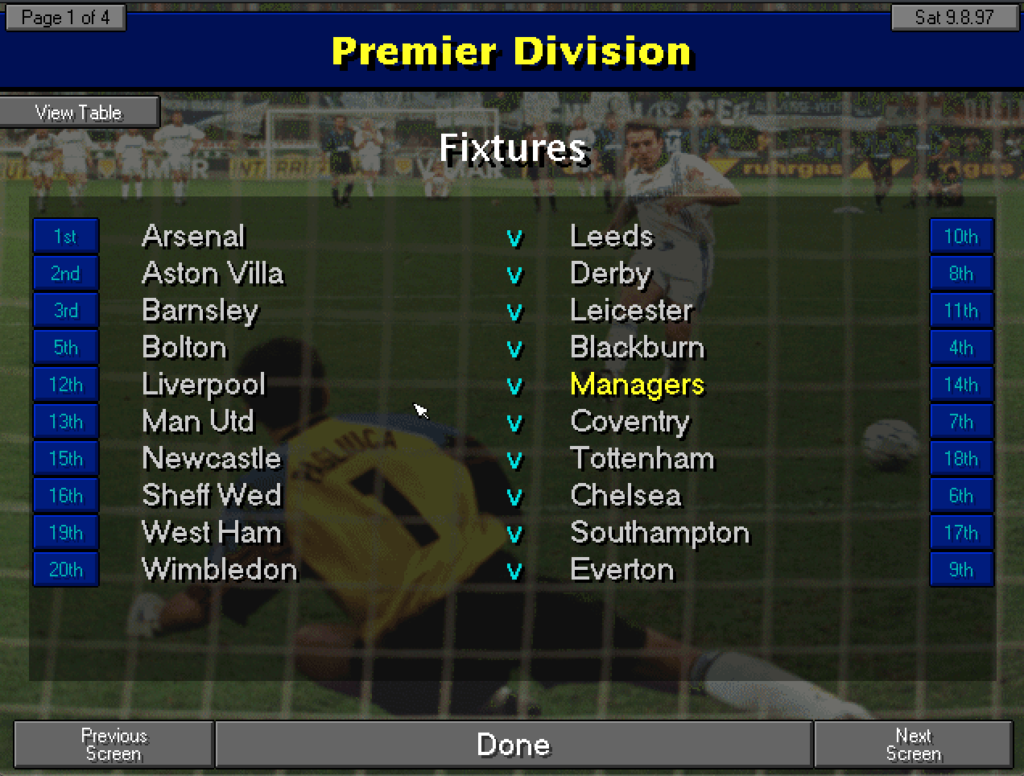 Let's do this.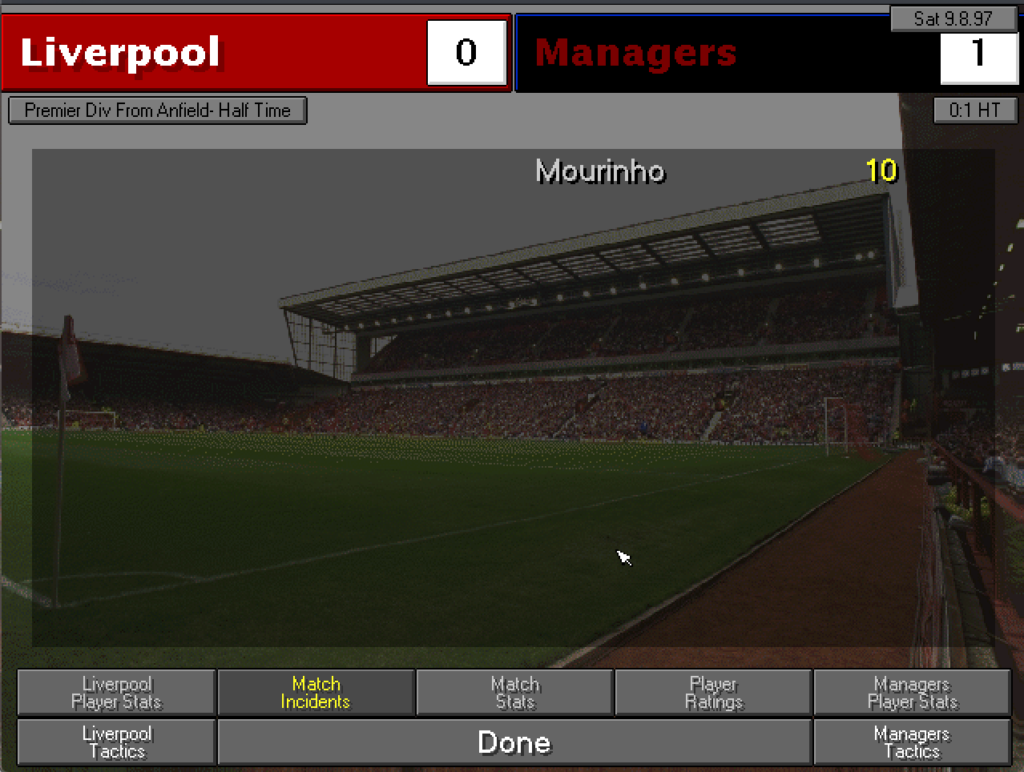 1-0 up at half time. Mourinho gives us an early lead. Klopp is struggling with a back injury but as it's Liverpool, I daren't take him off.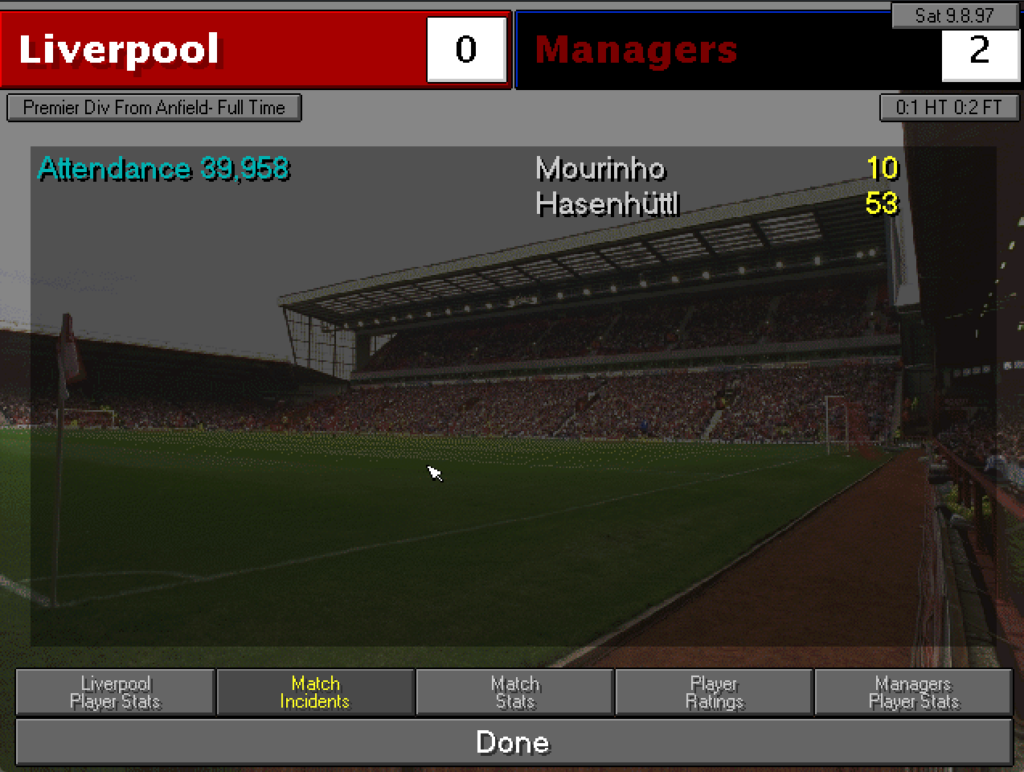 Well blow me down! Handsome Ralph comes up with the goods in the second half. I promise not to be this forensic in every match, but here's the ratings and stats:
Little cameo from Brodge there, playing as a 7 and a half. Next up, it's a visit from the Arsenal. Klopp's injured from the knock in the Liverpool game, and Bilic has got a bruised jaw, so we bring in Big Sam and Thomas Tuchel to cover.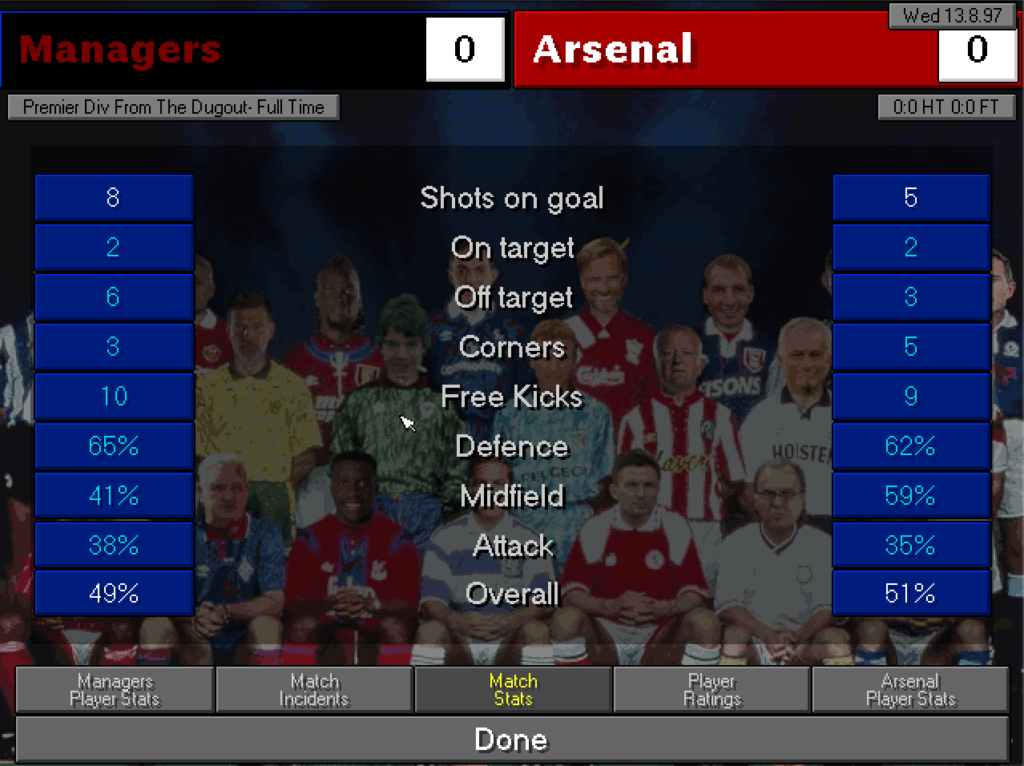 Well, that was a bit of a damp squib. Still looking good defensively, but with Arteta not match fit and OGS still out injured, we're having to make do. Also, Roy's just hit the big Five-O, and he must have had some sort of mid-life gym-inspired crisis, because the man now has vastly improved strength, stamina and pace: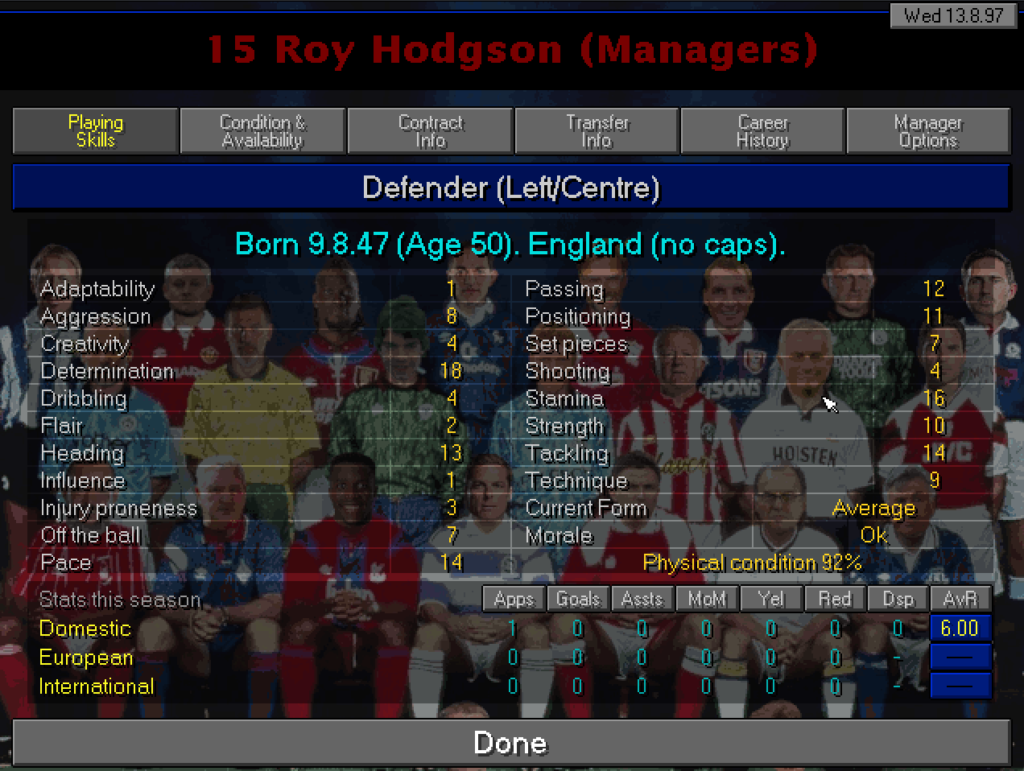 Perhaps feeling something is amiss with this save, Barcelona come sniffing around Guardiola.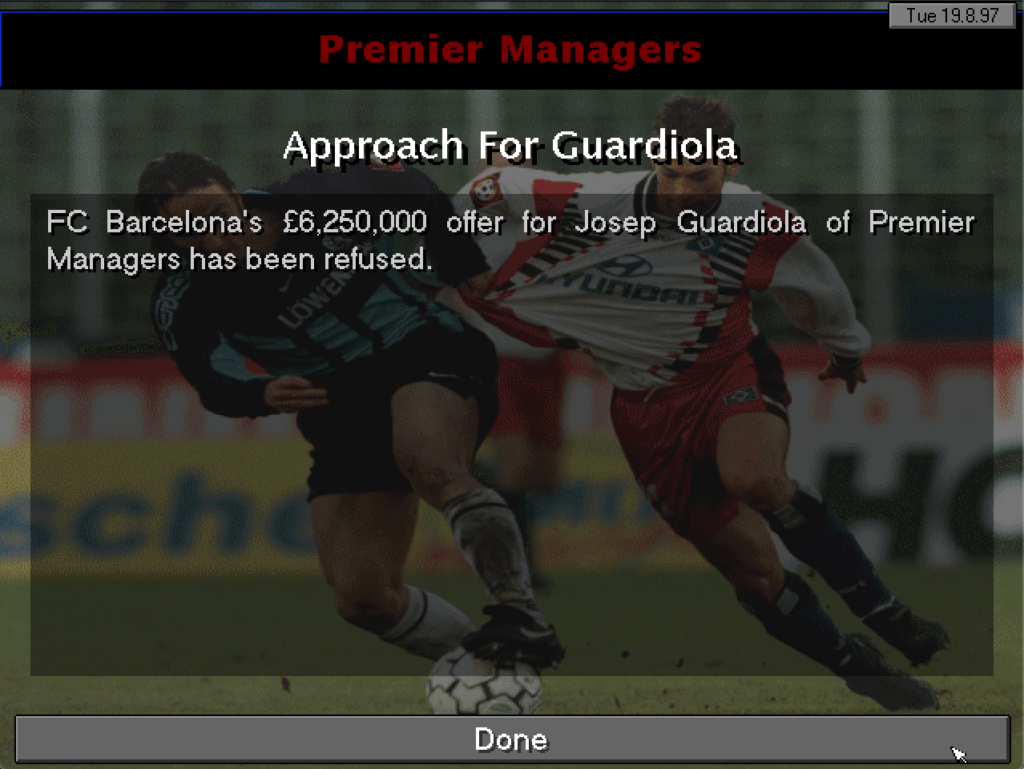 No, you can't have Mikel Arteta either.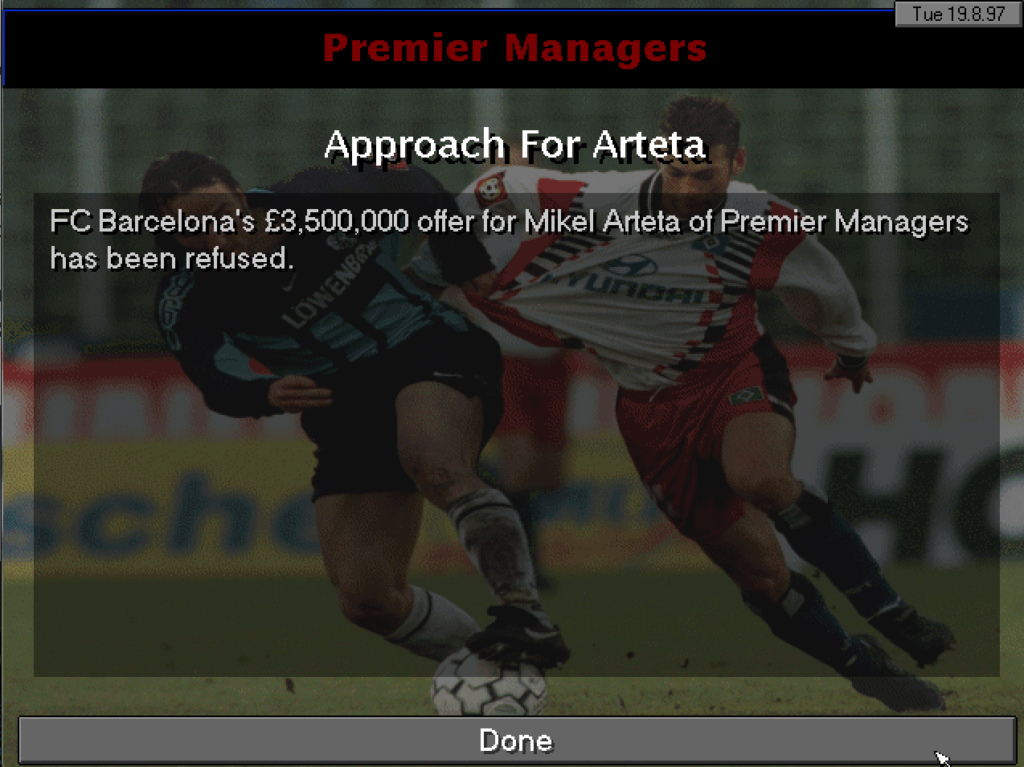 Can everyone just leave my players alone, please? I'm trying to do something here.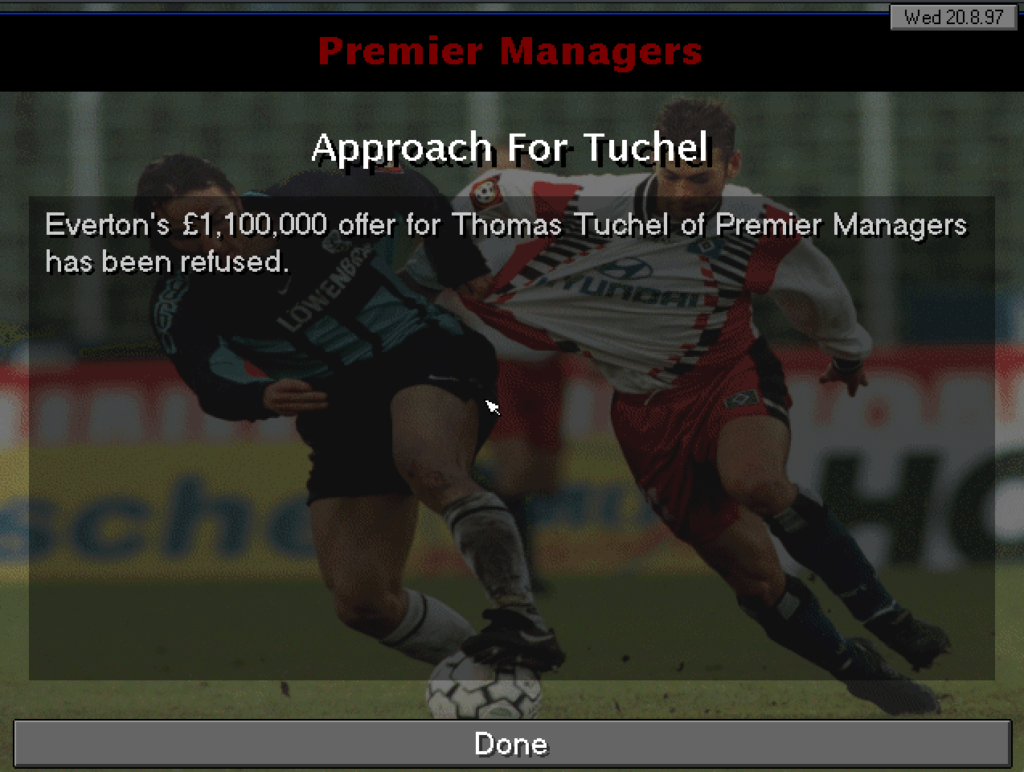 42 year-old Bielsa on the bench for Argentina but he doesn't get the nod!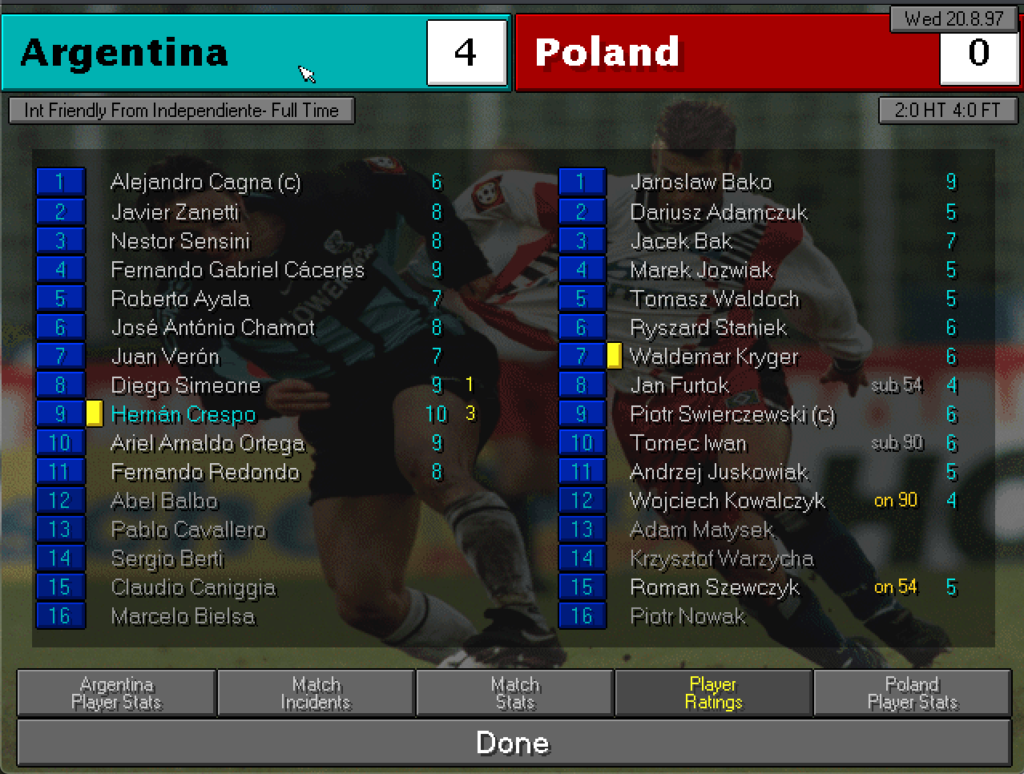 Sporting Lisbon come in with a derisory £575k bid for Mourinho. I tell them to jog on. Next up, it's the final leg of our Triptych of Destiny, and a tough test for our managers against the Great Manager himself, Lord Ferg. Klopp and Bilic are fit again, so they return to the back 3, and Arteta's now at 92% fitness, so he replaces Scott Parker in central midfield. Ryan Mason is now also injured, so our most attacking substitute option is…Sean Dyche. Nah, I'll put Dean Smith up front if I have to. It's away to Man Utd, we're screwed anyway.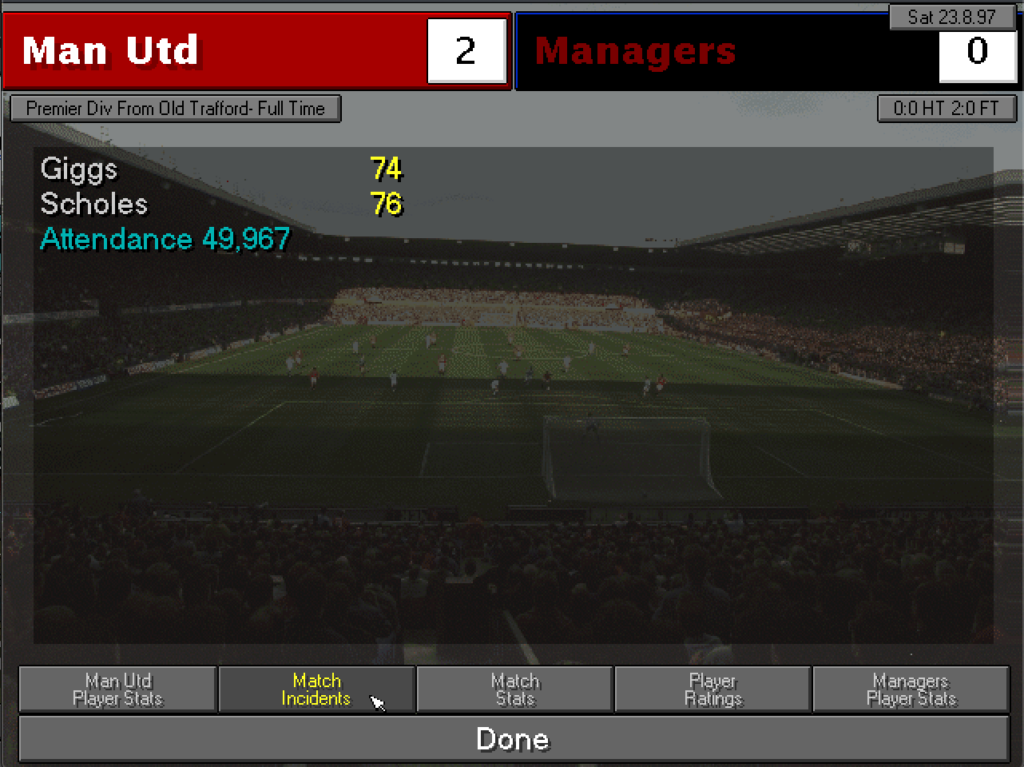 We hang on until the 74th minute, but the pressure was just too much in the end. We'll stick with the same team against West Ham, no shame in losing at Old Trafford and we need to try and build some stability.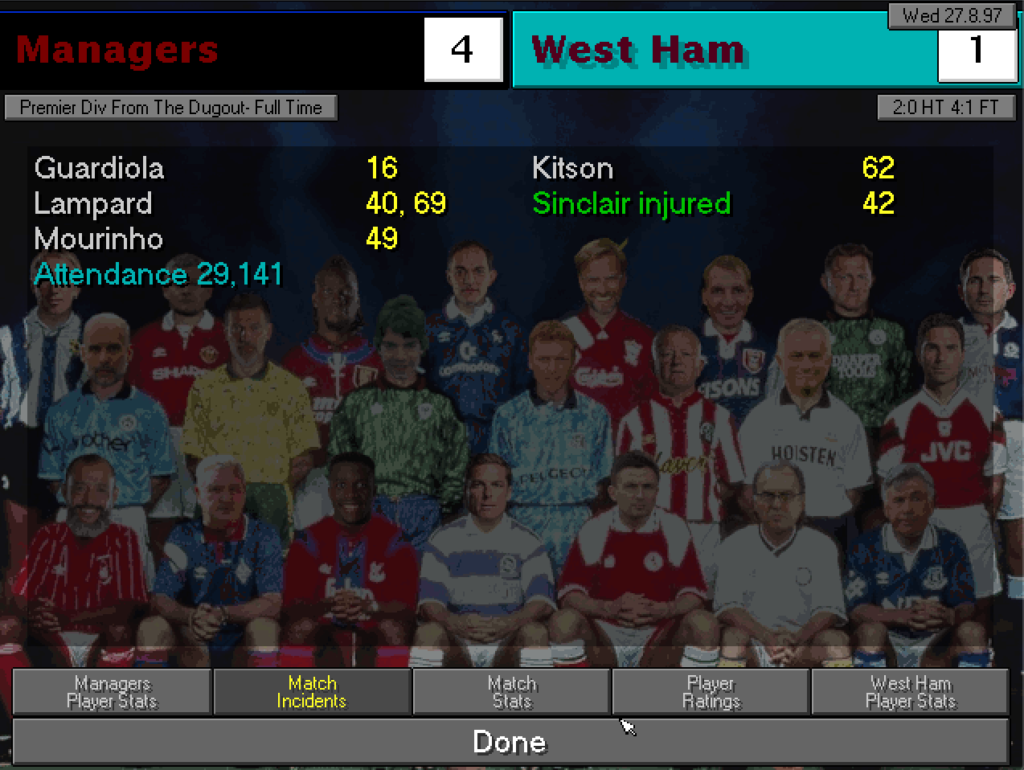 That's better! [/Townsend] 3-0 up after 49 minutes so it's a chance to rest our precious attackers. Smith and Brodge replace Handsome Ralph and Jose respectively, and the two makeshift attackers perform creditably well as we run out 4-1 winners. Lampard scores 2 against his old club. Of course he does.
Next up is a trip to 3rd place Barnsley, flying high in this nascent league table. Definitely sticking with the same side that saw off the Hammers.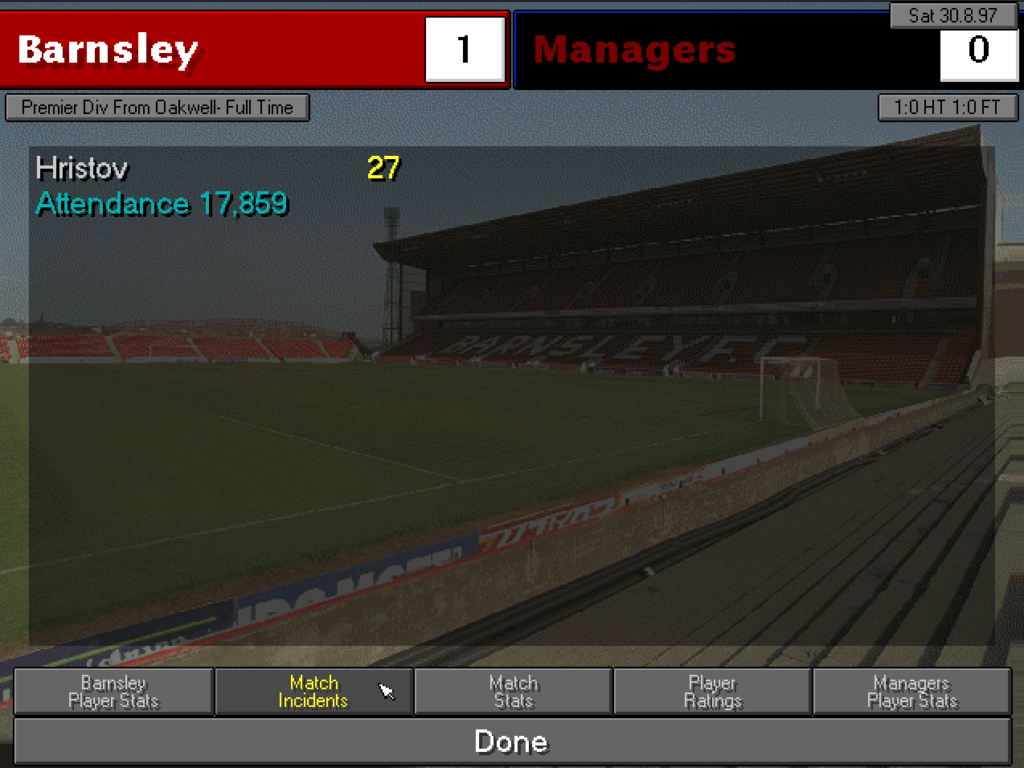 Terrible performance. Only 4 shots all game. I pulled off Bielsa and put Dean Smith up front with Ralph, and switched to direct style for the last 20 minutes, but didn't get us anywhere. Terrible. Can we buy Alan Shearer yet?
Home to Villa. Arteta hasn't been playing well so I'm popping Scott Parker back into centre mid.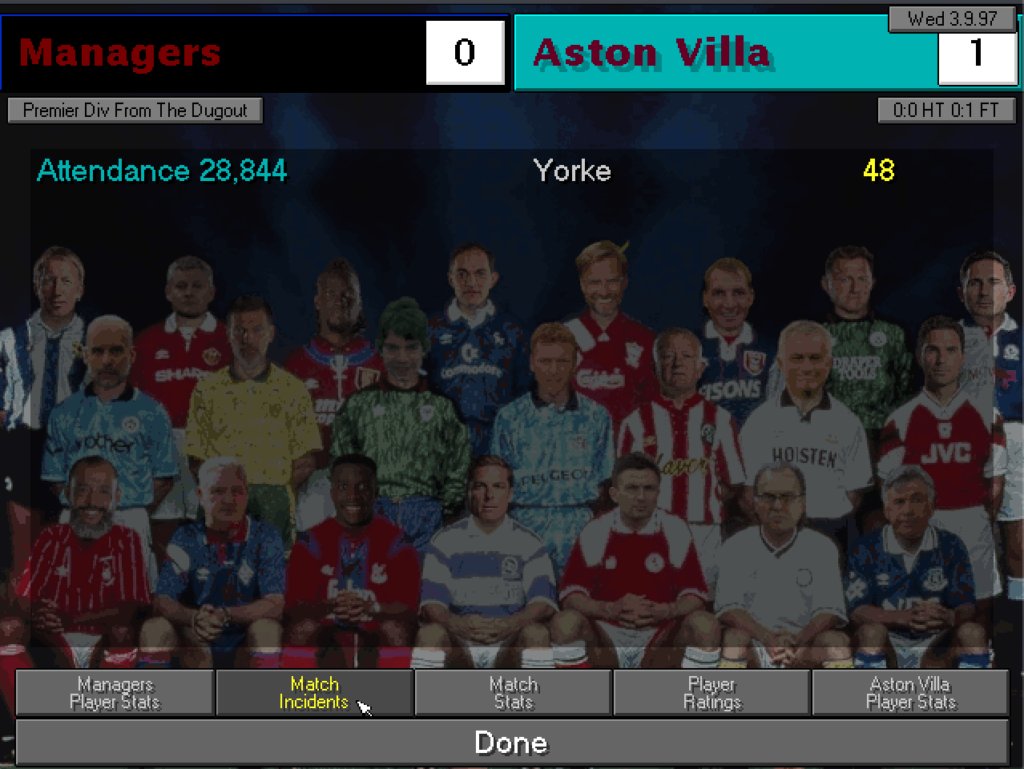 Absolute pony. Ole! We need you! I think we're gonna need to change formation, but it's going to be tricky with so few attacking options, so I'll have to play a few lads out of position.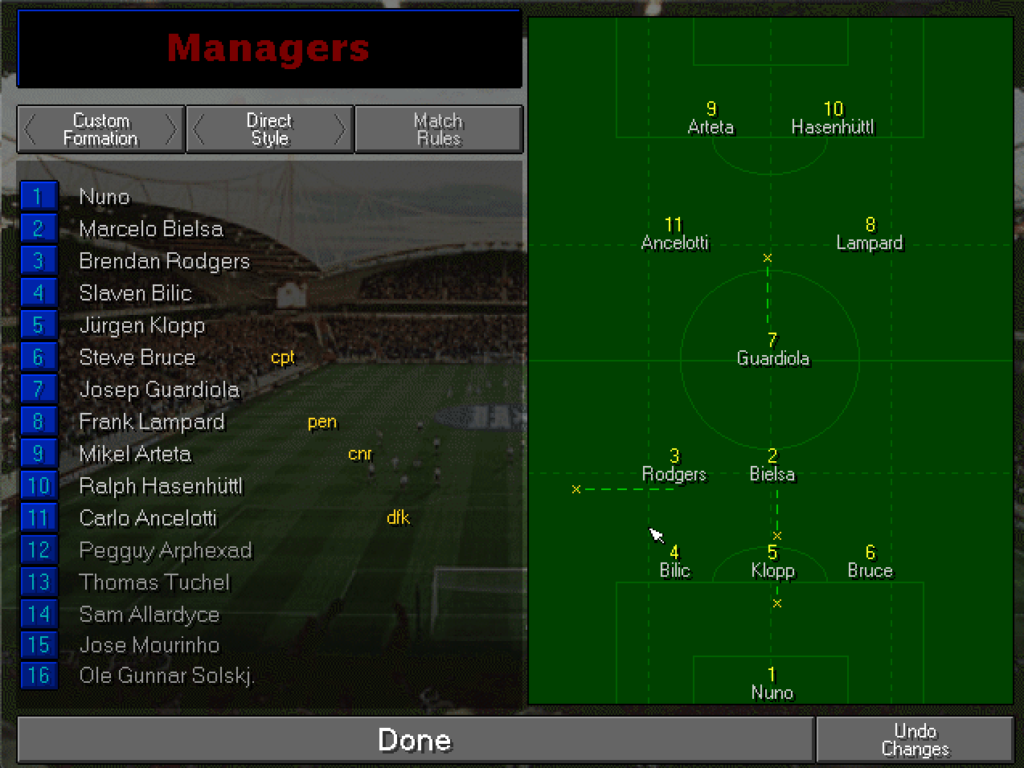 OGS is still only 81% so I don't want to risk starting him. Parker got injured on U21 duty so we bring in Brodge to cover. Guardiola moves to centre mid to hopefully pull some strings a bit further forward, and we'll rely on Bielsa's 42 years of wizardry to shield next to Brodge. I don't think our team of journeyman-player-turned-star-managers has enough to maintain a passing game so we're going direct.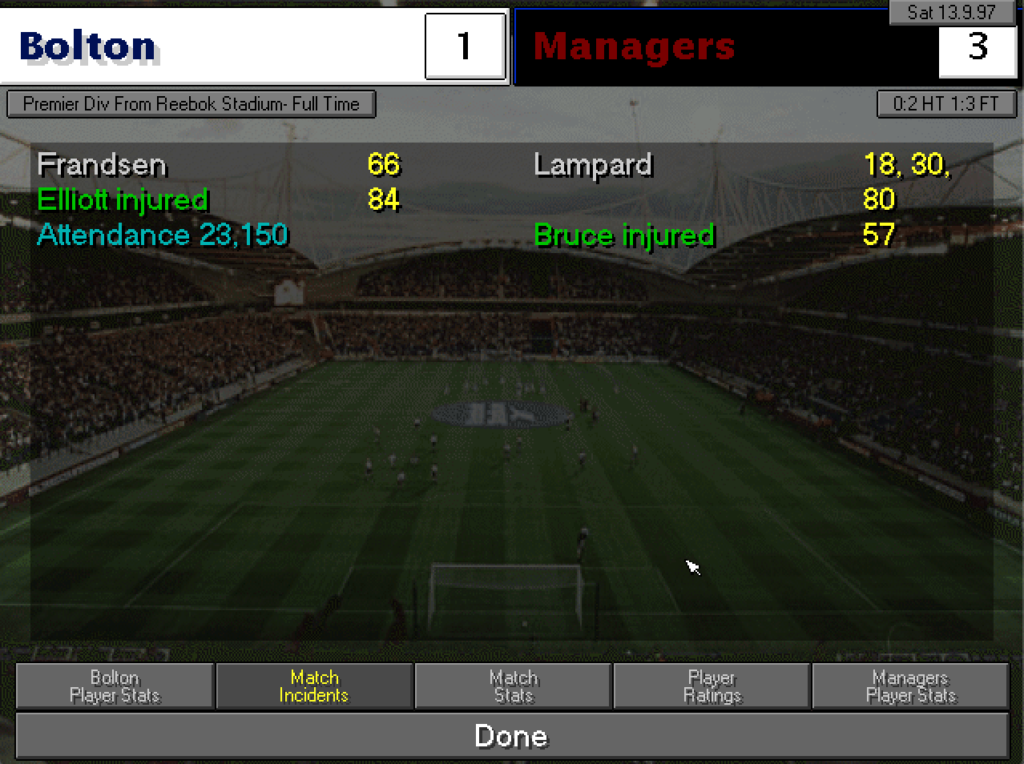 Much improved. Lampard does the business. Captain Steve Bruce goes off injured, and since I've got Allardyce on the bench and it's Bolton, why not? Per Frandsen gives us a wobble, so we bring on Tuchel for Brodge and OGS for Arteta and see it out safely after Lamps gets a hat trick.
Next up it's the League Cup against Northampton. We're gonna rotate the squad a bit, so it's full debuts for Moyes, Dyche and Potter. Mourinho gets a recall for his favourite competition.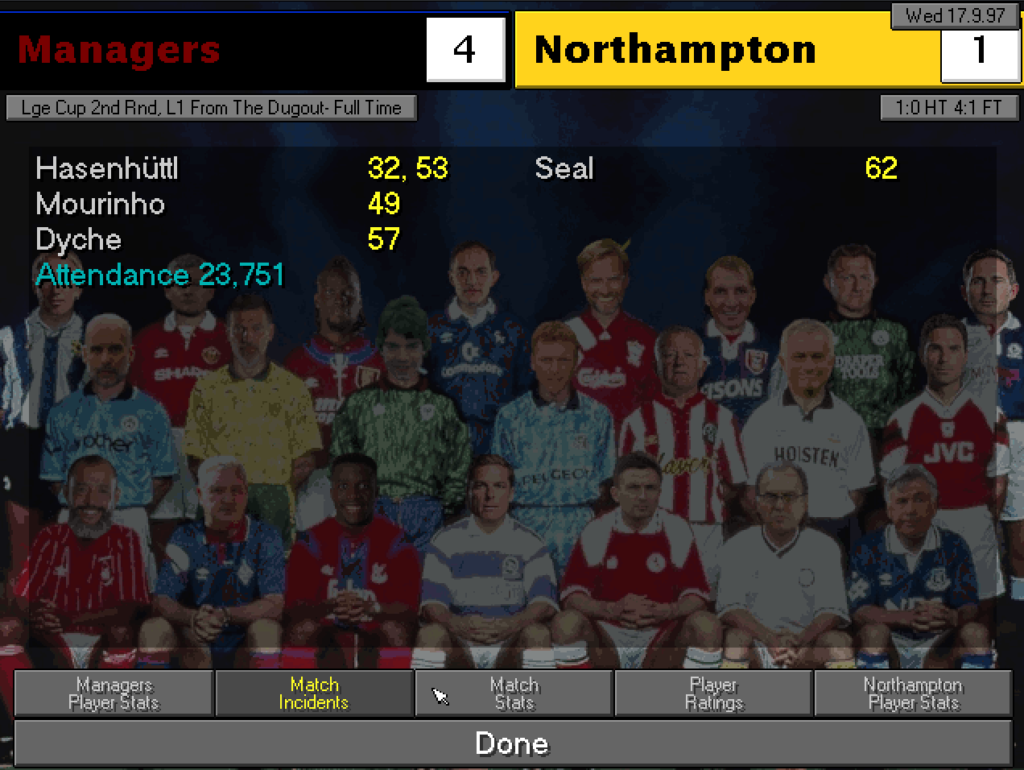 Handsome Ralph with a brace, Sean Dyche also bagging on his debut. Jose shows up for this one, as you'd expect.
Oooh, Vialli got sacked after losing 6-0 to Villa. Time to sign my one former manager wildcard for the season.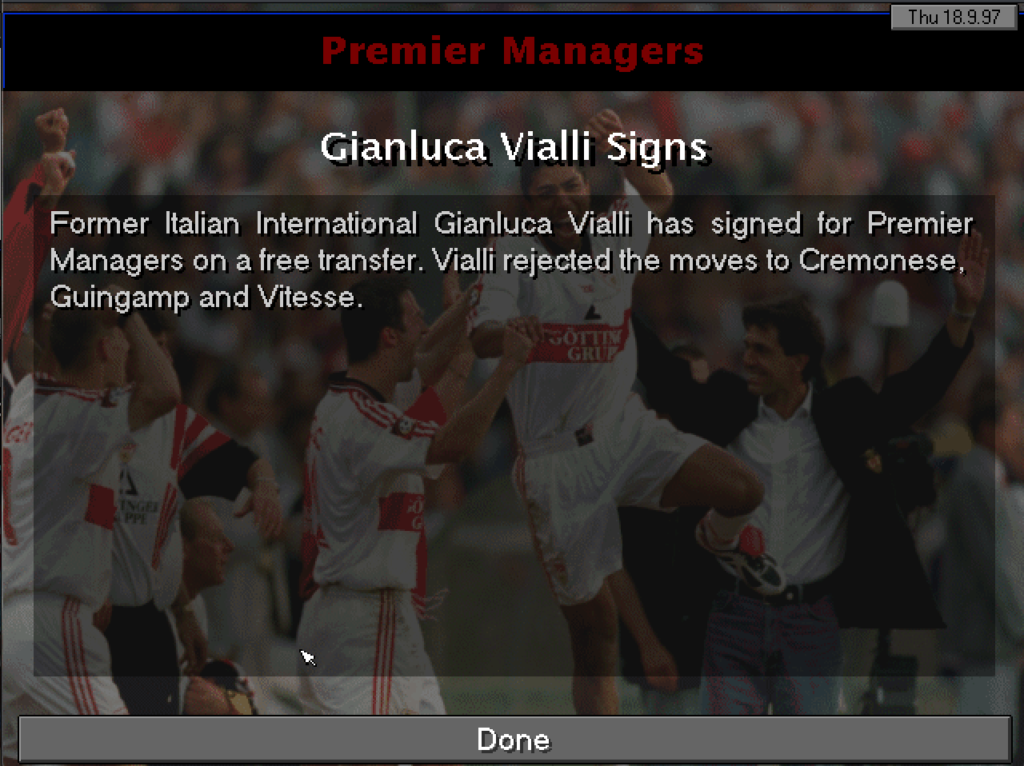 Home to Newcastle. Bruce is out for a month so we'll go for Big Sam as Captain. OGS gets his first start. Team is starting to feel more balanced. Vialli on the bench, Mourinho doesn't make the squad. (Ha!)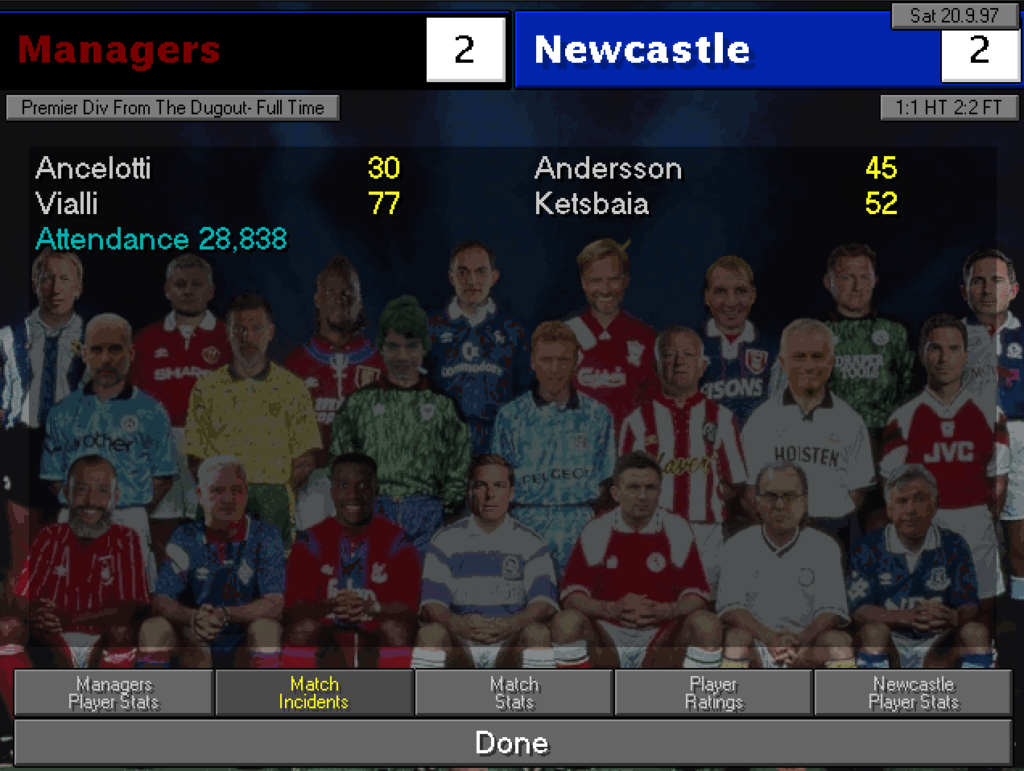 It starts well, with Mr Carlo raising his eyebrow high enough to score his first goal for us, but we're soon behind thanks to the Geordie all-star smash'n'grab dream team of Andreas Andersson and Timour Ketsbaia. OGS isn't playing well, so Vialli comes off the bench and rescues a point on his debut. Creditable result, but we're a bit lucky as they were our only two shots on target.
Right, well I think we'll leave it there for now. A steady enough start hopefully we'll find some more rhythm as the season goes on.